Trump Administration Reveals Plan to Revoke Health & Safety Protections
Chemical disasters endanger millions of Americans
Washington, D.C.
—
Today, Earthjustice released the following statement from staff attorney Emma Cheuse regarding the Trump Administration's Decision to rescind and weaken the Chemical Disaster Rule:
"Today, Trump's EPA revealed a shocking plan to try to delete all accident prevention program provisions of the Jan. 2017 Chemical Disaster Rule that President Obama's EPA issued to save lives. The original rule is based on robust evidence of harm to workers, first-responders, and fenceline communities. Administrator Pruitt's newest move shows the Trump EPA is aiming to weaken safety measures instead of protecting the lives and health of the American people. EPA's plan to undo the Chemical Disaster Rule makes no sense as 177 million Americans face the constant threat of a chemical disaster, and is nothing more than a blatant attempt to put industry interests ahead of public health. The people whom EPA's plan will hurt the most are people living and working near oil refineries and chemical manufacturers, who face repeated toxic releases and fires like the dozens of serious incidents documented in recent months, and who are disproportionately people of color and low-income people.
"Instead of taking away chemical disaster prevention measures at the request of the oil and chemical industry, EPA should be doing its job to protect workers and families from the fires, explosions, and toxic releases that keep happening like clockwork around the U.S., most often in communities whom Administrator Pruitt's plan chooses simply to ignore."
Background
The Chemical Disaster Rule includes much-needed improvements to the EPA's Clean Air Act Risk Management Program (RMP) and would have prevented and reduced the likelihood of chemical disasters, hazardous releases, and resulting chemical exposures, along with strengthening emergency preparedness and coordination with local first responders like firefighters and public health professionals. When developing the rule, the EPA determined that prior protections failed to prevent over 2,200 chemical accidents around the country during a 10-year period, including about 150 per year that caused reportable harm.
In June 2017, the EPA signed a rule to delay the Chemical Disaster Rule which would save lives from the effects of chemical disasters each year. From 2004 to 2013 alone, more than 2,200 chemical accidents were reported at hazardous facilities, over 1,500 of which caused reported harm. These accidents killed 59 people; caused more than more than 17,000 to be injured, hospitalized, or to seek medical care, and nearly half a million to evacuate or shelter in place to try to avoid chemical exposure and other harm; and caused more than $2 billion in property damage. No month passed during the decade EPA studied without at least 8 accidents at or near a chemical facility in the United States. And communities continue to live under the constant threat of a chemical catastrophe.
Earthjustice and a coalition of groups representing workers, scientists and community members near chemical facilities filed suit in the D.C. Circuit Court to stop the Environmental Protection Agency from delaying the rule, and the Court heard oral argument on March 16, 2018.
Earthjustice represents Air Alliance Houston, California Communities Against Toxics, Clean Air Council, Coalition For A Safe Environment, Community In-Power & Development Association, Del Amo Action Committee, Environmental Integrity Project, Louisiana Bucket Brigade, Ohio Valley Environmental Coalition, Sierra Club, Texas Environmental Justice Advocacy Services, Union of Concerned Scientists, and Utah Physicians for a Healthy Environment. United Steelworkers is represented by Santarella & Eckert, LLC.
Resources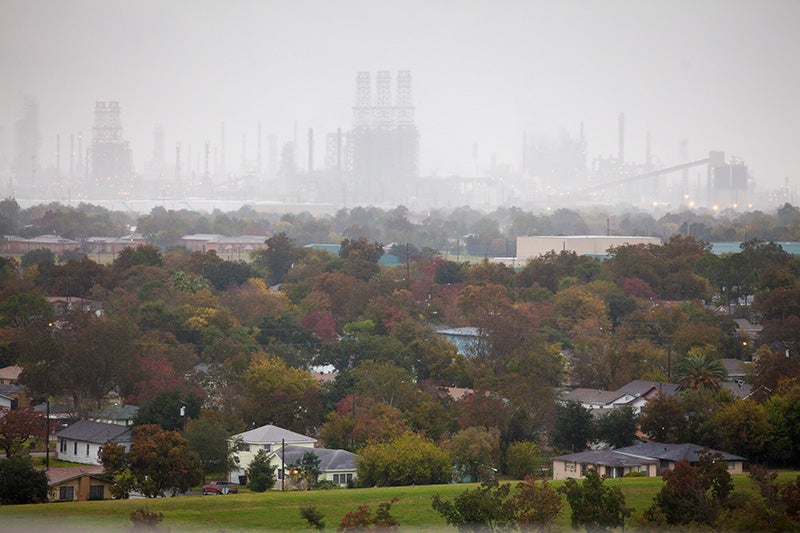 Earthjustice is the premier nonprofit environmental law organization. We wield the power of law and the strength of partnership to protect people's health, to preserve magnificent places and wildlife, to advance clean energy, and to combat climate change. We are here because the earth needs a good lawyer.