After Civil Rights Complaint By Native Hawaiian Groups, U.S. EPA Acts On Pesticide Impact
Groups complained the Hawai'i Department of Agriculture violated Title VI of the Civil Rights Act through lax implementation and enforcement of pesticide regulations that protect Native Hawaiian communities
Honolulu, HI
—
Following an investigation prompted by a complaint by Native Hawaiian groups, the U.S. Environmental Protection Agency has reached an Informal Resolution Agreement with the Hawaiʻi Department of Agriculture (HDOA) to improve the regulation of pesticide applications that have disproportionately harmed Native Hawaiians in West Kauaʻi and on Molokaʻi.
Two groups, The Moms On a Mission (MOM) Hui and Pōʻai Wai Ola/West Kauaʻi Watershed Alliance, represented by Earthjustice, filed a complaint in September 2016 calling on EPA and the U.S. Department of Agriculture to launch an investigation into whether HDOA and the Agribusiness Development Corporation (ADC) are violating the civil rights of Native Hawaiians by allowing and encouraging heavy pesticide use near their communities. The complaint against ADC remains pending.

Mike Coots for Earthjustice
The MOM Hui Member Malia Chun stands in front of industrial corn fields near her home.
Thousands of acres of genetically engineered seed crops surrounding these communities result in pesticide spraying operations that have sent fieldworkers, teachers and schoolchildren to the hospital, with schoolchildren suffering uncontrollable coughing, sporadic nosebleeds and allergy attacks. The heavy application of pesticides takes place far closer to schools, hospitals and residential areas than in other parts of the country.
Under the Civil Rights Act, governmental bodies that receive federal funds cannot pollute in ways that have an unjustified, unequal impact on the basis of color, national origin, gender, disability or age.
Although HDOA has broad powers to limit communities' pesticide exposure — through enacting regulations, restricting pesticide registrations, and enforcing pesticide use laws — it has made very little effort to do so. Instead, it routinely registers pesticides for local use without considering their impacts on Native Hawaiians, is lax in monitoring and enforcing against harmful practices, and has failed to enact or support protections such as buffer zones and pesticide disclosure.
Since the complaint was filed, the Hawaiʻi legislature last year passed Act 45, which bans pesticides containing chlorpyrifos — linked to numerous developmental issues in children — and institutes buffer zones around schools for pesticide applications.
The agreement spells out how HDOA will implement Act 45, including standard forms for reporting application of restricted use products, annual public disclosure of such applications, public posting of maps indicating the location of 100-foot buffer zones around schools and public notice of the prohibition of chlorpyrifos use.
The agreement also implements grievance procedures for discrimination complaints and discrimination training for HDOA staff at annual pesticide workshops.
"EPA's response is a good start for addressing an agency that has ignored its responsibility to ensure environmental justice," said Earthjustice attorney Kylie Wager Cruz. "We hope HDOA will make good on its commitments under the agreement and take further steps well within its current powers, such as placing buffer zones around medical facilities and residential and commercial areas where pesticide applications can expose innocent people to toxic substances."
Ray Wan / Earthjustice
Pōʻai Wai Ola member John Aʻana in Waimea Canyon, located on Kauaʻi's West Side above thousands of acres of pesticide spraying operations.
"We hope this agreement spurs HDOA to stop agribusinesses from poisoning the land and waters we rely upon to feed our families," said Pōʻai Wai Ola member and Makaweli Valley kalo farmer John Aʻana. "At the very least, HDOA can no longer ignore its responsibility to ensure that Native Hawaiians aren't bearing the brunt of the harmful effects of industrial pesticide use on our islands."
Related Maps
Hawaiian population (race alone and in combination) and home lands, seed production, and schools on Kauaʻi and Molokaʻi.


Esri, HERE, DeLorme, NGA, USGS, NPS – Sylvana Cares, Ryan Perroy and Jeff Melrose – Please acknowledge the Spatial Data Analysis and Visualization Lab at the University of Hawaii at Hilo as a source when this data is used in the preparation of reports, papers, publications, maps, and other products.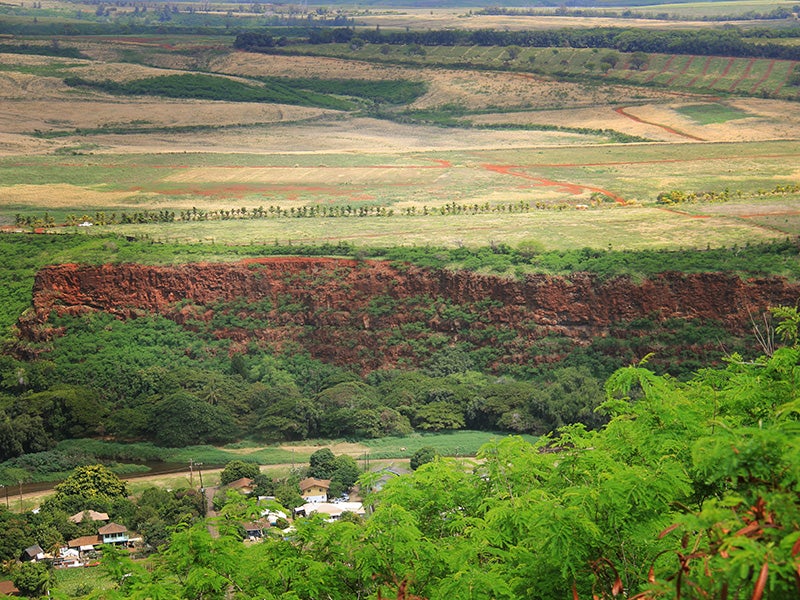 Earthjustice is the premier nonprofit environmental law organization. We wield the power of law and the strength of partnership to protect people's health, to preserve magnificent places and wildlife, to advance clean energy, and to combat climate change. We are here because the earth needs a good lawyer.