Atchafalaya Advocates Ask Federal Judge to Block Bayou Pipeline as Floodwaters Rise
Energy Transfer Partners continues long-standing pattern of permit violations and environmental destruction in America's largest wetlands
Rebecca Bowe, Earthjustice, (415) 217-2093
Dean Wilson, Atchafalaya Basinkeeper, (225) 692-4114
Maia Raposo, Waterkeeper Alliance, (212) 747-0622, ext. 116
Baton Rouge, LA
—
Energy Transfer Partners, the oil giant behind the hotly contested Bayou Bridge Pipeline, is actively harming wetlands in Louisiana's Atchafalaya Basin by continuing pipeline construction during flood season. Environmental watchdogs, represented by the nonprofit law firm Earthjustice, have asked a federal judge for a second preliminary injunction to block construction that violates ETP's permit and has gone unchecked by the U.S. Army Corps of Engineers.
Atchafalaya Basin groups have spent months documenting significant harm stemming from Energy Transfer Partners' ongoing pipeline construction activities in the Atchafalaya. Despite permit requirements for sediment control and other measures to minimize environmental impacts, Basinkeeper has revealed a pattern of reckless operations causing serious environmental harm. Examples include ETP's excavators digging in high water without any sediment controls; mounds of dirt and mud flowing freely into wetland areas; a sheen on the river presumably caused by diesel oil released from excavators; blocked waterways and trash and debris strewn about in the path of construction.
Although the Basinkeeper has sent multiple letters and supporting evidence to the U.S. Army Corps of Engineers detailing these findings, the Corps has not moved to enforce any of their permit requirements. As a branch of the military, the Corps is unaffected by the federal shutdown.
Basinkeeper declared in court documents that not only is ETP destroying old-growth cypress trees and the Atchafalaya's unique river ecosystem, it's placing the people of Louisiana at risk by reducing the effectiveness of the Basin as a buffer against dangerous floodwaters. 
ETP's actions in the Atchafalaya Basin continue a well-documented and long-standing pattern of violating permits and causing serious environmental harm in its pipeline construction and operations. Energy Transfer Partners is the same company that constructed the Dakota Access Pipeline, which will connect to Bayou Bridge infrastructure.
"In all my 31 years working in the Atchafalaya Basin I've never seen anything like this. The amount of unnecessary destruction of wetlands is heartbreaking," said Atchafalaya Basinkeeper Director Dean Wilson.
"Digging a pipeline path through the Atchafalaya during flood conditions is reckless and irresponsible," said Earthjustice Attorney Jan Hasselman. "ETP is unfortunately playing to type, by continuing its pattern of ignoring the law and wrecking the environment. We're going to Court to put a stop to it."
Plaintiffs in the case include Atchafalaya Basinkeeper, Louisiana Crawfish Producers Association-West, Gulf Restoration Network, Waterkeeper Alliance, and Sierra Club. They are represented by attorneys Jan Hasselman and Jaimini Parekh of Earthjustice.
Reporter Resources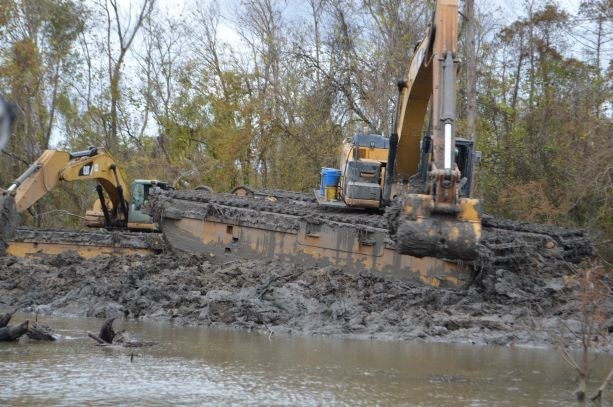 Earthjustice is the premier nonprofit environmental law organization. We wield the power of law and the strength of partnership to protect people's health, to preserve magnificent places and wildlife, to advance clean energy, and to combat climate change. We are here because the earth needs a good lawyer.