Due To Covanta's Continuous 'Pink Smoke' Air Violations The Ironbound Community Urges NJ AG To Investigate And Take Enforcement
Visible pink and purple smoke emission events continue to threaten the public health of frontline Ironbound residents and violate New Jersey and federal laws, raising concern of unpermitted medical waste
Newark, NJ
—
In an open letter delivered today to New Jersey Attorney General Gurbir S. Grewal, a local Newark environmental justice community organization, Ironbound Community Corporation (ICC) chronicles air and potential solid waste violations such as the reported pink smoke by Covanta Essex's Incinerator operations that continue to threaten public health and the environment while violating state and federal laws. The detrimental effects of such emissions have disproportionately impacted the frontline residents of the Ironbound neighborhood who have been historically battling with repeated public health threats since the Incinerator operations began in 1990, and have suffered from the cumulative impacts of the thousands of permitted facilities in the area. ICC is represented by Earthjustice and the Environmental Advocacy Clinic at Vermont Law School.
The Incinerator is located in the heart of the Ironbound community — a densely populated, multi-ethnic, largely working-class community that is among the most polluted in the nation. It is the largest incinerator in New Jersey and one of the largest in the nation, burning 2,800 tons trash per day from across Essex County and New York City. ICC has a long history of advocating for the cleanup and closure of the Incinerator due to ongoing pollution and health concerns. In 2009, ICC filed a Clean Air Act citizen suit and Title V permit petition with the Environmental Protection Agency (EPA). This advocacy eventually led the company to install new pollution control equipment. Despite these upgrades, the Ironbound community remains in harm's way as the Incinerator continues to violate permit limits for pollutants like particulate matter and carbon monoxide, among other contaminants.
These continued violations have grown particularly noticeable this year as Newark residents and the media have photographed and documented tinted pink or purple smoke emanating from the Incinerator's smokestack. The media has reported these visible pink and purple emissions billowing at least four times in the past five months, and information from the New Jersey Department of Environmental Protection (NJDEP)'s Dataminer website and Covanta's compliance reports suggest at least nine other incidents of tinted emissions from May 2016 to January 2019 — all of which were associated with permit violations. The Incinerator has reported almost 300 violations of its air permit emissions limits since the renewal of its latest permit on October 28, 2013.
Covanta reports that the pink and purple smoke may be caused by the burning of iodine present in the waste stream. ICC is gravely concerned that this smoke indicates that Covanta may be burning unauthorized medical waste, in violation of its solid waste permit, and that the Ironbound community is being exposed to hazardous medical waste pollutants in addition to iodine. The ongoing and repeated air emissions violations suggest that the Incinerator is failing to detect and remove unauthorized and prohibited wastes from the waste stream before burning. The burning of iodine risks serious adverse health effects, given that its inhalation can lead to lung irritation that causes coughing and/or shortness of breath, and higher exposure may cause a buildup of fluid in the lungs (pulmonary edema), a medical emergency causing severe shortness of breath. Other effects from iodine exposure may include skin irritation, bronchitis, thyroid gland disturbances, and high exposure to iodine may affect the liver and kidneys.
"We are real human beings who live, work, and play here," said Maria Lopez-Nunez, Ironbound Community Corporation, Director of Environmental Justice and Community Development. "It's very offensive that it only matters because people on the Turnpike saw it, as opposed to the people who live in the shadow of the Incinerator every day."
As recently as this September, Attorney General Grewal and Department of Environmental Protection (DEP), Commissioner, Catherine R. McCabe announced that the State filed a lawsuit against a plant in the Ironbound that is responsible for multiple community complaints of "putrid" and nausea-inducing odors.
With today's open letter, ICC urges the Attorney General to work together with the group to conduct an investigation to determine the source of these tinted plumes and take enforcement against the Incinerator for these ongoing violations.
Founded in 1969, Ironbound Community Corporation's mission is to engage and empower individuals, families, and groups in realizing their aspirations and, together, work to create a just, vibrant, and sustainable community. The Ironbound, also referred to as "Down Neck", is a multi-ethnic, largely working-class neighborhood of 50,000 in Newark, New Jersey. Historically it has been a mosaic of peoples from countries around the world who arrive in the community with aspirations for a better life for themselves and their children.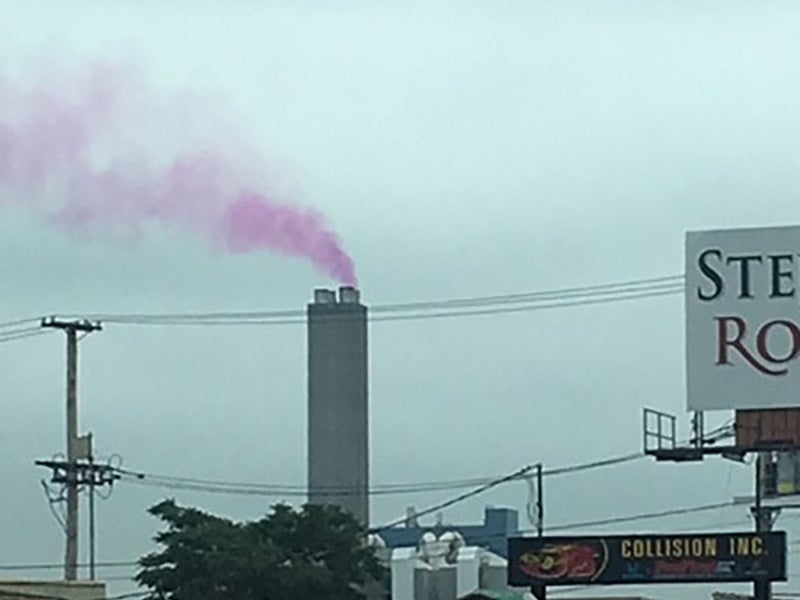 Earthjustice is the premier nonprofit environmental law organization. We wield the power of law and the strength of partnership to protect people's health, to preserve magnificent places and wildlife, to advance clean energy, and to combat climate change. We are here because the earth needs a good lawyer.