Los Angeles Mayor Cancels Plans to Rebuild LA's Gas Plants
Victory
—
Los Angeles clean energy coalition welcomes the decision to retire gas plants and embrace 100% clean energy
Los Angeles, CA
—
This morning, Los Angeles Mayor Eric Garcetti held a press conference with the Los Angeles Department of Water and Power (LADWP) to announce his decision not to repower three coastal gas plants in the Los Angeles basin. As a part of the Los Angeles Clean Energy Coalition (LACEC), Earthjustice along with partners are committed to helping Los Angeles achieve 100% clean energy by 2040. LACEC has been a vocal opponent of the DWP's plans to rebuild the unnecessary and harmful gas plants. The LADWP had been advancing plans to spend billions of dollars to rebuild these harmful and unnecessary gas plants, so today's decision is a very welcome turn of events and a fundamental shift away from polluting fossil fuels towards our clean energy future. The three gas plants represent nearly 40% of the city's current gas portfolio, so phasing them out and replacing them with 100% clean energy will accelerate LA's clean energy transition. The decision is an undeniable testament to the tremendous advancements in battery storage and other clean energy technologies which are ready and able to replace outdated gas plants.
In his remarks, Mayor Garcetti made it clear that his decision to retire rather than rebuild these gas plants reflects a fundamental shift away from natural gas and all other polluting fossil fuels as Los Angeles accelerates its transition to 100% clean energy. "The climate crisis demands that we move more quickly to end dependence on fossil fuel, and that's what today is all about," said Mayor Garcetti.
LACEC members released statements in response to the Mayor's mandate.
Communities for a Better Environment's Executive Director Darryl Molina Sarmiento said: "We appreciate the leadership of Mayor Garcetti and Councilmember Martinez in charting this precedent setting course in the history of Los Angeles Department of Water of Power. We look forward to working with LADWP in making sure this green renewable transformation is rooted in equity and benefits communities most in need."
Los Angeles-based Earthjustice Managing Attorney Angela Johnson Meszaros, who has been a leader in the fight against repowering these plants for years, said: "I commend Mayor Garcetti and the DWP for making the momentous decision to retire most of LA's aging gas power plants and replace them with 100% clean energy. By committing to one of the largest gas plant retirements in our nation's history, LA is letting go of our fossil fuel past and clearing the way for our clean energy future. I'm proud to see Los Angeles following through on its vision of being a leader in sustainability with action that delivers on that promise." This is a huge victory for Los Angeles and environmental justice groups, since the two of the three plants are located in predominately minority communities overburdened by air pollution.
Pacoima Beautiful's Executive Director Veronica Padilla echoes this sentiment: "I would like to thank Mayor Garcetti, Councilwoman Martinez, as well as the LADWP Board on their momentous decision to end natural gas usage in the City of Los Angeles and their commitment to moving our city closer to 100% clean energy by 2040. Today is a key step towards continuing our city's leadership in the fight against climate change. However, our work is far from over. The transition to a clean energy economy must be equitable and prioritize the communities who have paid the highest burden of our fossil fuel usage."
The Los Angeles Clean Energy Coalitionis dedicated to improving the lives of all Angelenos by advocating that Los Angeles achieve 100% renewable energy by 2040. The LACEC supports a just and equitable clean energy transition by advancing policies and programs that expand access to renewable energy and curb the use of fossil fuels. The coalition was founded by Communities for a Better Environment, Earthjustice, Environment California, Global Green USA, GRID Alternatives Greater Los Angeles, the Los Angeles Business Council, Pacoima Beautiful, and the Sierra Club.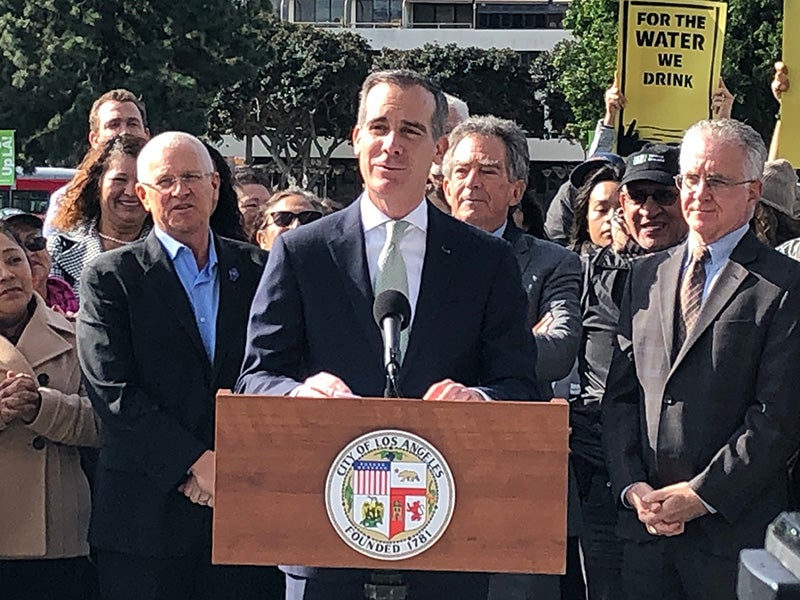 Earthjustice is the premier nonprofit environmental law organization. We wield the power of law and the strength of partnership to protect people's health, to preserve magnificent places and wildlife, to advance clean energy, and to combat climate change. We are here because the earth needs a good lawyer.