Trump Administration Releases New Plan for What's Left of Bears Ears
Trump's plan fails to provide meaningful protections — while he offers the other 85% of the monument to extractive industries
Washington, D.C.
—
The Trump Administration released its final management plan today for the 15% of Bears Ears National Monument it didn't strip of monument status. It allows the "chaining" of thousands of acres of forest, and rights of way for new roads and utility lines through the iconic Indian Creek landscape even in what is left of the monument. The plan fails to map out strong protections for priceless cultural sites in Bears Ears and fails to lay out a plan of co-management with the Bears Ears Inter-tribal Coalition as was originally designed by President Obama.
The plan will also be rendered entirely null and void if environmental groups and Native American Tribes win the legal battle over Present Trump's proclamation gutting Bears Ears in 2017.
"If we win the legal fight to restore Bears Ears National Monument, this plan will just be 800 pages of wasted effort," said Heidi McIntosh, managing attorney of Earthjustice's Rocky Mountains office. "Even in the parts of Bears Ears that President Trump left intact, he's planning on putting destructive activities before the American public's interests. Bears Ears is not the kind of place for chaining thousands of acres of forest or stringing up utility lines. These are wild, sweeping monument lands."
Environmental groups represented by Earthjustice sued the president immediately after he signed his proclamation dismantling Bears Ears National Monument. That case is pending before the U.S. District Court in Washington, D.C., where the parties are awaiting the court's ruling on the administration's motion to dismiss the case. A ruling in the environmentalists' favor would restore the Monument to its original boundaries and require the Bureau of Land Management (BLM) and the Forest Service to develop new plans.
The Trump administration's plan released today includes "chaining" potentially thousands of acres of Bears Ears — which involves clearing forest with a waist-thick naval anchor chain dragged between tractors, or using an industrial chipper. It's destructive for landscapes and archeological sites, and is often used to prepare land for commercial cattle grazing.
Utopia TV Series
Destructive chaining on public lands in Utah.
What is happening to the rest of Bears Ears?
Meanwhile the other 85% of Bears Ears has reverted to management under the 2008 Monticello Resource Management Plan, rendering the lands vulnerable to uranium mining. Two uranium companies lobbied the Trump Administration to artificially boost the price of domestic uranium, which likely would have incentivized new extraction on Bears Ears lands. Trump declined to do so this month, but in the same move, he created a federal "Nuclear Fuel Working Group" in a bid to spur the domestic uranium supply chain.
Uranium mining in the Southwest has left behind a legacy of toxic lands, toxic water, and cancer on federal public and tribal lands in states like Utah and Colorado. The uranium mining boom of the 1950s and 1960s is linked to lung cancer for miners who breathed in radioactive particles, and bone cancer and impaired kidney function for local residents who used the local water. The Environmental Protection Agency notes that uranium's "potential health effects include lung cancer from inhalation of radioactive particles, as well as bone cancer and impaired kidney function from exposure to radionuclides in drinking water." There are at least 4,000 abandoned uranium mines throughout the Western United States.
West of Bears Ears, planning for the thousands of fossil-rich acres stripped out of Grand Staircase-Escalante National Monument is in limbo — a federal watchdog agency is investigating whether the U.S. Interior Department broke the law by making plans to open up lands cut from Grand Staircase to leasing for oil, gas, and coal development. That planning goes against language in recent spending measures that barred those kinds of preleasing studies.
President Trump's actions to gut Bears Ears and Grand Staircase have been incredibly unpopular. Two million Americans wrote to the Interior Department during its "review" of national monuments in 2017 in support of protecting these public lands in the largest wave of public involvement in the agency's history. Hundreds of thousands wrote in again in 2018 to protest his proposed plans for Bears Ears and Grand Staircase and to call for the protection of the iconic monuments.
The stunning Valley of the Gods in Bears Ears. This landscape was unlawfully stripped out of the monument by President Trump in 2017.
Mason Cummings / TWS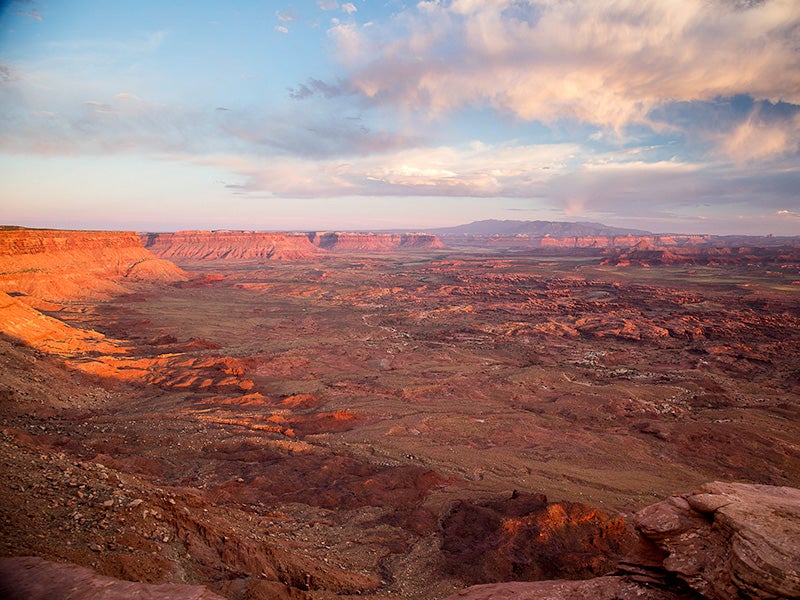 Earthjustice is the premier nonprofit environmental law organization. We wield the power of law and the strength of partnership to protect people's health, to preserve magnificent places and wildlife, to advance clean energy, and to combat climate change. We are here because the earth needs a good lawyer.