Trump EPA tries again to kill chemical disaster prevention rules
After earlier court victory, communities in danger zones outraged by EPA's latest attack on public safety
Washington, D.C.
—
Today, Trump's Environmental Protection Agency (EPA) released a final rule overturning major parts of the Chemical Disaster Rule, a suite of disaster prevention measures developed by EPA in the wake of several explosions and major chemical releases during the Bush and Obama years. Advocates across the country have been fighting for years to obtain these protections, which are now being eliminated despite mounting evidence of the danger to communities from chemical disasters.
EPA put the Chemical Disaster Rule in place to strengthen chemical plants' prevention and preparedness requirements for explosions and other catastrophes, order better and more frequent coordination with first responders, and bolster community access to information about the chemical hazards they live next to. When developing the rule, EPA determined that prior protections failed to prevent over 2,200 chemical fires, explosions, leaks, and similar incidents during a 10-year period, including about 150 per year that caused injuries. EPA also said the Chemical Disaster Rule's protections are needed to save the lives of workers, first-responders, and fence line community residents.

Video courtesy of WFAA
The scene at the Arkema chemical facility in Crosby, Tex., about 20 miles northeast of Houston, on Sept. 1, 2017.
"This administration is gutting the few protections we have against chemical explosions and other toxic disasters, just to appease chemical companies who only worry about their own profit," said the team of 13 groups that successfully vacated the delay of that rule after Trump's EPA's first attack, when EPA tried to prevent the rule from taking effect. "Yet for the millions of families and children who live by chemical facilities, this is not about money, it's about surviving chemical disasters. Lives depend on this rule."
Nearly 180 million Americans live in the worst-case scenario zones for a chemical disaster. At least one in three children go to a school near a hazardous chemical facility. About 12,300 industrial facilities nationwide use, store, or manage highly hazardous chemicals that the Chemical Disaster Rule covers.
"There is no excuse for exposing families and children to preventable chemical disasters," said Earthjustice attorney Emma Cheuse. "We will continue working with people in the most affected communities to defend public safety and to oppose Trump's dangerous rollback of the Chemical Disaster Rule."
EPA's new attack on the Chemical Disaster Rule comes some two years after EPA illegally suspended the rule to try to prevent it from taking effect. Following a lawsuit in which Earthjustice represented communities from around the country affected by chemical disasters, a federal court reinstated the rule and said EPA's suspension made "a mockery of the statute." EPA did not appeal that ruling. During the unlawful suspension of protections, public reports showed at least 73 chemical releases, fires, and explosions occurred at facilities that would have been covered by the rule.
More than 2,291 chemical fires, explosions, or toxic releases occurred from 2004 to 2013, causing deaths and injuries and also forcing some half a million fence line communities and first responders to suffer toxic exposure or shelter-in-place. By early 2016, facilities had reported an additional 458 releases to EPA, though the agency expected those numbers to increase as more reports came in.
Learn more about what happened when the rule was illegally suspended.
This week, members of the House of Representatives sent a letter to the EPA concerning the agency's plans to undermine the Chemical Disaster Rule.
Quotes from our partners:
"Fence line communities continue to suffer the extraordinary risks brought on by big industrial facilities and all too frequent chemical accidents," said Dr. Andrew Rosenberg, Director of the Center for Science and Democracy at the Union of Concerned Scientists. "This rule adds insult to injury by refusing to address the need to reduce disaster risks and consider community needs. That is completely unacceptable."
"The EPA just took a giant step backwards in providing protection from catastrophic chemical accidents and leaks," said Dr. Brian Moench, President of Utah Physicians for a Healthy Environment. "The lives and health of literally millions of Americans will now be at greater risk because of this action. It is an indefensible give away to the petrochemical industry."
"Dozens of Texas communities will be placed in harm's way with this Chemical Disaster Rollback Rule," stated Neil Carman, the Lone Star Chapter Sierra Club's clean air program director.
"The rollback goes to show that this Administration cares more about the oil and gas industry then our health and safety on the fence line. Our reality is ongoing expansion in petrochemical infrastructure, more frequent chemical fires, children having nosebleeds. Having to lock ourselves in our homes with no air-conditioning in areas that can get over 100 degrees," said Juan Parras, Executive Director of t.e.j.a.s. (Texas Environmental Justice Advocacy Services). "This rollback is costing vulnerable communities in irreversible damage to our children. The Chemical Disaster Rule is meant to save lives. The lives of our first responders, workers and communities. Our lives don't matter to this administration. We as a people need to rise and say no more and place pressure at every point."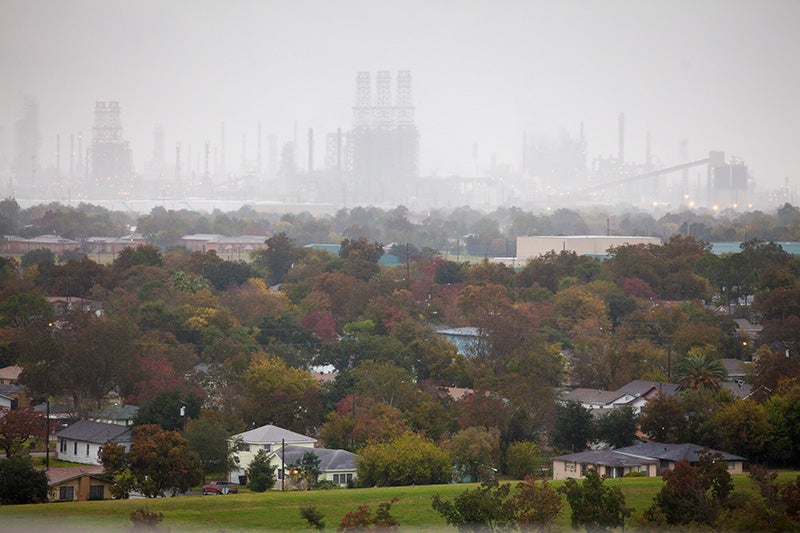 Earthjustice is the premier nonprofit environmental law organization. We wield the power of law and the strength of partnership to protect people's health, to preserve magnificent places and wildlife, to advance clean energy, and to combat climate change. We are here because the earth needs a good lawyer.