Earthjustice Responds to Trump's Rollback of Northeast Canyons and Seamount National Marine Monument
President Trump issues order opening Northeast Canyons & Seamounts to harmful industrial fishing
Bangor, ME
—
Today, President Trump issued a proclamation that opens up the Northeast Canyons and Seamounts Marine National Monument to commercial fishing, threatening the destruction of this sensitive and biologically important marine reserve by resource extraction activities, such as bottom-scouring fishing.
The following is a statement from Steve Mashuda, Earthjustice's Managing Attorney of its Oceans Program:
"In the midst of two national crises over systemic racism and a pandemic that rages on, the president has decided to prioritize opening up a national monument to commercial fishing, while weakening bedrock environmental laws that protect people and the environment.
"It's unclear if President Trump is aware of the irony of shredding protections for Northeast Canyons and Seamounts National Monument on World Environment Day and during National Oceans Month, but it is nevertheless deeply disturbing he would attempt to do this at all. We're also confronting a global extinction crisis that impacts the entire web of life, and this is an assault on an ocean refuge that countless marine wildlife rely on. Claims that the fishing industry will benefit from this action are grossly overstated, as was made clear by government documents in 2017.
"We condemn this action, amidst all the other destructive policies this president has pursued in these days, and are looking at every tool we have to support the fight against this."
Reporter Resources:
Background:
The Northeast Canyons and Seamounts Marine National Monument is a unique and dramatic ocean area off the coast of New England.
Designated as a monument in 2016, it is the first major marine national monument established in the U.S. Atlantic Ocean. This protected area offers food, shelter, and nursery habitat to a spectacular array of marine life, including endangered whales, sea turtles, puffins, and rare deep-sea cold-water corals.
The Northeast Canyons and Seamounts Marine National Monument protects 4,913 square miles of pristine ocean ecosystem — an area nearly the size of Connecticut, covering 1.5 percent of U.S. federal waters on the East Coast.
The monument is a refuge for marine life and provides a buffer for the Northwest Atlantic against the worst impacts of climate change. With technology advancements, the deep ocean is becoming more accessible to oil and gas exploration and industrial fishing. The national monument designation is meant to shield the Northeast Canyons and Seamounts from commercial extractive activities, including commercial fishing and oil and gas drilling.
If these marine reserves are stripped of permanent protection, they are at risk of being destroyed by resource extraction activities, such as bottom-scouring fishing gear. With these areas will go some of our best hopes for restoring ecosystems that have been devastated by overfishing and development.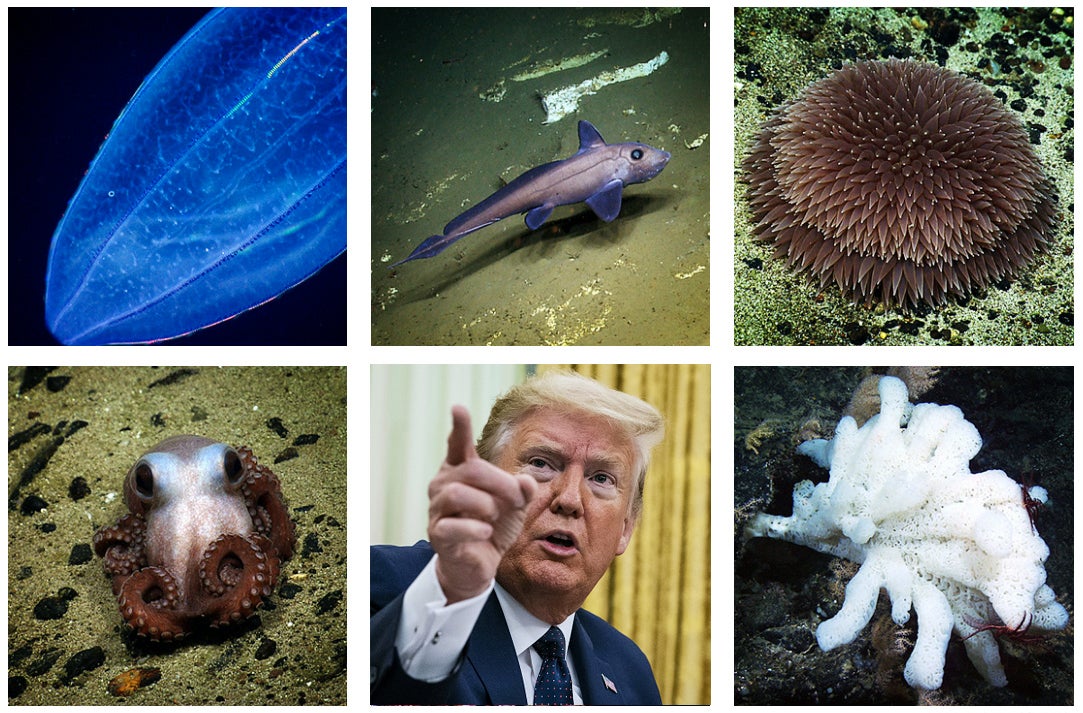 Earthjustice is the premier nonprofit environmental law organization. We wield the power of law and the strength of partnership to protect people's health, to preserve magnificent places and wildlife, to advance clean energy, and to combat climate change. We are here because the earth needs a good lawyer.