Federal Court Declines to Weigh in on Needed River Flows for Salmon
Sudden water cutoffs by Bureau of Reclamation further jeopardize struggling salmon
San Francisco, CA
—
A federal judge today refused to get involved in the Bureau of Reclamation's abrupt water shutoffs to the Klamath River, expecting all stakeholders to work together to resolve challenging water issues. The ruling came in response to an emergency motion filed by the Yurok Tribe and commercial fishing groups, stemming from concerns that dangerously low water levels will lead to continuing catastrophic losses of salmon.
The Tribe and commercial fishing groups sought court intervention after the Bureau unilaterally reduced river flows in early May, denying the Tribe water promised in an agreement with the Bureau and irrigators. This sudden flow reduction created dangerously low water levels, endangering juvenile salmon at a time when fish infection rates from C. Shasta parasites have crept up to alarming levels. The fish disease risk peaks in May and June, making additional flows to sustain salmon habitat even more urgent. Plaintiffs feared a salmon die-off that would carry significant consequences for Tribal members and harm the livelihoods of commercial fishing families if they did not act. The water in question is unrelated to any additional cuts experienced by agricultural interests.
"Every time there is a severe drought, we are going to see the infection rates spike, until the underlying cause of this issue is addressed," said Yurok Tribe Vice-Chairman Frankie Myers. "As a fishing tribe, it is unbearable to see our river's already diminished salmon runs decline even further toward extinction."
"The health of Klamath River salmon determines whether ocean coastal commercial Chinook fisheries are open or closed," said Glen Spain, Northwest Regional Director of the Pacific Coast Federation of Fishermen's Associations. "Coastal communities up and down the west coast are already experiencing the effects of the COVID-19 crisis — Klamath-driven additional fishing closures could be disastrous."
"Without these flows, which are only a portion of what was required in the biological opinion and Interim Plan, we will face a massive loss of salmon," said Patti Goldman, Earthjustice managing attorney. "We'll continue to work with the Bureau and others to get the water the salmon need."
Background
The Klamath was once the third mightiest salmon-producing river in the continental U.S., behind only the Columbia and Sacramento in productivity. The River has been reduced to a shadow of its former self largely as a result of the Bureau of Reclamations' re-plumbing of its headwaters to maximize irrigation in the arid upper basin desert. Klamath River salmon are integral to the Yurok Tribe's sustenance and way of life; coastal salmon fishing families are economically dependent on ocean fishing seasons that hinge on the health of Klamath River Chinook.
Tribes, commercial fishermen, and salmon advocates have been fighting to keep water in the Klamath River for decades. The latest rounds began in 2016 after a new plan for the Klamath Project led to disease outbreaks of a parasite that infects young salmon. A 2017 court injunction required disease management flows to reduce outbreaks and fatalities while the Bureau developed a new plan.
Unfortunately, the Bureau's 2019 plan provided far too little water for spring flows needed both for disease management and to provide habitat for young salmon. 2019 was an above average water year, but river flows were at drought levels, and the infection rates in young salmon exceeded 80 percent for most of May. The Tribe and commercial fishermen returned to court, seeking additional water for the river. In response, the Bureau adopted a three-year interim plan that provided more water for salmon and reinstituted a collaborative process in which technical experts for Tribes, fishing groups, farmers, and the federal agencies worked to find ways to provide water to meet multiple needs.
Earthjustice represents the Yurok Tribe, Pacific Coast Federation of Fishermen's Associations, and Institute for Fisheries Resources. For more, watch Earthjustice's original video, "Reclaiming the Klamath."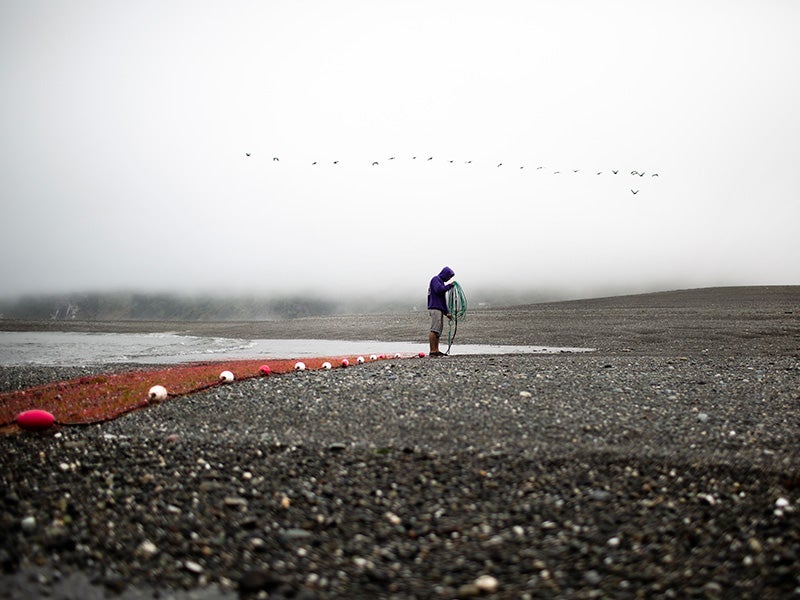 Earthjustice is the premier nonprofit environmental law organization. We wield the power of law and the strength of partnership to protect people's health, to preserve magnificent places and wildlife, to advance clean energy, and to combat climate change. We are here because the earth needs a good lawyer.