Lawmakers Aim To Ban Brain-Damaging Pesticides With New Bill
Bill would ban organophosphates and bee-killing neonicotinoids
Washington, D.C.
—
Today, Senator Tom Udall (D-NM) and Representative Joe Neguse (D-CO) introduced pesticide reform legislation to ban the use of toxic pesticides that harm children, farmworkers, and consumers. The Protect America's Children from Toxic Pesticides Act of 2020, or PACTPA, updates the law governing pesticide use in the United States, the Federal Insecticide, Fungicide, and Rodenticide Act, or FIFRA. The bill would ban organophosphates, which damage children's brains and poisons farmworkers, neonicotinoids, which are linked to bee colony collapse, and paraquat, a pesticide linked to Parkinson's disease that has been banned in 32 countries, including the European Union.
"When Americans go to the store, they expect that the food they're buying for themselves and their families is safe; as a parent of two young children, this is something at the top of my mind. We also expect that farmworkers — the essential employees working through the global coronavirus pandemic, without whom that food would not be on those store shelves — that they and their families are safe," said Daniel Savery, Earthjustice senior legislative representative. "The Protect America's Children from Toxic Pesticides Act says what we all know to be true: that nerve agents have no place on our food, in our workplaces, and in our communities. This bill also recognizes that the agriculture industry is harmed by the loss of vital pollinator species. Earthjustice is grateful for the leadership of Senator Udall and Representative Neguse and we stand with our farmworker partners in support of this bill."
"Farmworkers are routinely exposed to high levels of pesticides in the fields where they work and the communities where they live. Ensuring that pesticide labels can actually be understood by the workers' applying these products is a basic yet essential step for mitigating exposure risk," said Iris Figueroa, a senior staff attorney at Farmworker Justice. "Additionally, the enforcement of existing safety standards is hindered by the current lack of transparency regarding pesticide exposure incidents, as well as workers' fear of retaliation if they speak up about safety violations. The reforms in this bill provide long-overdue protections for the workers who provide our food, facing significant risks to their own health as they do so."
"No parent should ever have to worry that the act of hugging their children after a long day of work or living in an agricultural community could expose them to brain-harming chemicals. While farm workers and agricultural communities are at the frontlines of exposure to harmful pesticides, the exposure extends to consumers who unknowingly feed their families food with residues of nerve agents," said Teresa Romero, president the United Farm Workers. "For our union, at the heart of the fight against harmful pesticides are countless incidents of workers who have experienced pesticide poisoning and parents whose children are dealing with learning disabilities and other health impairments. The Protect America's Children from Toxic Pesticides Act recognizes that children, farm workers, and consumers deserve better and puts an end to the use of chlorpyrifos and other nerve agents in our food."
"We cannot allow chlorpyrifos and other toxic chemicals to damage the health of those who nourish this country every day," said Diana Tellefson Torres, executive director of UFW Foundation. "The Protect America's Children from Toxic Pesticides Act recognizes the moral imperative to protect the health of our children and the nation's essential farmworkers from nerve agents. As an organization that serves communities in leading agricultural regions of the nation, we applaud Sen. Udall and Rep. Neguse for introducing this important bill."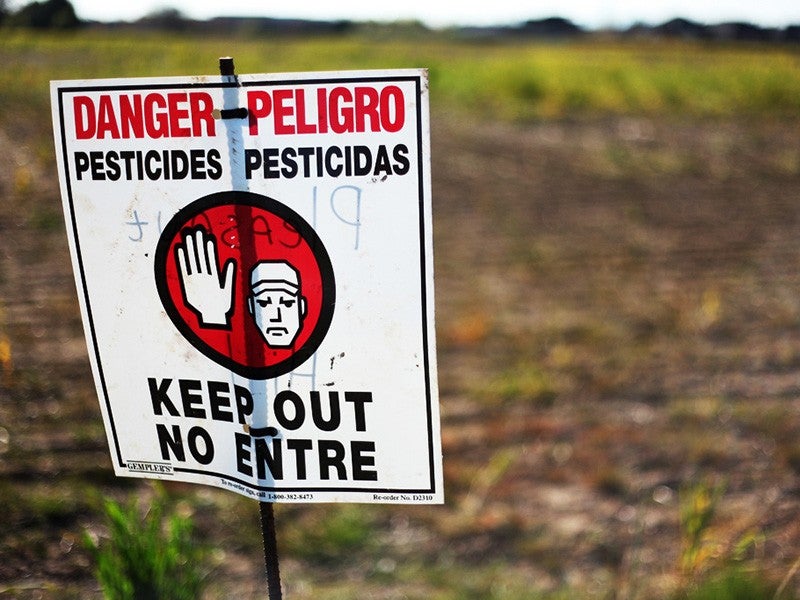 Earthjustice is the premier nonprofit environmental law organization. We wield the power of law and the strength of partnership to protect people's health, to preserve magnificent places and wildlife, to advance clean energy, and to combat climate change. We are here because the earth needs a good lawyer.