Report: Trump's EPA sued for concealing health studies, violating its chemical laws
Agency breaks Toxic Substances Control Act rules constantly
Washington, D.C.
—
Today, Earthjustice and the Environmental Defense Fund released a joint investigation showing how Trump's Environmental Protection Agency on a regular basis violates the Toxic Substances Control Act, or TSCA, which governs the manufacture, use, and distribution of chemicals. From August of 2016 through April of 2019, Earthjustice and EDF reviewed over 200 new chemical applications in detail, as well as all notices EPA published to inform the public of the applications it received from 2016 through early 2020, or about 1,700 applications.

Earthjustice
Download the report (PDF)
The investigation unveiled that:
1. EPA doesn't alert the public when a new chemical is under review and may soon be approved to go on the market, as required by law. For approximately one in every six applications, the agency didn't publish the notice until after the chemical was approved, preventing anyone from having a chance to weigh in and potentially prevent a toxic chemical, like a new toxic PFAS, from reaching the homes or workplaces of millions of people.
2. EPA allows companies to conceal crucial information about chemicals under review, especially health and safety information. EPA is obligated to release to the public all health and safety information submitted with an application. Yet, EPA regularly allows chemical companies to claim that health studies are confidential business information (CBI), so critical information is blacked out in large part or in full.
3. EPA doesn't audit companies' CBI claims to determine whether they are warranted, encouraging companies' unlawful attempts to hide information that should be public. EPA is obligated to review at least 25 percent of CBI claims made by chemical manufacturers, and then to publish a determination whether the information is actually entitled to CBI protection. Since TSCA was amended in 2016, EPA has completed such reviews for only 27 new chemical applications.
This report comes as health and environmental organizations represented by Earthjustice sued Trump's EPA for violating TSCA. According to TSCA, the public has a right to know and provide input about new chemicals EPA is reviewing. Instead, EPA repeatedly and unlawfully conceals documents, and ignores other transparency rules. This unlawful secrecy prevents the public from weighing in before EPA allows new, potentially dangerous chemicals into commerce. In fact, just last year Trump's EPA approved without restrictions and while hiding all studies, a new PFAS, a member of a class of nearly indestructible chemicals linked to birth defects, infertility and cancer. The agency approves hundreds of chemicals in a similar fashion. At times it notifies the public of a new chemical after a chemical has been approved.
Earthjustice is representing the Environmental Health Strategy Center, Center for Environmental Health, Natural Resources Defense Council, Environmental Defense Fund, and the Sierra Club.
In 2016, Congress reformed TSCA for the first time in 40 years. Updates require EPA to follow certain rules to transparently review every new chemical before it can be manufactured.
"Congress reformed TSCA just a few years ago to protect people's health from new chemicals. It said, unequivocally, that the public has a right to know about these chemicals before they are put out on the market," said Tosh Sagar, Earthjustice attorney. "Trump's EPA instead hides health and safety studies and other key information, just so that industry can have it easier. Ignoring TSCA's transparency requirements makes it more likely that dangerous chemicals are reaching our homes and workplaces."
"Unleashing chemicals into the market without proper vetting is like opening Pandora's box," the coalition suing the EPA said in a statement. "EPA must stop hiding key information about the chemicals it is reviewing and put public health above the desires of the chemical industry."
Late last year, the coalition threatened to sue EPA for widespread violations of TSCA's transparency requirements. In response the agency said it would make some changes, but these actions were insufficient to address the continuing lack of disclosure. The lawsuit was filed in the U.S. District Court for the District of Columbia.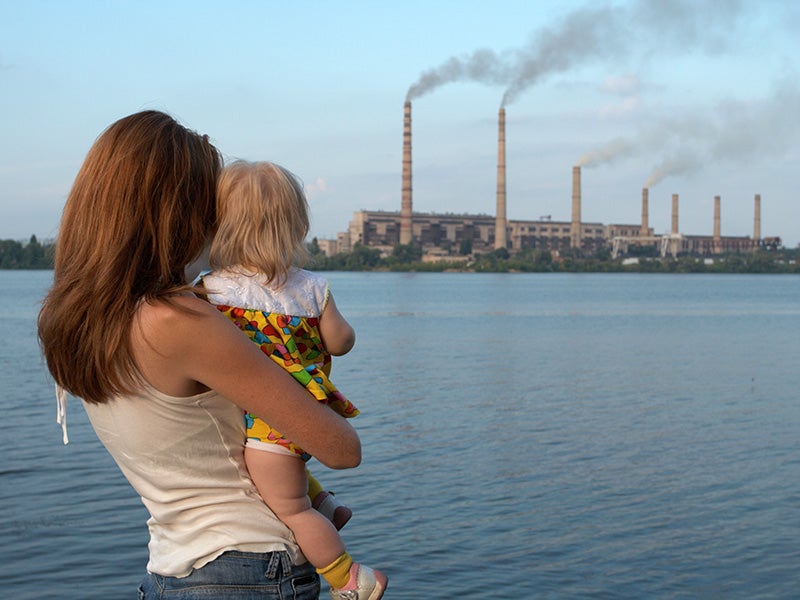 Earthjustice is the premier nonprofit environmental law organization. We wield the power of law and the strength of partnership to protect people's health, to preserve magnificent places and wildlife, to advance clean energy, and to combat climate change. We are here because the earth needs a good lawyer.