Environmental Groups Take Postal Service to Court for Scheme to Buy Massively Polluting Mail Trucks
Postmaster General Louis DeJoy is facing wave of litigation for decision to replace up to 90% of postal truck fleet with fuel-guzzling trucks without a thorough environmental review
San Francisco, CA
—
Today, Earthjustice, CleanAirNow, the Sierra Club, and the Center for Biological Diversity filed a lawsuit in the Northern District of California challenging the U.S. Postal Service's (USPS) decision to replace the vast majority of its delivery fleet with polluting and fuel-guzzling combustion mail trucks. The Postal Service's analysis was deeply flawed right from the start: the agency signed a contract and spent millions of dollars on a new combustion fleet before it even began conducting an environmental analysis.
"The Postal Service's plan to purchase thousands of combustion mail trucks will not only deliver pollution to every neighborhood in America, it's also unlawful," said Adrian Martinez, senior attorney on Earthjustice's Right to Zero campaign. "DeJoy's environmental process was so rickety and riddled with error that it failed to meet the basic standards of the National Environmental Policy Act. We're going to court to protect the millions of Americans breathing in neighborhoods overburdened with tailpipe pollution. Mail delivery in this country should be electric for our health and for our future."
The Postal Service plans to purchase up to 165,000 vehicles, replacing a large swath of its fleet of over 200,000 trucks with a new model that gets a harrowing mileage of 8.6 mpg with the air conditioning on. Ninety percent of the new trucks would be combustion vehicles with a worse fuel economy than a gas-powered Ford F-150 and worse mileage than the 1988 Grumman postal truck model when new.
The decision is a missed opportunity to electrify the fleet, which would reduce diesel, smog, and particulate matter pollution in nearly every neighborhood in America. Investing in electric trucks would prevent the Postal Service from burning 135 million gallons of fuel every year, or two to four billion gallons of fuel over 20 years. Because mail trucks travel short distances each day at an average of 20 miles, and park at night in a centralized location that would facilitate charging, they're especially prime for electrification. Countries like the United Kingdom, Canada, and Norway have already begun to deploy electric mail trucks.
"Electric mail trucks would facilitate clean air in our communities overburdened by asthma and health disparities that come with years of breathing toxic transportation pollution," said Beto Martinez with CleanAirNow, an environmental justice organization based in Kansas City. "There's a 22-year discrepancy in life expectancy between neighborhoods in Kansas City. Enough is enough. We want to see the Postal Service build a fleet that won't deliver pollution with the mail. The Postal Service failed to consider the environmental justice impacts we have to live with."
The Postal Service has faced overwhelming criticism for its deeply flawed and delinquent environmental analysis. The agency received over 35,000 comments from federal and state agencies, scientists, labor organizations, environmentalists, and community groups all concerned about the gaping holes in the analysis and the long-term consequences of this mistake.
The deeply flawed analysis included estimates for battery costs that were unrealistically high, with evaluations of gas prices that were unreasonably low even before the recent spike in gas prices to a national average of over $4 per gallon. The Postal Service used an estimate of $2.19 per gallon of gas, with a projected increase to a mere $2.55 per gallon by 2040. The Postal Service's environmental impact statement also dramatically underestimated the mileage range for Electric Vehicles (EVs) at 70 miles per charge, even though delivery EVs on the market today already surpass 200 miles per charge.
As the largest government fleet in the nation, the Postal Service makes up a third of the country's entire federal fleet. In January 2021, President Biden issued an executive order to electrify the federal fleet "including vehicles of the United States Postal Service," and committed to planning that would spur "the creation of union jobs in the manufacture of those new vehicles." But the new postal truck model is not slated to be built by American workers with good union jobs. Instead, the Postal Service appears to be allowing this program to be implemented with non-union labor in South Carolina, sparking opposition from the United Auto Workers, one of the largest unions in the country.
"We're taking the Postal Service to court over its failure to electrify its vehicle fleet," said Katherine García, director of Sierra Club's Clean Transportation for All campaign. "Instead of moving forward with common-sense and available technology to mitigate the climate crisis, clean up our air, and create good union jobs, USPS has decided to keep polluting communities at a time when federal agencies should be leading the way on electrification. It's an unacceptable decision, and we won't let it slide."
The Postal Service is facing a wave of litigation filed today. Earthjustice is representing CleanAirNow and the Sierra Club in the lawsuit filed in the Northern District of California, and the Center for Biological Diversity is representing itself. NRDC, representing the United Auto Workers, also filed suit against the Postal Service. And well over a dozen states, including California, New York, Connecticut, Delaware, the District of Columbia, Illinois, Maine, Maryland, Michigan, New Jersey, New Mexico, North Carolina, Oregon, Pennsylvania, Rhode Island, Vermont, and Washington, as well as the City of New York and the Bay Area Air Quality Management District also filed a lawsuit today against the Postal Service for its plans to invest in thousands of polluting mail trucks.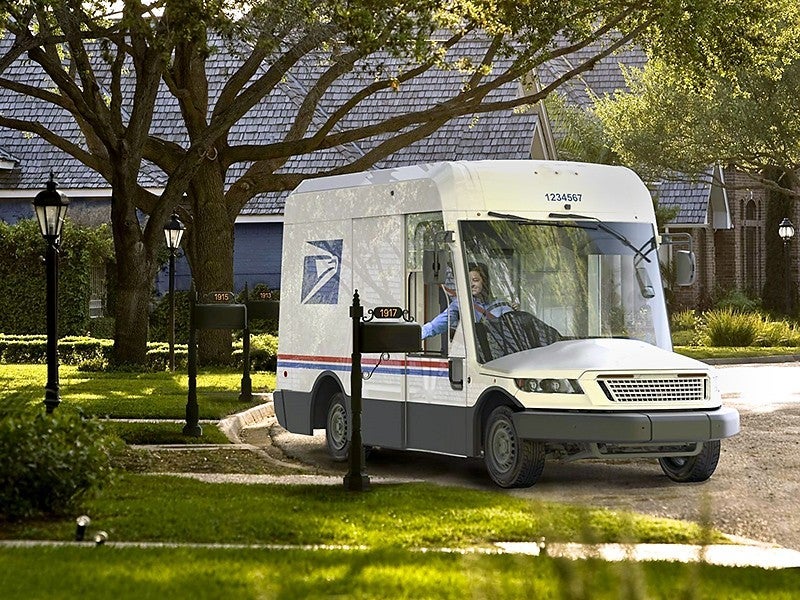 Earthjustice is the premier nonprofit environmental law organization. We wield the power of law and the strength of partnership to protect people's health, to preserve magnificent places and wildlife, to advance clean energy, and to combat climate change. We are here because the earth needs a good lawyer.