New Book Offers Clear Path for Climate-Neutral Agriculture in the United States
Experts outline steps for federal and state policymakers
Washington, D.C.
—
A new book from agriculture policy experts Peter H. Lehner and Nathan A. Rosenberg, Farming for Our Future: The Science, Law, and Policy of Climate-Neutral Agriculture, offers a clear path forward for U.S. federal and state policymakers to consider such as laws and programs to decarbonize agriculture. The book provides reliable, in-depth sources regarding relevant areas of science, economics, and law to fill the current knowledge and policy void.
As Farm Bill talks begin, the harsh realities of climate change are becoming more visible and dangerous throughout the world, especially in the agriculture sector. While policymakers are — inconsistently and insufficiently — beginning to enact measures to reduce reliance on fossil fuels, they still almost completely ignore the need to reform our food system to address climate change despite the fact that our food systems are the largest source of methane and ultimately responsible for a third of global warming. The reality is, however, that we must reform agriculture because it will be simply impossible to achieve the Paris Agreement goal of no more than 2°C (3.8°F) without doing so, much less the safer goal of 1.5°C (2.9°F).
In Farming for Our Future, Lehner and Rosenberg begin by surveying the state of the science on agriculture emissions and the existing legal and policy landscape. Next, they examine hundreds of regulatory, legal, and policy reforms necessary to accelerate the adoption of practices that can make agriculture in the United States climate-neutral or better. These proven practices will also make our food system more resilient to the impacts of climate change.
"Peter Lehner and Nathan Rosenberg have gone deeper and broader than anyone before in identifying the many legal levers that can be used to move agriculture toward carbon neutrality. Congress, the White House, USDA, other agencies, and the private sector should use this as their legal guide," said leading climate law expert Michael B. Gerrard, professor and director of the Sabin Center for Climate Change Law at Columbia Law School.
Policymakers are not the only ones who will benefit from the book. Farms and ranches can be a major part of the climate solution, while protecting biodiversity, strengthening rural communities, and improving the lives of the workers who cultivate our crops and rear our animals. Seth Watkins, a fourth-generation farmer known for his TEDx presentation, Farming Evolved: Agriculture Through a Different Lens, commented, "This book does an incredible job of explaining the practices and policies we need to help farmers build regenerative production systems that will protect our climate and our future."
The importance of agricultural climate solutions should not be underestimated; they are critical elements both in ensuring our food security and limiting climate change. This book contains the only comprehensive overview of the science, existing law, and policy proposals concerning agricultural emissions in the United States, providing essential solutions to address the greatest crises of our time.
The book, published by ELI Press, the Environmental Law Institute's book division, is on sale now.
For more information, including the table of contents and reviews, visit https://www.eli.org/farming-for-our-future.
Peter H. Lehner is managing attorney of the Sustainable Food & Farming (SFF) Program at Earthjustice, the country's largest nonprofit public interest environmental law organization.
Nathan A. Rosenberg is a visiting scholar at the Food Law and Policy Clinic at Harvard Law School and an attorney consulting for Earthjustice.
Interested in interviewing the authors? Contact Rachel Jean-Baptiste at jean-baptiste@eli.org.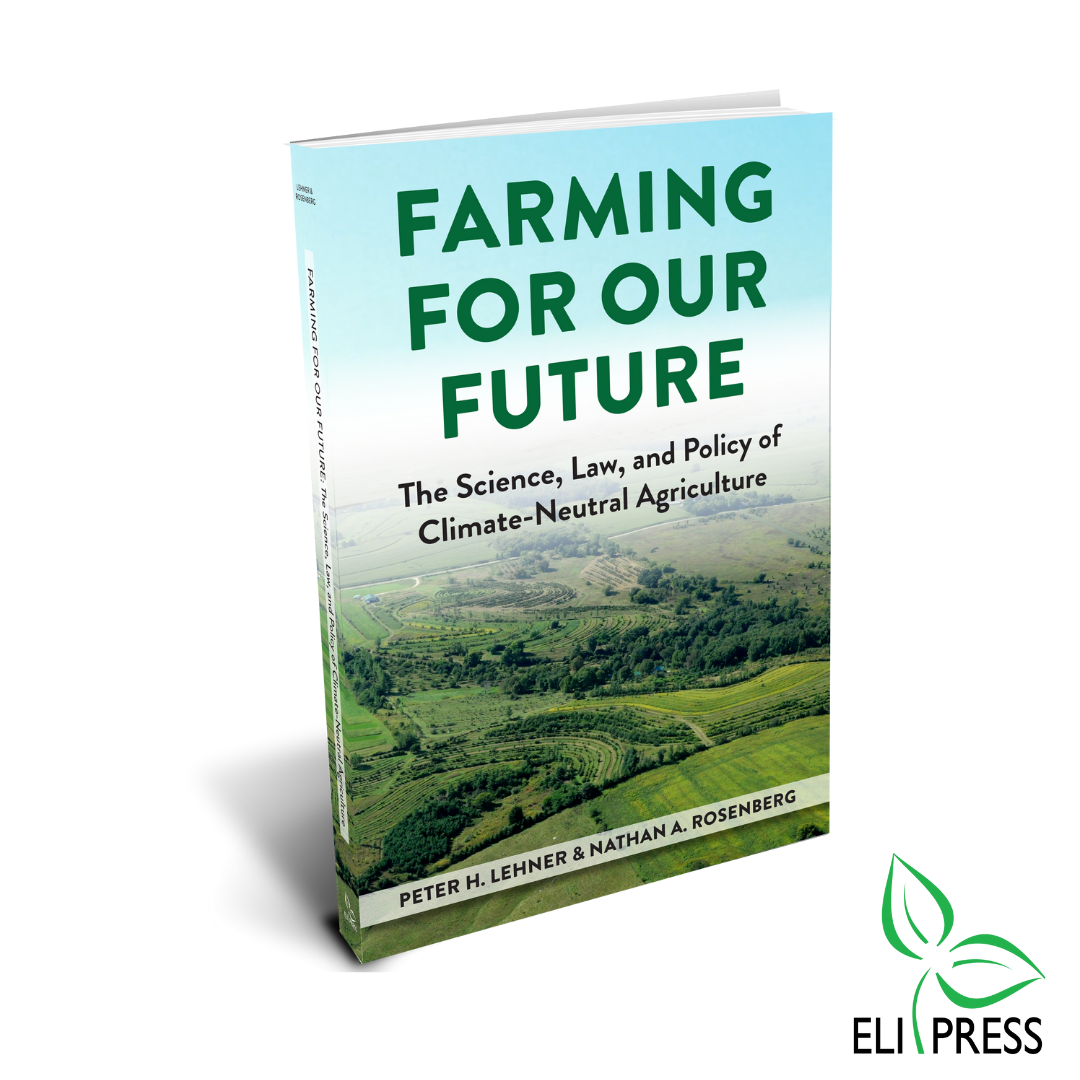 Earthjustice is the premier nonprofit environmental law organization. We wield the power of law and the strength of partnership to protect people's health, to preserve magnificent places and wildlife, to advance clean energy, and to combat climate change. We are here because the earth needs a good lawyer.