Advocates, Unions, and Electeds Call on Governor Hochul to Include Green Transit and Green Jobs In Upcoming Budget
Statewide Coalition, Labor Unions, and Elected Officials Advocate for Bill that would Lower Emissions and Raise Worker Protections
New York, NY
—
With Labor Day around the corner and legislators preparing for budget negotiations, advocates and elected leaders called on Governor Hochul to include the "Green Transit, Green Jobs" (S06089 & A06414) bill in her executive budget. New Yorkers have suffered a deadly deluge of smoke, flooding, and heat this summer, plus manufacturing closures that threaten the livelihood of the sector and its workers. The Green Transit, Green Jobs bill would phase out a major source of harmful health impacts on communities and curb planet-warming emissions by requiring public bus systems convert to zero-emission buses. It would also bolster the state's struggling manufacturing sector by providing workers with good, family sustaining jobs throughout this transition. Last week, seven labor unions representing tens of thousands of New Yorkers, including SMART, IBEW, SEIU Local 246, CWA District 1, IUE-CWA, UAW Region 9, and UAW Region 9A, signed a letter to the Governor encouraging her to include the bill in her Executive Budget. Governor Hochul must include the Green, Transit, Green Jobs bill in her budget to ensure the state uses its power of public dollars to invest in a fair, climate-safe economy.
The Green Transit, Green Jobs bill would require all transit agencies across the state to purchase only zero-emission buses starting in 2029. In addition, it would establish several protections for existing workers during this transition, such as requiring a comprehensive Workforce Development Report to identify the impact of the transition on the existing workforce, the necessary resources to retrain existing workers, and the development of a plan to train or retrain impacted workers. Several provisions would help ease the transition for smaller transit agencies to ensure that bus riders across the state benefit from the transition to a zero-emissions fleet.
New York's transportation sector contributes to 28% of emissions state-wide. Electrifying transit buses is a critical component of the state's Climate Scoping Plan, with the E3 Pathways Analysis calls for 60-70% of all new bus sales to be zero-emissions by 2030. Of the roughly 200 million miles New York's transit buses travel each year, only .2% are currently powered by electricity. However, transit buses are well-primed for electrification, with zero-emissions buses making up nearly 50% of global bus sales in 2022. In the United States, 5,400 zero-emissions buses were deployed at the end of 2022, representing a 66% increase year-over-year. Eliminating tailpipe emissions would also improve air quality and provide public health benefits for all New Yorkers, especially those who ride, drive, or live near bus routes and depots.
Once a steadfast source of good middle class jobs, New York's thriving industrial belt has turned into a rust belt, with less than half its peak of 1.6 million workers currently employed within the manufacturing sector. Passage of the Green Transit, Green Jobs bill would codify the transition of the Metropolitan Transportation Authority (MTA)'s bus fleet to zero-emissions buses, which could create over 6,100 direct and 21,500 indirect jobs in the bus manufacturing sector alone. The bill would also require the usage of a "best value" contracting framework, where bidders would earn extra credit for proposals with registered apprenticeship programs and job creation for high-need communities and those laid off as a result of the transition away from fossil-fuel buses. By allocating $100 million each year to non-MTA transit agencies, NY State can ease the burden of small transit agencies transitioning to this new technology, ensure their unionized workforce receives the training to safely work on zero-emission buses, and shape this manufacturing sector with their collective purchasing power.
"Under the CLCPA [Climate Leadership and Community Protection Act], New York has enacted the most ambitious climate agenda in the nation, yet we know that meeting those goals will require collective action and investment, and that includes in our public infrastructure and transit sectors," said Senator Tim Kennedy, Chair of the Senate Transportation Committee. "This policy builds on the commitment New York has already made, and creates real, forward-thinking directives to combat climate change, create jobs, and strengthen our future."
"As we look to the start of 2024, we urge Governor Hochul to include the Green Transit/Green Jobs bill in the FY 2024-25 Executive Budget. This legislation will significantly reduce the state's emissions by mandating the transition of public bus systems to zero-emission buses. Furthermore, it offers a lifeline to New York's struggling manufacturing sector by creating stable, family-sustaining employment opportunities during this pivotal period," said Assemblymember Jeffrey Dinowitz. "The challenging summer experienced by New Yorkers, marked by the grim realities of smoke, flooding, and scorching heat threatening the industry's production and workforce, underscores this legislation's urgency. By implementing the Green Transit/Green Jobs bill in next year's budget, we ensure that the state channels its financial resources to foster a fair, climate-safe economy, addressing environmental and economic imperatives."
State Assemblyman Steve Otis, Chair of the Assembly Science and Technology Committee said, "The Assembly has been a leader in supporting the state's transition to zero e-emission vehicles, EV [electric vehicle] charging infrastructure and green mass transit. Our goals and targets need to be backed-up by implementation. Including the principles in our legislation within the state budget proposal will be an important step to accelerate and support the transition to EV buses for improved air quality."
"As we transition to clean energy across New York State, the Green Transit, Green Jobs bill that moves our public transportation to zero-emission and all-electric buses is a critical move to curb greenhouse gas emissions while also ensuring good-paying union jobs," said Assemblymember Anna Kelles. "Tompkins County in my district has been making this transition with success since 2018 and can serve as a case example that the shift to all-electric public transit is possible. Tompkins County Area Transit (TCAT) has bought only electric buses since 2020 and plans to be fully electric by 2035. Tompkins is one of the hilliest and coldest areas in the state, and we have never had to take a bus off the road for insufficient remaining charge. TCAT has trained all existing employees and has not had to reduce or change any workforce due to this transition. Given that transportation in NY is responsible for approximately 30% of all greenhouse gas emissions, we will not reach our climate goals if we do not transition our major transportation systems like all municipal transportation systems. I am proud to join the 70 bi-partisan co-sponsors of the bill, and we are ready to make this happen along with Gov. Hochul in the 2024 budget."
"Zero-emission buses are a necessary step toward cleaner air, good green jobs and meeting our urgent climate goals," said Assemblymember Emily Gallagher. "We can turbocharge New York's manufacturing sector and our transition to a sustainable economy by passing the Green Transit/Green Jobs Act. I thank Assemblyman Dinowitz for his leadership and look forward to championing this bill in the next legislative session."
"As the union representing manufacturing workers throughout western and central New York, we believe Green Transit, Green Jobs will bring good union jobs back to New York and prepare current workers for a fair and just transition to a green economy. Current workers in fossil fuel buses manufacturing cannot be left behind in this transition — they deserve to be given the tools to safely transition to jobs in manufacturing zero-emissions buses," said Ray Jensen Jr, Assistant Director of United Auto Workers Region 9. "We take pride in the unprecedented talents of our workforce, and they take pride in leading the way of elevating our society into a new green future, that's fair and equitable for all."
"New York has the opportunity to lead a just transition for manufacturing workers into the new green economy — if Governor Hochul seizes it," said Brandon Mancilla, UAW Region 9A Director. "With the Green Transit Green Jobs bill, New Yorkers can fight climate change while also fighting corporate greed."
"As we ramp up zero-emission bus manufacturing to meet New York State's emissions goals, we need to ensure that unionized manufacturers stay competitive with a procurement process that incentivizes bidders who commit to creating good jobs," said Carl Kennebrew, IUE-CWA President. "Green Transit, Green Jobs reimagines the state procurement process, starting with transit manufacturing. Green jobs must be good jobs!"
"With Green Transit, Green Jobs, we have an extraordinary opportunity to be forward-thinking in how we prioritize climate change and good community-sustaining jobs. New York State can lead the way in reimagining how we purchase and contract high-dollar procurements, starting with public transit," said Jay Mehta, Northeast Director for Jobs to Move America. "Our union partners and environmental justice advocates are united in this effort, and we encourage Governor Hochul to include the Green Transit, Green Jobs bill in the 2024-25 Executive Budget."
"As we wind down a summer that saw New Yorkers across the state battling a slew of climate-fueled disasters, it is critical that the state's next budget be one that puts the climate crisis front and center," said Alok Disa, Senior Research and Policy Analyst at Earthjustice. "The Green Transit Green Jobs bill is a commonsense, win-win policy that would reduce emissions while encouraging that clean energy investments lead to family-sustaining jobs. By including Green Transit Green Jobs in her 2024-2025 Executive Budget, Governor Hochul can chart a course towards a zero-emissions future that uplifts workers."
"This legislation embodies the essence of environmental justice — a rallying cry for fairness, inclusivity, and resilience — and recognizes the interconnectedness of green transit and green jobs," said Kevin Garcia, the Transportation Planner with the New York City Environmental Justice Alliance. "By including the Green Transit, Green Jobs bill in next year's budget, Governor Hochul can take the steps necessary towards reducing greenhouse gas emissions, improving air quality, and revitalizing communities that have disproportionately borne the brunt of environmental hazards."
"Our workers in the public transit system are on the frontline of this public health issue and economic issue. Green Transit Green Jobs will tackle both issues head on and will deliver for our public transit workers and our people living in disadvantaged communities" said Monique Fitzgerald, Climate Justice Organizer at the Long Island Progressive Coalition. Passing this bill in the NYS budget is a matter of justice, equity, and reversing historical oppression because it will help rapidly end this dependence on fossil fuels and deliver a public transit system that prioritizes our disadvantaged communities and our public transit workers."
"In the wake of unprecedented climate disasters and with the imminent roll-out of Governor Hochul's signature cap-and-invest program, the Governor must seize every opportunity to affordably curb climate and health destroying pollution from fossil fuels," said Anshul Gupta, Senior Policy Analyst for New Yorkers for Clean Power. "The least-cost emissions reductions are those that can be achieved through regulations rather than having to be priced out of the market through cap-and-invest. A failure to pursue legislative climate solutions like the Green Transit, Green Jobs bill could overburden and undermine the cap-and-invest program."
"New York has long been a national leader in the transition to a clean economy and now is the time to fully capitalize on that leadership so the benefits will extend to all New Yorkers. Investing in zero-emission public transportation while empowering the workforce with the Green Transit, Green Jobs bill will do just that," said Uchenna Bright, E2 Northeast Advocate. "With billions of dollars in federal funding available to support building a cleaner transportation system across the U.S., Gov. Hochul has an amazing opportunity to secure a more affordable and resilient clean energy future for New York."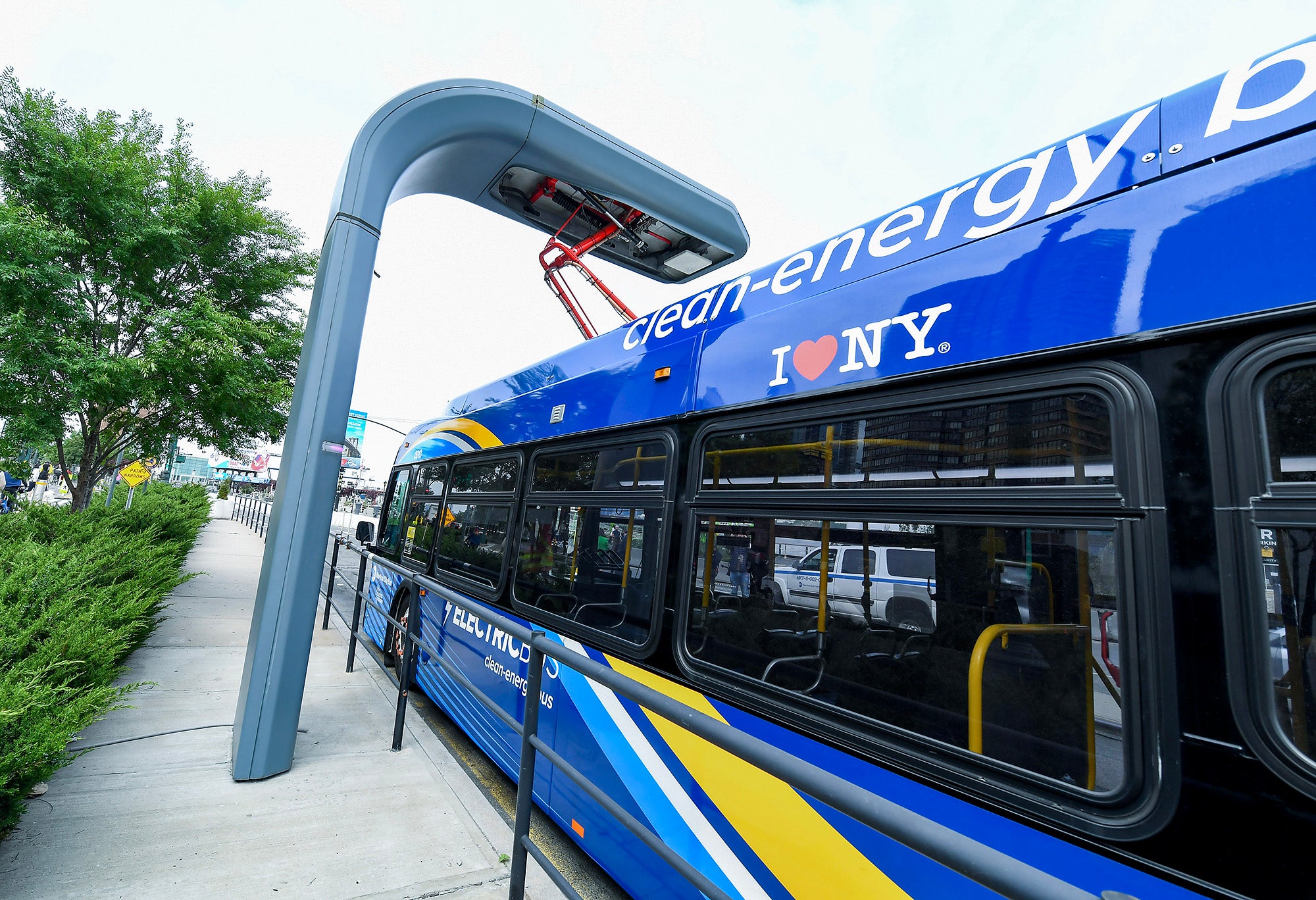 Earthjustice is the premier nonprofit environmental law organization. We wield the power of law and the strength of partnership to protect people's health, to preserve magnificent places and wildlife, to advance clean energy, and to combat climate change. We are here because the earth needs a good lawyer.