Advocates Unveil Actions to Rein In Unplanned Clustering Of Last-Mile Logistics Facilities
According to a December 2021 investigation by Consumer Reports, companies like Amazon have opened up the vast majority of last-mile logistics facilities in communities of color that have long suffered disparate environmental harms like increased rates of air pollution, noise, and asthma
New York, NY
—
New York City Council Members, advocates from the Last-Mile Coalition NYC, and community members unveil actions to rein in the unchecked growth of last-mile delivery hubs, including three new bills introduced by New York City Council Member Alexa Avilés and co-sponsored by Council Members Gutiérrez, Nurse, Brooks-Powers, Won, Hanif and Restler, as well as Public Advocate Jumaane Williams and Brooklyn Borough President Antonio Reynoso.
Retailers and online shopping companies have aggressively opened up new logistics facilities since the pandemic. When the JFK8 fulfillment center opened in 2018, it was Amazon's first facility in New York state. By 2021, at least 20 last-mile delivery hubs were identified in New York City alone and since then, more have come online.
A recent Consumer Reports investigation revealed that nearly 70% of Amazon facilities are located in neighborhoods that are predominantly home to people of color. These facilities add to longstanding concerns about increased rates of air pollution, noise, and asthma that have disparately impacted these communities over decades.
The explosive growth of last-mile logistics has been aided and abetted by a lack of planning solutions that would address their expansion and clustering in some neighborhoods. Under New York City's zoning code, no special permit or application is required to develop last-mile facilities in industrially zoned lots. Due to decades of redlining and other racially biased policies, industrial zones are most often located in or near communities of color. So far, the New York City Department of City Planning has declined to take any action to address the unchecked expansion of last-mile facilities across the city.
Since the pandemic, legislators and advocates have introduced multiple proposals to address these issues, not limited to but including the following three bills introduced in the City Council today:
Int 923 – A Local Law mandating a study on the impact that truck and delivery traffic generated by last mile facilities have on local communities and infrastructure
Int 924 – A Local Law requiring the Department of Transportation to study street design as a means to limit or reduce the use by commercial vehicles in residential neighborhoods
Res 501 – Resolution calling on top maritime importers to NYC ports to commit to make the City's streets greener by reducing traffic and using marine vessels for last mile deliveries
Int 707 – A Local Law to amend the administrative code of the city of New York, in relation to air quality monitoring at designated "heavy use" thoroughfares
Int 708 – A Local Law to amend the administrative code of the city of New York, in relation to redesigning the truck route network to improve safety and reduce traffic congestion and emissions
Int 721 – This bill would require the New York City Department of Transportation to include in its truck route compliance study information about the feasibility of developing a web-based interactive mapping application that integrates the City's truck route map with global positioning system technology.
Int 898 – A Local Law to amend the administrative code of the city of New York, in relation to translating the citizen's air complaint program portal into the designated citywide languages
Last-mile zoning text amendment – The special permit would set forth the following conditions:

Any last-mile warehouse must be at least 1,000 feet from any school, park, nursing home, or public housing development.
Last-mile warehouses must be at least 1,000 feet from another such facility.
Last-mile warehouses located in what's called a Significant Maritime Industrial Area, which are designated waterfront areas, must conduct 80 percent of deliveries by marine transportation (see map).

A1718/S2127 – (Mitaynes/Gianaris) – Establishes an indirect source review for certain warehouse operations; requires the department of environmental conservation to conduct a study regarding zero emissions zones.
"Our City must urgently recognize the unchecked growth and clustering of last-mile facilities and take appropriate steps to tackle this problem head on," said Council Member Alexa Avilés. "So long as we fail to regulate these facilities, we are missing out on more sustainable economic development opportunities while subjecting only some to suffer the health and environmental impacts of increased traffic, noise and air pollution. This issue is not 'too complex' to be addressed, as some have tried to tell us. We have solutions and we are urging the administration and Department of City Planning to act."
"Truck traffic has exploded in New York City in recent years," said NYC Council Majority Whip Selvena N. Brooks-Powers, Chair of the Committee on Transportation and Infrastructure. "Studies suggest more than 1 billion e-commerce packages will be delivered annually to New York City by 2024. Communities near major trucking hubs deal with illegal parking, noise and air pollution, and congestion. And these problems will only get worse. We will fight to hold the City accountable and reduce the burdens the trucking industry places on neighborhoods."
"The spread of last-mile facilities creates convenience, but it also imposes environmental harm on communities that are already burdened by pollution and the resulting health impacts," said Council Member Jennifer Gutiérrez. "The inequitable distribution of these facilities perpetuates a cycle of systemic environmental injustice, and by failing to even study these issues, the City is culpable in enabling companies to prioritize profit to the detriment of human health and the environment."
"The explosive growth of last-mile facilities is an environmental and transit hazard. To make matters worse, the speed of their growth has been unaccompanied by the necessary regulation to ensure their safety," said Council Member Shahana Hanif"I'm proud to sign on to today's introduced legislative package to ensure last mile facilities have the environmental administrative regulation that the 21st Century demands. I look forward to working with Council Member Avilés and my Council colleagues to pass this package swiftly for the wellbeing of our constituents."
"Over the past few years, New York City has seen a marked increase in last-mile delivery hubs, such as Amazon warehouses, in communities of color that already experience higher rates of air pollution and asthma. With millions of packages delivered to New Yorkers daily, we need to advance policies that provide opportunities for review, assessments, and public input of the e-commerce industry, including a key study of the impact that truck and delivery traffic generated by last mile facilities have on local communities and infrastructure. I am proud to join Council Member Aviles in support of the Last Mile Coalition, a citywide coalition of environmental justice and public health advocates," said Council Member Sandy Nurse.
"Once again, it's our working-class communities of color who are sacrificed to the commercial needs of our city," said Brooklyn Borough President Antonio Reynoso. "Last mile facilities and the trucking that comes with it are saddling our Black and Brown, Latino, and AAPI neighborhoods with toxic pollution, heavy traffic, and the health dangers that follow. I'm so proud that Brooklyn's own Alexa Avilés is leading the charge for health equity and environmental justice, and I hope the rest of our city leaders will rise to the occasion and implement the last-mile regulations we need to protect our future and the future of this city."
"The rapid and unchecked growth of last-mile trucking facilities concentrated in historically marginalized communities are threatening to not only exacerbate the climate crisis and health disparities, but inhibits frontline communities from accessing investments to implement a Just Transition. We are calling on the City to protect environmental justice communities and stop allowing huge corporations to make unlimited profit with no regard for local communities or our climate future," said Elizabeth Yeampierre, executive director of UPROSE.
"The rapid expansion of last mile warehouses in Red Hook such as Amazon over the past 3 years poses a threat to public health and safety. Red Hook Initiative supports the legislation introduced today by Council Member Aviles and others to further regulate air monitoring and truck route compliance in relation to these facilities. Red Hook has high rates of asthma and layers of environmental burdens and the City must act now to regulate these facilities," said Tevina Willis, Red Hook Houses resident and Community Organizing Manager at Red Hook Initiative.
"Protecting our communities from deeper issues of environmental justice requires city and state legislation that regulates last-mile facilities. We need Mayor Adams and the Department of City Planning to support the regulation of these facilities in order to prevent worsening the air quality, traffic, and the overall safety and well-being of residents in neighborhoods, like Hunts Point. New York can begin to prioritize environmental justice neighborhoods by passing zoning text amendment that addresses clustering. We are already feeling the overwhelming impacts of these facilities," said Dariella Rodriguez, director of Community Development for THE POINT CDC.
"We have seen the expansion of last-mile facilities exponentially increase over the course of the year with essentially no oversight from the city or any of its agencies. In conducting business as usual, the city effectively condemns already overburdened environmental justice communities to a fate prescribed to us historically by former racist governments and administrations. We, as the predominantly affected communities, have taken actions to nudge the city in the direction that is needed to safeguard our peoples. We commend our elected officials on introducing legislation in the City Council to further study and probe into the impacts of these facilities on local neighborhoods and the spillover of trucks and vehicles that continue to plague us. We renew our call on the Department of City Planning to prioritize last-mile warehouses and regulate them to reflect the true nature of their operation," said Rami Dinnawi, Environmental Justice Coordinator for Green Light District at El Puente.
"The rapid growth of e-commerce in recent decades, especially during the pandemic, has substantially increased the volume and frequency of diesel-burning truck congestion in New York City and the clustering of last-mile warehouses in environmental justice communities. The City should move forward with all of these legislations and must use planning to regulate these facilities," said Kevin Garcia, the Transportation Planner for the New York City Environmental Justice Alliance. "The City must move forward with the zoning text amendment application to provide the public, especially environmental justice communities, assurances to prevent the clustering of these facilities and deliver mitigation efforts to reduce traffic congestion and emissions."
"New York City's spike in truck traffic brings environmental, health, and safety harms that disproportionately affect low-income communities and communities of color. The proliferation of last-mile e-commerce warehouses, which generate huge amounts of truck traffic, exacerbates these threats. We applaud Councilmembers Aviles and Gutierrez for introducing bills to address trucking pollution, and join community groups in calling on the Department of City Planning to fix the city's zoning regulations to require planning and oversight for last-mile facilities," said Hillary Aidun, associate attorney at Earthjustice.
Map source: Alok Disa, Senior Research and Policy Analyst, Earthjustice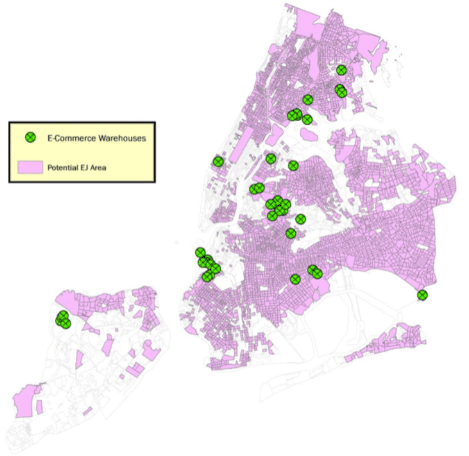 Earthjustice is the premier nonprofit environmental law organization. We wield the power of law and the strength of partnership to protect people's health, to preserve magnificent places and wildlife, to advance clean energy, and to combat climate change. We are here because the earth needs a good lawyer.