Climate and Consumer Organizations Call on Con Edison to Leave American Gas Association over Health Disinformation, Climate Fights
Pressure is increasing for utilities to leave AGA as new reporting details decades of disinformation about health risks of gas stoves
Albany, NY
—
More than 20 climate, consumer, and environmental justice organizations submitted a letter today to the CEO of Con Edison Corporation urging him to reconsider their membership in the American Gas Association (AGA), a trade association that has long sought to slow and overturn climate policies and efficiency standards while spreading disinformation about the health risks of gas stoves. It's estimated that Con Ed customers pay more than $800,000 to the trade association each year through their utility bills.
"Con Ed has been a leader in decarbonization efforts in New York — and yet, its membership in the American Gas Association doesn't stack up with Con Ed's own climate goals, and it's at odds with New Yorkers' desire to secure a healthy, livable future," said Meagan Burton, staff attorney, Earthjustice. "Con Ed can't claim to be a climate leader while it funnels ratepayer funds to a trade association that spreads disinformation about the health risks of methane gas and blocks local governments from expanding access to energy-saving clean technologies."
Fossil fuel trade associations represent a significant barrier to action on climate at all levels of government, and AGA specifically has led the fight to ban local governments in states across the country from transitioning new homes to clean energy, while also fighting efficiency standards that benefit consumers and spreading disinformation on the health risks associated with gas stove pollution.
A new report has tracked a coordinated effort by the AGA tracking back 50 years — and continuing to this day — to confuse and discredit scientific research about the health harms of gas stove pollution using the same tactics, public relations firm, and research lab as the tobacco industry.
This report comes on the heels of two new studies, adding to decades of research illustrating significant health harms that can result from gas cooking. A first-of-its-kind study from researchers at the University of Buffalo found an association between developmental delays in children and exposure to unclean cooking fuels, including gas, propane, and wood. A second study tracking the results of a nationwide Ecuadorian induction stove promotion program found evidence of large-scale drop in hospitalizations in lockstep with the households' transition from gas stove to electric stove use.
In the letter, organizations including Earthjustice, Citizen Action of New York, Sunrise Movement NYC, and Evergreen Action urge Con Ed to follow the lead of Eversource Energy, an investor-owned utility in the Northeast, in ending its AGA membership in order to "redirect costs to more targeted associations and memberships with a focus on decarbonization." The decision recognizes the misalignment between Eversource's own commitment to decarbonization and AGA use of membership dues to fight climate policies across the nation.
As the advocate letter highlights, Eversource's decision to leave AGA is proof that a major gas service provider can continue to safely and responsibly continue its operations without supporting climate obstruction by the American Gas Association.
"AGA is dedicated to prolonging our reliance on an aging, leaky gas system that is harming the health of residents across New York, and we — as ratepayers of Con Ed — are unwittingly paying for the disinformation campaigns on health and climate," said Burton. "Following a summer of historic climate-driven flooding and toxic air pollution in New York, the people of New York need climate solutions now, not disinformation. If Con Ed wants to stand by its climate commitments it should rescind its membership in AGA and redirect these funds to invest in a clean energy future where New York can thrive."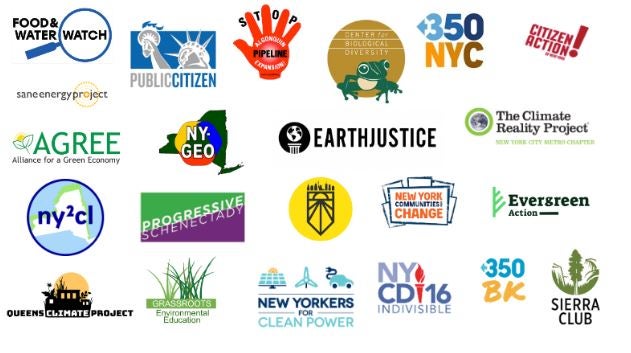 Earthjustice is the premier nonprofit environmental law organization. We wield the power of law and the strength of partnership to protect people's health, to preserve magnificent places and wildlife, to advance clean energy, and to combat climate change. We are here because the earth needs a good lawyer.