Environmental Advocates Call for State of Emergency in Ohio Chemical Disaster
East Palestine residents have been exposed to exuberant amounts of toxic chemicals in contaminated air and water following the explosion of a chemical-carrying cargo train
Washington, D.C.
—
A major environmental disaster unfolding in East Palestine, Ohio has prompted environmental organizations to call on Gov. Mike DeWine to declare a state of emergency after a train carrying hazardous and carcinogenic chemicals derailed and exploded, contaminating nearby waterways, soil, and the air residents are breathing. Norfolk Southern Railroad burned several cars of chemicals to avoid further explosions.
The impact of the Feb. 3 toxic chemical explosions on people's health is yet unknown, but residents have reported experiencing nausea, shortness of breath, dizziness, and headaches. It has also been confirmed that the hazardous chemicals have spilled into the Ohio River, which covers 14 states and provides drinking water to more than 5 million people. The state confirmed the contaminated waterways have led to the deaths of at least 3,500 fish. It is critical that Gov. DeWine declare a state of emergency and formally request president Joe Biden for FEMA aid so that residents affected by the explosion can get immediate help.
"When important source waters like this are contaminated by spills caused by corporate greed and lack of protective regulations, the impacts reverberate downstream and harm communities for years — we have seen it time and time again," said Earthjustice Legislative Counsel Julian Gonzalez. "Governor DeWine, EPA, and FEMA need to listen to the people impacted most by this, like Fresh Water Future, Project BREATHE, Save Our County, and River Valley Organizing, and immediately explore emergency options to mitigate the damage caused by this preventable disaster."
Following the explosions, state officials ordered residents living within a mile of the explosions to evacuate immediately, said River Valley Organizing Development Director Emily Wright, who lives a few miles from the disaster site. Many East Palestine community members sheltered in a local high school as they had nowhere else to go. Residents in other areas in Ohio surrounding the site and in Beaver County, Pennsylvania were also told to evacuate.
According to the Environmental Protection Agency, the water, air, and soil surrounding the disaster site have been contaminated by hazardous and carcinogenic petrochemical derivatives used in factories to make paint, adhesives, plastics, and more. Despite the EPA's greenlight for residents to return home a week after the explosions, the agency cannot say what kind of health impact this amount of exposure to these hazardous chemicals will have on people.
Petrochemicals are toxic chemicals derived from oil and gas that are used to make a variety of substances. As the U.S. shifts to clean energy, fossil fuel companies are turning to petrochemicals to protect their profits. EPA must adopt stronger protections from these chemicals across their life cycles — including how they are transported — to protect against chemical disasters, as well as the everyday exposures, that are poisoning communities.
In 2018, the federal agencies charged with regulating hazardous materials on trains actually removed safety rules requiring modern braking systems. But they failed to conduct mandated safety tests, used inaccurately low estimates of accidents and risks, and restricted public participation. Earthjustice appealed the rule, but the agencies failed to respond, siding with companies like Norfolk Southern, who lobbied against more stringent safety requirements. The lack of government response has meant more explosive tank cars with "Civil War-era braking systems" traveling through towns and neighborhoods.
"The Norfolk Southern disaster unfolding in East Palestine demonstrates the lengths to which the petrochemical industry and its underregulated toxic emissions needlessly put communities in harm's way," said Adam Kron, senior attorney with Earthjustice. "While we still don't know the full extent of human exposure and health effects from this derailment, it is an urgent call to action for EPA and other federal agencies to undo Trump-era rollbacks and strengthen rules that protect communities from petrochemical facilities' toxic emissions."
If you'd like to report incidents stemming from this disaster, please use this form from our partners at River Valley Organizing.
See the latest information on the ongoing investigation.
Quotes from Clients and Partners:
"As train cars full of toxic chemicals were intentionally burned due to the train derailment in Ohio, health risks are still unclear for residents of East Palestine as well as downstream communities. The U.S. EPA is sending conflicting messages about the pollution and health risks from the Ohio train derailment. In one statement, EPA says it has not detected 'any levels of concern' of hazardous substances. Yet in other statements, they are confirming that substances released during the incident have been detected in six streams as well as storm drains, and they are investigating the soil," said Jill Ryan, executive director of Freshwater Future. "This accident points to the urgency for changing how we regulate the transport of toxic materials and petroleum products on, over, and around our precious water resources. Our valuable waters, such as the Ohio River and the Great Lakes, must be better protected from the threats to the safety of our drinking water from transporting hazardous chemicals."
"We call on Governor DeWine, Ohio Environmental Protection Agency Director Anne M. Vogel, Ohio Department of Health, East Palestine Water and Sewer Department, and other water and sewer departments to provide ongoing services to community members affected or impacted by the train derailment, at a minimum and including ongoing, easily and readily accessible crisis communication from relevant government agencies to the community; payment suspension for utilities affected or impacted; long term health monitoring for adverse health developments for issues which may develop from the toxic chemicals released; and crisis trauma services for those impacted," said The Junction Coalition Board President Robert Rivers.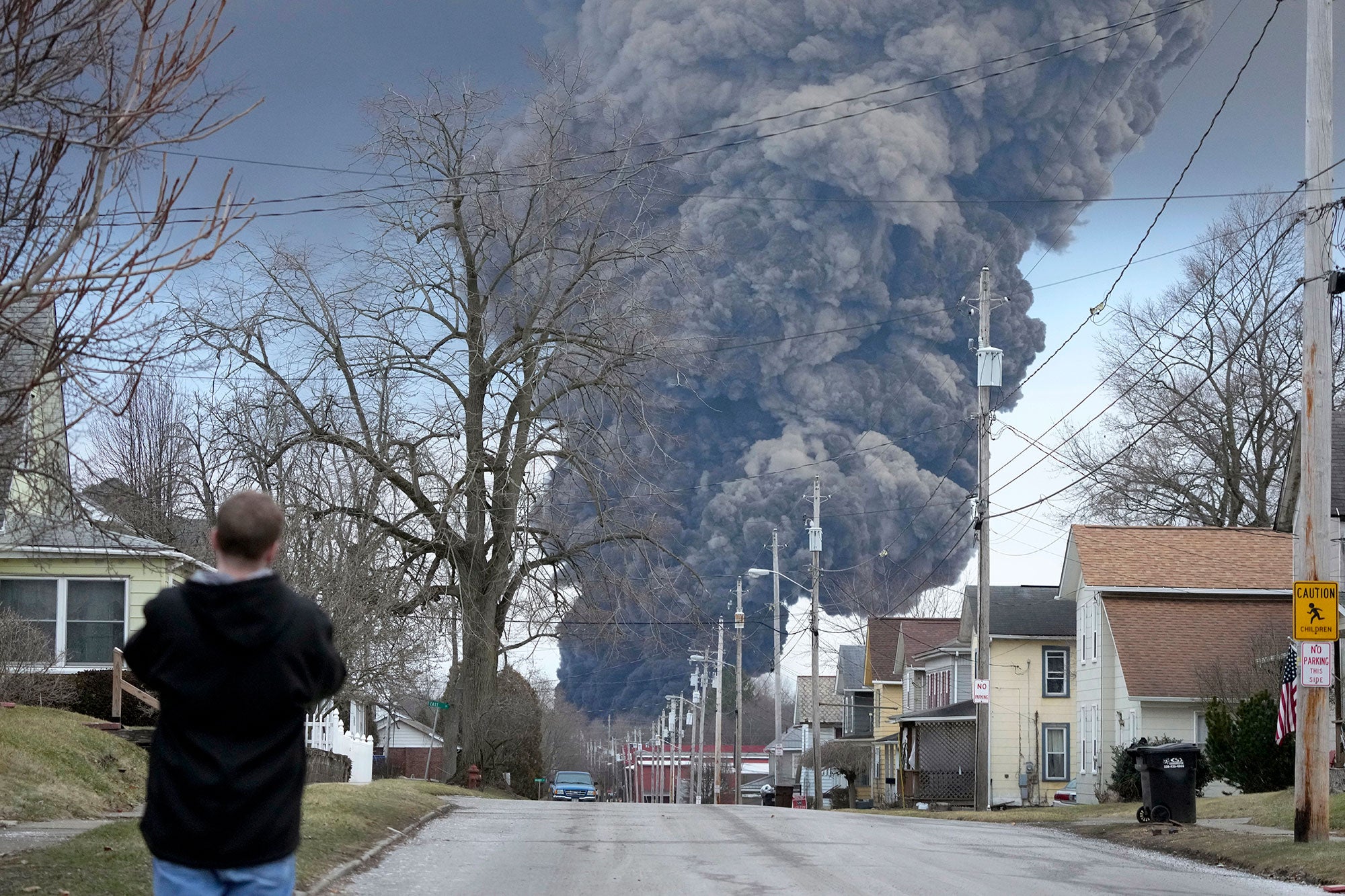 Earthjustice is the premier nonprofit environmental law organization. We wield the power of law and the strength of partnership to protect people's health, to preserve magnificent places and wildlife, to advance clean energy, and to combat climate change. We are here because the earth needs a good lawyer.