Michael R. Bloomberg Doubles Down with Additional $500M to Help End Fossil Fuels and Usher in a New Era of Clean Energy in the United States
Beyond Carbon campaign will continue to work towards shuttering all remaining U.S. coal plants, quadrupling the amount of clean energy on the grid, and halving gas use by 2030
New York, N.Y.
—
Today, UN Special Envoy on Climate Ambition and Solutions Michael R. Bloomberg announced an additional $500 million commitment to expand the Beyond Carbon campaign, one of the largest philanthropic efforts to fight the climate crisis in the U.S.
Beyond Carbon will turbocharge the efforts of U.S. cities, states, businesses, and more to transition away from carbon pollution. By 2030, Beyond Carbon aims to:
Finish the job on coal. With 372 of 530 coal plants announced to retire or closed to date — more than 70% of the country's coal fleet — this next phase will shut down every last U.S. coal plant.
Slash gas plant capacity in half, and block all new gas plants.
Increase U.S. clean energy four-fold. Accelerate the clean energy transition to reach the goal of 80% of total electricity generation.
"Thirteen years ago, when cap and trade efforts failed in Congress, our team refused to let politics trump progress. Since then, Bloomberg Philanthropies has helped retire more than 70% of all U.S. coal plants, which accounts for more than 80% of all emissions reductions in the United States since 2010," said Michael R. Bloomberg, UN Secretary-General's Special Envoy on Climate Ambition and Solutions and founder of Bloomberg LP and Bloomberg Philanthropies. "Today marks a new chapter in the Beyond Carbon campaign, as we move to finish the job. By working with our partners across the country, we hope to transform the way we power America by moving beyond fossil fuels and replacing them with renewable energy. I look forward to the progress we'll make together."
Today's announcement builds on Mike Bloomberg's continued efforts to move the U.S. to a clean energy future, which began in 2011 with Mike's initial $50 million commitment to the Sierra Club's Beyond Coal campaign at a time when U.S. coal production was at its all-time peak. After nearly a decade of progress on Beyond Coal, Bloomberg launched Beyond Carbon in 2019 with an initial $500 million commitment to help finish the job transitioning the country from coal and other fossil fuels to 100% clean power.
To date, Beyond Carbon has helped secure the retirement of more than 70% of U.S. coal plants and stopped more than 30% of planned gas capacity. This work has helped achieve more than 80% of all U.S. emissions reductions since 2010 and plant closures from the campaigns are estimated to have saved 49,900 lives, prevented nearly 77,500 heart attacks, and saved billions in healthcare costs.
But the U.S. is now at a pivotal moment — without rapid progress on clean energy, we will fail to meet our U.S. climate targets, and public health risks will skyrocket. Beyond Carbon's next phase will ensure the U.S. delivers on our global climate commitments by retiring the last remaining coal plants, stopping the expansion of natural gas, and quadrupling clean energy capacity while continuing to prioritize environmental justice and workforce transition.
The campaign will build on five proven Bloomberg Philanthropies strategies:
Data and research: Funding necessary studies and delivering accurate data and expert analysis to decision makers across state governments, financial institutions, and partner organizations to help advance swift, decisive actions.
Grassroots and litigation: Building on the powerful foundation established by grassroots community organizers to advance the transition to clean energy while utilizing the power of the law to protect public health and safeguard the environment.
Policy and advocacy: Educating and working with state and local organizations to pass climate and clean energy policies — including 100% clean energy laws, targets and timetables to phase out climate pollution, and implementation of programs to expand low-carbon transit, speed up the deployment of electric vehicles, get pollution out of buildings, and promote low-carbon manufacturing.
Clean energy deployment: Engaging with state governments to make the case for new clean energy and push the Energy Regulatory Commission to reform market rules and remove barriers for clean energy.
Coal refinancing: Supporting financial analysis to push for early retirement of coal assets and implement Inflation Reduction Act to ensure effective use of coal transition financing and clean energy tax credits.
Beyond Carbon will further the work of leading environmental partners across the United States including Earthjustice, Hip Hop Caucus, Sierra Club, RMI, League of Conservation Voters, Advanced Energy United, and Coalfield Development, among others, to accelerate efforts to end fossil fuels and turbocharge clean energy.
"The Beyond Coal and Beyond Carbon campaigns have played an outsize role in changing the facts on the ground and propelling the essential shift from fossil fuels to genuinely clean power. We are proud to have played a part in this success, alongside our clients and partners, and we know this is the moment to stretch further and move even faster," said Abigail Dillen, President of Earthjustice. "We are thrilled that Bloomberg Philanthropies is doubling down on Beyond Carbon with a new investment in critical work that carries from communities to courtrooms, from statehouses to Washington, D.C. The tailwinds have never been stronger to realize the climate, health, and economic benefits of clean power."
"The fossil fuel industry has admitted to creating 'sacrifice zones' around their plants — where Black, brown, indigenous and poor communities endure polluted water and air, and increased asthma and cancer rates," said Rev. Lennox Yearwood Jr., President & CEO of the Hip Hop Caucus. "Frontline communities have fought against this toxic industry for decades, but the Beyond Carbon campaign changed the power dynamic, giving resources to local groups that say enough is enough, we deserve better. We are done dying! This new investment by Bloomberg Philanthropies will further fuel the transition away from dirty to clean energy, and that's a win for our climate and for environmental justice."
"Combatting the climate crisis is the most critical fight of our time," said Ben Jealous, Executive Director of the Sierra Club. "We must transition from fossil fuels to clean energy if we want to protect our health, our environment, and our children, and we must do so in a way that empowers local communities and prioritizes environmental justice. We have worked closely with the Beyond Carbon campaign and Bloomberg Philanthropies on this work for years, and we look forward to finishing the fight to shut down fossil fuels and increase U.S. clean energy."
"Thanks to support from Bloomberg Philanthropies and the Beyond Carbon campaign, the U.S. has made significant progress toward achieving net zero and transitioning to cleaner, renewable sources of energy," said Uday Varadarajan, expert in carbon-free electricity at Rocky Mountain Institute (RMI). "This new infusion of funding will spark a renewable revolution in the U.S. that will accelerate the clean energy transition, prioritize environmental justice and create new opportunities for green jobs."
"Support from the Beyond Carbon campaign and Bloomberg Philanthropies has been critical to the work of LCV and our over 30 state affiliates in the broader Conservation Voter Movement to pass bold, equitable clean energy policies at the federal, state, and local levels," said Gene Karpinski, President of the League of Conservation Voters (LCV). "With support from Michael Bloomberg, more than 40% of people in the U.S. now live in a state that has a 100% clean energy policy, with more on the way. That's compared to less than 1% only six years ago. These policies not only advance the clean energy economy and cut carbon pollution, but also protect the health and safety of communities most impacted by the climate crisis."
"There has been immense progress on advancing climate and clean energy policy in the U.S. over the past decade — from over a dozen states passing 100% clean energy legislation to the passage of the IRA last fall, we've seen tremendous momentum all across the country. Now, it is time to focus on implementation," said Heather O'Neill, President and CEO of Advanced Energy United. "With the support of Beyond Carbon and Bloomberg Philanthropies, we will ensure that state governments and power utilities make the most of these policies by removing obstacles and accelerating the transition to clean, resilient, affordable energy."
"As we continue to transition away from coal and gas and build the clean energy economy of the future, we must take a holistic approach. We need to support workers during this transition and consider business development, job training, education, and equity. That's what we mean by just transition," said Brandon Dennison, Founder of Coalfield Development. "The previous administration cut our funding and it was Bloomberg's investment that kept our work afloat and allowed us to help so many families impacted by the energy transition. With this new investment in Beyond Carbon, we can continue building resilient communities and a sustainable economy for all."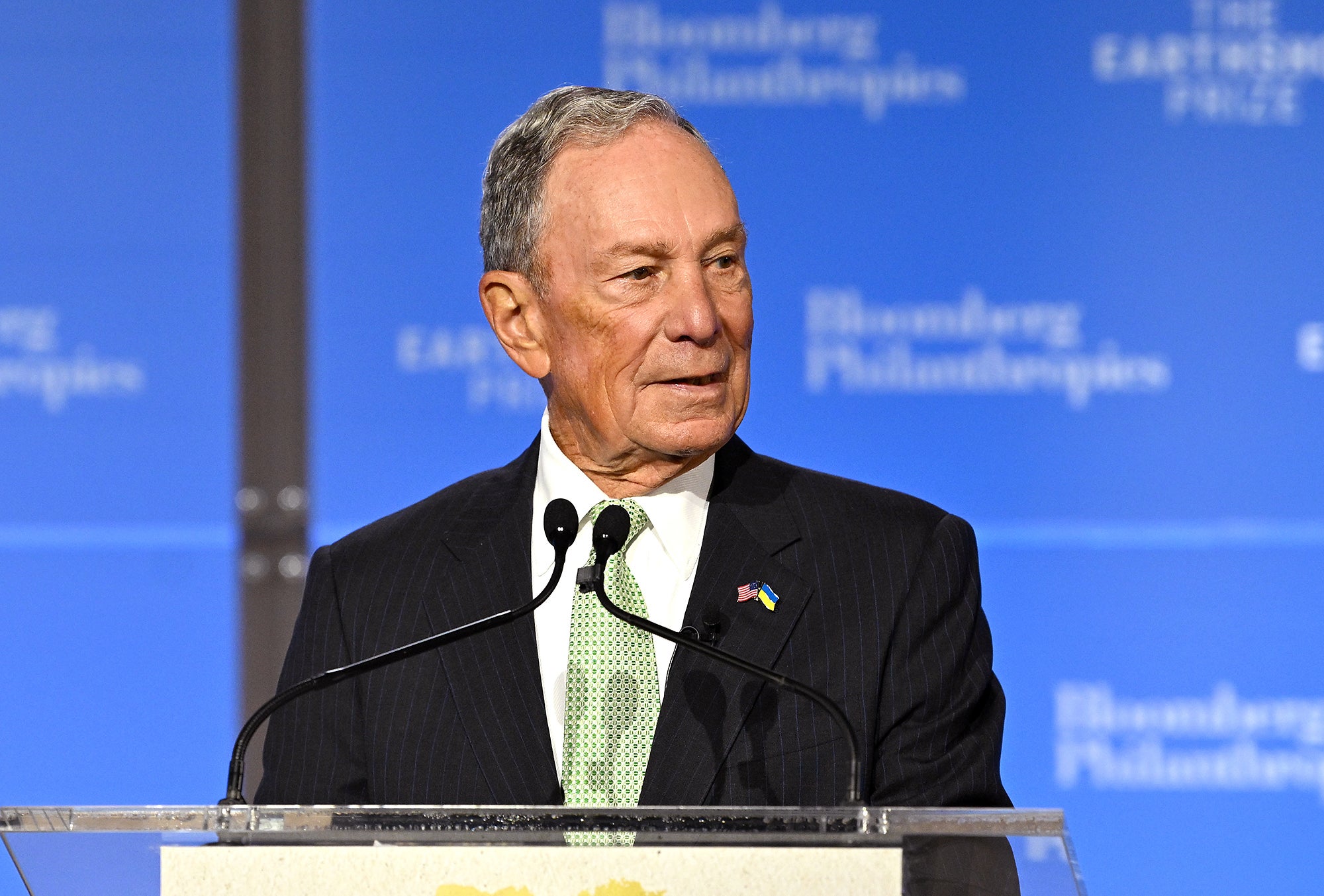 Earthjustice is the premier nonprofit environmental law organization. We wield the power of law and the strength of partnership to protect people's health, to preserve magnificent places and wildlife, to advance clean energy, and to combat climate change. We are here because the earth needs a good lawyer.