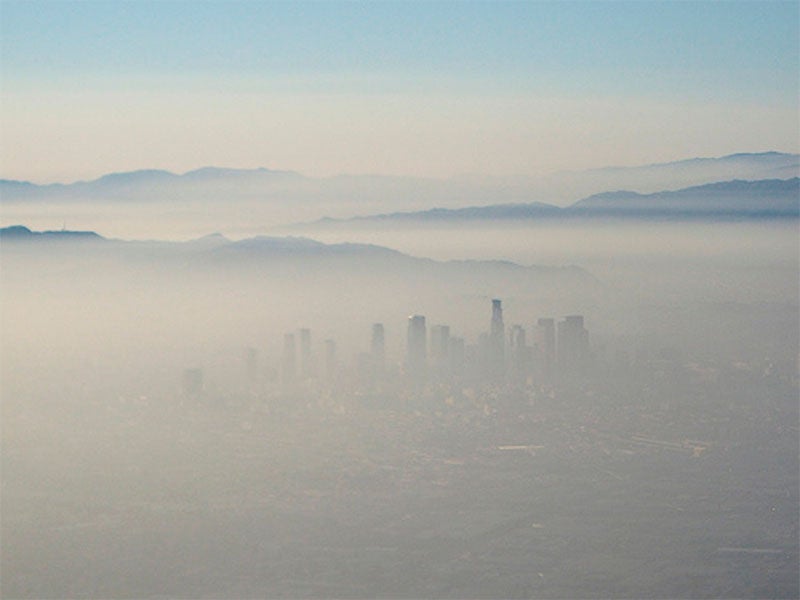 Metropolitan Transportation Library Archive Photo
What's at Stake
In 2013, Earthjustice filed a lawsuit demanding that the EPA finally take action on overdue standards for ozone—also known as smog—an air pollutant linked to tens of thousands of premature deaths, emergency room visits and asthma attacks each year.
Case Overview
The air is easier to breathe today due to the protections provided by the Clean Air Act, but there are still over 140 million Americans living with areas that have dangerous levels of ozone pollution. Sometimes called smog, ozone is a highly irritating gas found to shorten lives and worsen asthma and other lung diseases. It also is highly damaging to trees and plants, causing major impacts to the nation's forests and agricultural productivity.
In 2008, the Bush administration adopted standards that limit ozone in the air to 75 parts per billion (ppb). The standards fell woefully short of protecting public health, and top science advisors and medical organizations agreed that stronger ozone standards were needed to save lives and prevent sickness.
These standards adopted were far weaker than the unanimous recommendations of the agency's own science advisors, leaving public health and the environment at significant risk. Earthjustice challenged the 2008 standards on the ground that EPA's action was arbitrary and contrary to language and purpose of the Clean Air Act.
In a ruling in July of 2013, a federal appeals court held that welfare standards for ozone adopted during the Bush administration do not assure protection of forests and vegetation from ozone damage as the law requires. The court's judgment found that in 2008 the EPA violated the Clean Air Act when it refused to set protective standards and ignored the unanimous recommendation of its independent science advisors on. However, the decision also upholds a health standard which does not protect the publics health that these same scientific advisors had found to weak.
In a separate but related case in March of 2013, EPA missed the statutory deadline for completing its required review of the 2008 ozone standards. Earthjustice went to court on behalf of the American Lung Association and other partners to hold the administration accountable for new ozone standards, demanding a deadline to take action. The U.S. District Court set a court ordered deadline for EPA to complete the overdue review and update of the national standards controlling ozone pollution.
These cases are the latest in a series of court actions by Earthjustice over more than a decade that seek stronger protections against ozone pollution.
Strengthening the standards to 60 ppb would save up to 12,000 lives every year, prevent 58,000 asthma attacks and avoid 21,000 hospital and emergency room visits, according to the EPA's own estimates. And setting additional seasonal limits on ozone would provide protections that scientists and the National Park Service say are needed to protect forests and plants from ozone damage.
Stay Connected For Updates
Join our community of 1 million supporters and receive urgent action alerts.