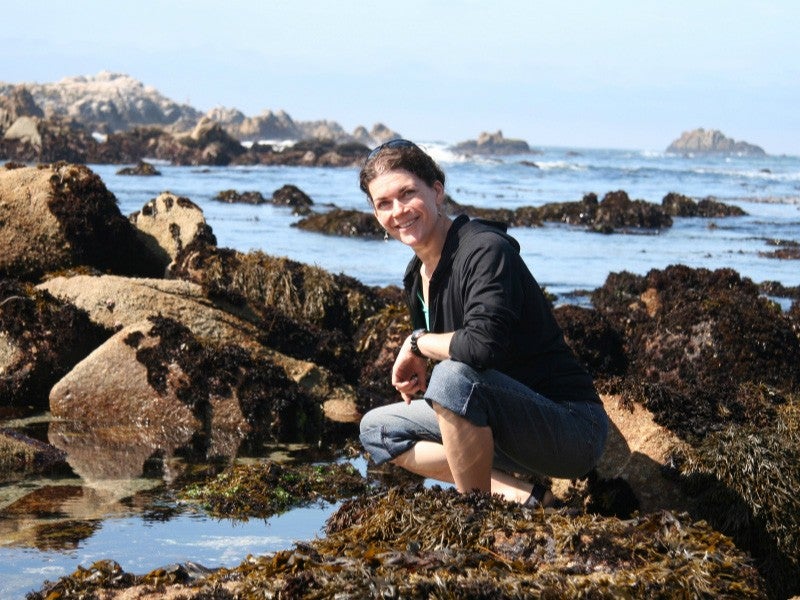 Andrea Treece first started at Earthjustice as an intern for Ocean Law Project.
She now works as a senior attorney, protecting forage fish species like herring, anchovies and sardines, which serve as the building blocks of the ocean food web and are being overfished at unsustainable levels.
Personal Story
I caught my first glimpse of the Atlantic when I was barely 3 years old. My family had just moved to Florida and we were taking an evening stroll on the beach. I stopped to watch the frothy waves crashing in the darkness — and I ran straight in. My parents signed me up for swimming lessons the next day.
Since that first plunge, the ocean has been home and cathedral and playground to me. It's brought me endless wonder: leatherback sea turtles cross the Pacific Ocean to eat jellyfish off California and then return through thousands of miles of vast blueness to the beaches they were born; fish will line up at special spots on a coral reef to get cleaned by smaller fish and shrimp, like an underwater car wash; bluefin tuna can go from 0 to 40 mph faster than a Porsche. And it's taught me humility: as a scuba instructor advised me before my first night dive, "Welcome to the food chain, kid — you're not on top."
My choice to pursue a career in ocean protection evolved from a sense that I owed something to these marvelous parts of the planet. Wanting to understand the issues from various angles, I studied marine biology and policy, ultimately completing a joint degree in law and coastal environmental management at Duke University. It took a few years, a couple of jobs, and a move across the country before I finally settled into a position where I could once again throw my energy into protecting ocean critters and habitats.
Since coming to the Earthjustice Oceans Program, I've worked on profound issues like conserving the food base for sea lions, sea birds, and other marine predators off the West Coast and protecting coral reefs in the Caribbean. I feel fortunate to work with passionate people who dedicate their legal, science, and policy expertise to finding creative ways to care for our precious ocean ecosystems. Everyday brings a new challenge, but also a new wonder.
Earthjustice is the premier nonprofit environmental law organization. We wield the power of law and the strength of partnership to protect people's health, to preserve magnificent places and wildlife, to advance clean energy, and to combat climate change. We are here because the earth needs a good lawyer.