Support from individuals and foundations is the lifeblood of Earthjustice's work. You help us take on the most important challenges of our time—and stick with them until we win. See Earthjustice's year-in-review for 2022.
As expert legal strategists, we take on high-stakes cases where we can have an enduring impact.
And our work doesn't stop at the courtroom door: In close partnership with our clients, we craft regulatory, legislative, and communications strategies to solidify the lasting impact of our legal victories.
"I give to Earthjustice because no one works harder or smarter for the environment."– Susan Britton, Earthjustice donor since 2007
Top Ratings From Charity Watchdogs
With so many environmental charities to choose from, it's important to make sure your donations go to a highly effective organization that will use your money wisely. Earthjustice is committed to sound fiscal management, accountability, and transparency—a commitment that consistently wins us top marks from the nation's chief watchdogs for charitable organizations.
MAXIMIZING THE IMPACT OF YOUR GIFT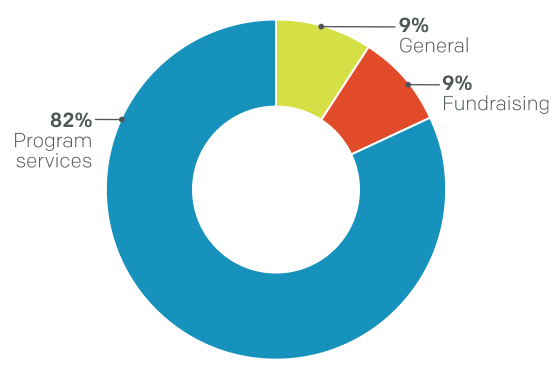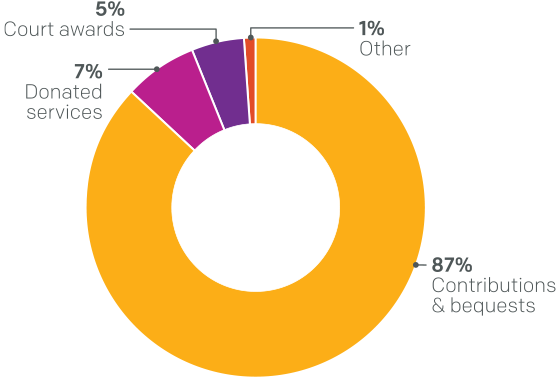 Earthjustice earns top ratings because 82% of every dollar you contribute goes directly to program work. We optimize our organizational efficiency so that as much of your donation as possible goes directly to supporting our mission. When you give to Earthjustice, you're not only contributing to one of the most effective environmental organizations in the country, you're helping many other nonprofits get the best legal defense.
Since our founding 50 years ago, our expert litigators have represented more than 1,000 public-interest clients, large and small—always without charge.
We rely on the generosity of foundations and individual donors like you to support our mission.
YOUR GIFT IS TAX-DEDUCTIBLE
Earthjustice is a 501(c)3. Your contribution to Earthjustice is fully tax-deductible. Our Tax ID number is 94-1730465.
OUR SUPPORTERS ARE OUR BEST ADVOCATES
Earthjustice supporters know that our country's strong environmental laws are the most powerful tools we have in the fight for a healthier, more sustainable world. Our dedicated attorneys take on and win key environmental victories in the courtroom, often pursuing cases for many years. We use the power of the law strategically, choosing cases that allow us to set precedents and have the greatest impact—often resulting in landmark decisions.
Nothing bolsters our commitment to this work more than hearing from our members about how it has touched their lives. Together, we are creating the environmental legacy we want to leave for our children.
The Amicus Society
Honoring dedicated friends who have supported Earthjustice for 25 years or more, the Amicus Society is a group of supporters whose unwavering commitment reflects their understanding that court battles to protect our environment are not won overnight, but often take many years to resolve. Learn more.
Divestment
Earthjustice recognizes climate change as one of the greatest threats to the global environment and human well-being. We also recognize divestment from fossil fuel and petrochemical companies as one of the strategies to speed the needed transition to a low-carbon clean energy economy. Earthjustice has made a commitment to divest from these industries and to self-review our progress toward divestment on an annual basis.
Landmark Victories
Each year, Earthjustice achieves more than fifty victories for the environment and human health. We couldn't do it without you. See our recent victories.