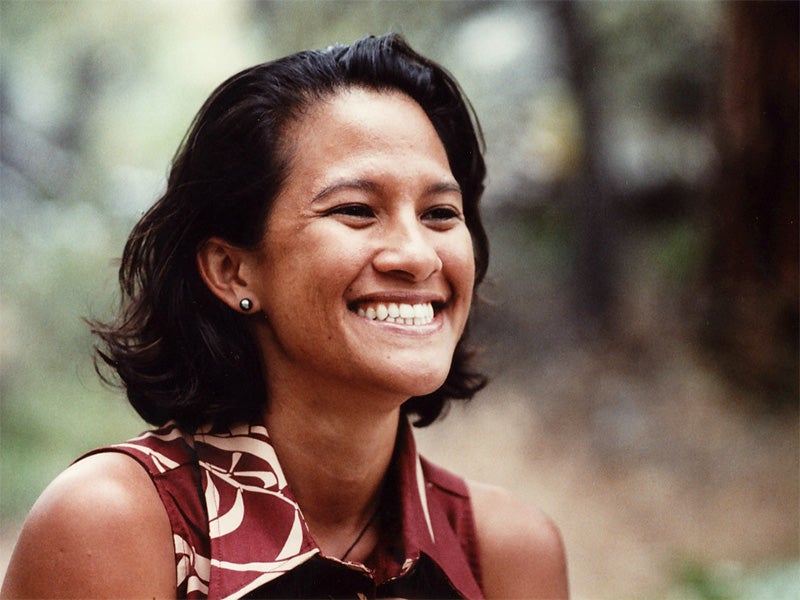 Kapua Sproat is Counsel for Earthjustice's Mid-Pacific regional office and currently resides on Oʻahu with her husband, Kahikukala Hoe.
She was born and raised on Kauaʻi's North Shore in Kalihiwai and is a member of the Akana and Sproat ʻOhana of Kauaʻi and Kohala, Hawaiʻi.
Kapua received a BA from Mills College in 1995 in political, legal and economic analysis. Kapua received her juris doctor from the University of Hawaiʻi's William S. Richardson School of Law in 1998 with an environmental law certificate.
Personal Story
Growing up on Kauaʻi's rural North Shore, I witnessed the desecration of my island home. Our small community of Kalihiwai, like numerous others throughout Hawaiʻi, has been undergoing rapid and poorly planned development since the early 1970's. Before I reached the age of five, a large portion of my predominantly Native Hawaiian fishing community was bought up by developers and subdivided into luxury estates. Little did I know, they were just getting started.
I grew up during what Hawaiʻi locals call "the end of the plantation era," when the large sugar plantations that had dominated almost every aspect of life in Hawaiʻi for over a century stopped planting cane and started growing houses and golf courses. With the plantations closing and more land becoming available, our small community was invaded by wave after wave of investors and developers. They paved over the natural beauty and unique culture that had drawn so many to these islands, and fences and No Trespassing signs now greeted local people seeking access to beaches and forests for traditional Hawaiian practices. More and more people wanting more and more of life's conveniences taxed our natural resources and threatened our very ability to sustain our Hawaiian culture and island lifestyles.
I am Kanaka Maoli (Native Hawaiian) and my ancestors have lived on Kauaʻi's North Shore for over a thousand years. I come from a family of fishermen and farmers, and like many others in our community we rely on the land and our marine resources to help put food on our dinner tables. I was raised with a strong sense of pride in my cultural heritage and a sense of kuleana, a cultural obligation to take care of Hawaiʻi and its natural and cultural resources.
My family and other members of our community worked tirelessly to ensure that a Maoli perspective was brought to bear on development in our area. I spent much of my childhood following my parents to community meetings and soon discovered that it was extremely difficult for grassroots groups to find competent and affordable legal representation to articulate our concerns. It was even more challenging to find an attorney who was sensitive to working with local communities, customs and traditions. Accordingly, while in elementary school, I decided to become an attorney to provide a voice for my community and to ensure that I would have a hand in protecting the areas that I lived in and loved.
My cultural and formal western education reaffirmed my desire to pursue a career in law. In 1997, I worked as a summer clerk in the Mid-Pacific office of Earthjustice and, in 1998, I joined the staff as an attorney. As part of the Earthjustice team, I have litigated state and federal environmental cases under the Endangered Species Act, Clean Water Act, State Water Code and various Hawaiʻi environmental laws.
Working at Earthjustice has enabled me to combine my legal education with cultural knowledge and grassroots organizing to implement an integrated advocacy approach to issues. Importantly, I am able to work side by side with community leaders and my extended family to protect and defend the natural and cultural resources upon which our cultures and island lifestyles depend.
For me, working at Earthjustice is not merely about securing legal victories and helping to establish precedent that will guide the way our laws are interpreted. Working at Earthjustice is an invaluable opportunity to give back to my community by helping to preserve our natural and cultural resources so that present and future generations can experience the same opportunities that I enjoyed and hope to continue to enjoy; principally, the ability to continue traditional practices and, thus, live Hawaiian culture. Hawaiian culture cannot exist in a vacuum and unless we preserve the natural resources upon which we depend, our culture cannot persevere. Ma ka hana ka ʻike—one learns by doing.
Earthjustice is the premier nonprofit environmental law organization. We wield the power of law and the strength of partnership to protect people's health, to preserve magnificent places and wildlife, to advance clean energy, and to combat climate change. We are here because the earth needs a good lawyer.