10 Earthjustice Longreads You Don't Want to Miss
Through stunning photo essays and gripping long-form features, Earthjustice is bringing its cases and victories to the public innovative ways.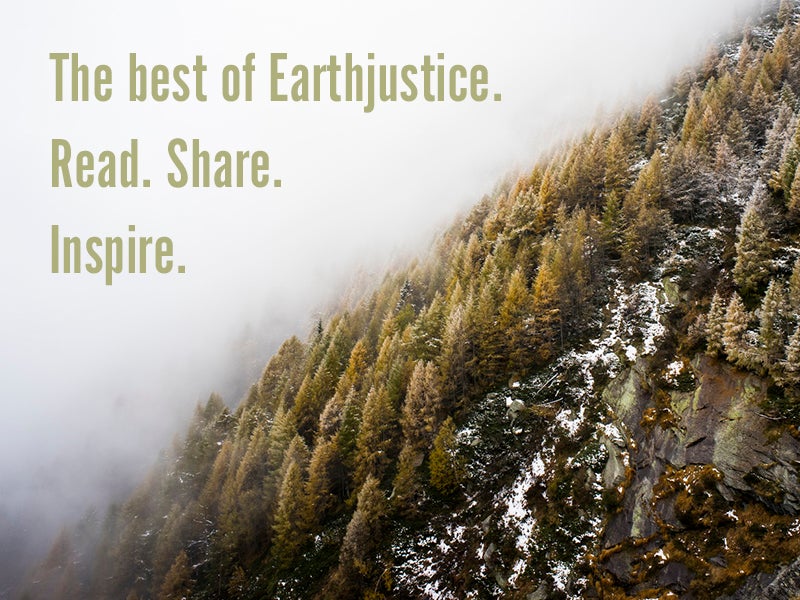 We're looking ahead to exciting new casework and courtroom battles to protect the wild, improve the health of communities across the U.S. and transition our country to renewable energy. But as we prepare to dive into our 2016 docket, let's not forget the biggest stories of 2015. Earthjustice has covered events across the environmental spectrum, from the battle to keep Shell's Arctic drilling rigs out of Seattle to the proliferation of pesticides on GM crops in Hawai'i.
Don't miss these in-depth stories from the frontlines of the environmental movement:
1. Inside the Fight to Save the Salish Sea
Most people have heard of Keystone XL, and we celebrated President Obama's decision in November 2015 to reject construction plans for this destructive tar sands oil pipeline. Unfortunately, Keystone isn't the only proposed pipeline threatening to wreak havoc on Canada's pristine wilderness. In this beautiful photo essay, you can see with your own eyes what is at stake.
2. Pesticides in Paradise
Hawai'i is known for its beautiful beaches, world-class surfing and delicious Kona coffee, but this tropical paradise is experiencing a dangerous agricultural revolution that has been quietly sickening local communities living outside popular tourist hotspots. Hawai'i hosts some of the world's largest chemical companies, and they treat the islands as testing grounds for genetically engineered, pesticide-dependent crops. Fortunately, communities are fighting back.
3. The Battle for Seattle
In May 2015, "Shell No!" became the rallying cry heard across the Pacific Northwest when a new type of activist was born: the kayaktivist. Armed with their paddles and passion, these activists floated together through Puget Sound's chilly waters to face off against Shell Oil's massive drilling rig the Polar Pioneer. Seattle was slated to become home base for Shell's summer Arctic oil drilling, but environmentalists weren't going to give in without a fight. 
4. Righting Civil Wrongs
From California to Michigan, low-income communities of color have been waiting years for the U.S. Environmental Protection Agency to take a stand against environmental racism. And they're still waiting. This story follows Ron Smith and his Alabama town's fight to save the community from a mounting pile of garbage that threatens to bury everything in its path.
5. Seven Ways Congress Is Trying to Destroy the Endangered Species Act
When one of the people in charge of setting our nation's environmental policy boasts about wearing boots made from the skins of endangered species, it's a dark day for anyone who supports the continued protection of creatures great and small. In this beautifully illustrated guide, we examine how congressional leaders are attempting to de-claw the Endangered Species Act, one of our strongest laws to protect both animals and the planet. 
6. California's Punishing Drought
While California may be in for some temporary drought relief with this year's monstrous El Niño, the state's crippling drought is by no means last year's news. Powerful lobbyists for the agricultural industry, which currently consumes 80 percent of California's water supply, will continue to demand water deliveries to their farms in the arid regions of the Central Valley. The battle over water—depicted in this photo essay—wages on. También está disponible en español aquí.
7. Saving the Forest for the Trees 
Tongass National Forest is home to centuries-old trees and rivers flowing among thousands of islands. However, not all value the forest's grandeur in the same way, and its majestic trees are at the center of a fight to keep logging out of roadless areas. Earthjustice has been working for 25 years to preserve the Tongass, and attorney Tom Waldo opens up about working on the frontlines in Alaska.
8. Too Sacred to Drill
For more than 10,000 years, the Badger-Two Medicine area near Glacier National Park in Montana has provided strength, subsistence and cultural identity to members of the Blackfeet Nation. But the Blackfeet aren't the only ones who value the region. The oil and gas industries also have their eyes on the area—and for more than 30 years, they've tried to drill it. This remarkable photo essay peeks into the life of Kendall Edmo, a Blackfeet tribal member, and her fight to save her tribe's sacred land.
9. Frozen Treasure: Defending the Arctic
The Arctic is warming at twice the rate of the rest of the world, putting tremendous strain on its wildlife and people, but its distinct landscape is still filled with life. It is home to iconic species, including seals, walruses, polar bears and bowhead whales. It's also home to vibrant Alaska Native communities, which have depended for millennia on the ocean for their way of life. This photo essay demonstrates the amazing diversity of this region and what could be lost as our planet heats up.
10. Harvesting Change: From Farms to the Nation's Capital
In September 2015, farmworkers and advocates celebrated a two-decades-in-the-making victory to create a more just food system. In a win for farmworkers, farmers and consumers, the only federal rule intended to protect agricultural workers from pesticide exposure and poisoning—the Worker Protection Standard—was finally updated. This story follows the farmworkers who travelled across the country to bring their stories directly to policy makers in Washington.
As a communications strategist, Miranda covers Earthjustice's Mid-Pacific and California regional offices. She has campaigned to defend public water resources in North America and is a graduate of the Master's in Global Studies program at the University of California, Santa Barbara where her research focused on climate change.