Six National Parks and Monuments You've Likely Never Heard Of
Not every park can be as popular as Yellowstone—but every park deserves our protection. (Spanish language version available.)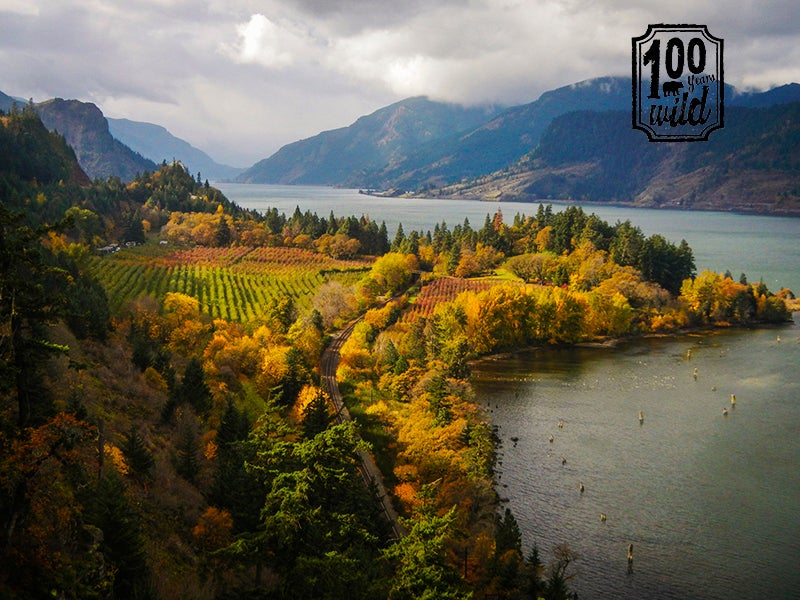 Este blog está disponible en español aquí.
As we celebrate the 100th anniversary of the creation of the National Park Service and its mission to "conserve the scenery…unimpaired for the enjoyment of future generations," it's important to remember that all national parks and monuments are worth defending—large and small, urban and wild, accessible and remote.
Earthjustice works to preserve the natural beauty and cultural significance of America's parks. We fight for strict government regulation of haze pollution from power plants, greater legal protections for endangered species and a reduction in the hazardous greenhouse gasses that drive climate change. And we know that our shared history is equally worth protecting for everyone, everywhere to enjoy.
Here are six of our nation's hidden gems:
1. Maryland: Fort Washington
Shortly after the Revolutionary War, Congress created a system of forts to protect America's important ports, and General George Washington suggested locating one on the east bank of the Potomac River. During the War of 1812, under threat from the British, Fort Warburton—later renamed Fort Washington—was destroyed by U.S. troops. The fort was rebuilt by 1824 and stood as the only defense of the nation's capital, Washington, D.C., until the Civil War.
Fort Washington became a national park in 1946. Today, park visitors can birdwatch, fish in the Potomac River and watch Civil War artillery demonstrations by costumed docents. The public can also visit the Fort Washington Light, a lighthouse built on the site in 1857 and tended by hand until 1954.
2. Arizona: Montezuma Castle National Monument
Montezuma Castle was one of the first sites in the U.S. to be declared a national monument. President Teddy Roosevelt dedicated this site along Beaver Creek in 1906. Despite its name, Montezuma Castle is neither a castle nor was it built by the Aztec ruler Montezuma, who was born decades after the site was abandoned. The "castle" is actually a series of carved dwellings high in the limestone cliffs occupied by the Sinagua Native Americans from 1200 to 1450 AD.
Until 1951, visitors were allowed to climb ladders into the ancient cliff houses, much as the Sinagua once did. But like feeding the grizzly bears of Yellowstone, this park tradition was phased out for reasons of preservation and personal safety. Still, more than 350,000 visitors come to see the prehistoric ruins every year and learn about the history of Native American settlement in the Southwest.
3. California: Pinnacles National Park
Pinnacles National Monument was established by Teddy Roosevelt in 1908; in 2013 President Obama declared the site our country's newest national park. The park's caves and crags were formed by lava from volcanic eruptions that occurred 23 million years ago. This "field of fire" was then split down the middle by the San Andreas Fault. The result of the geological upheaval is towering rock spires that climbers love, alongside talus caves, formed when fissures in the rock filled with gigantic boulders that fell from above.
About 250,000 people visit Pinnacles each year to take in the park's stunning landscapes and wealth of biodiversity. The park is home to rare Townsend big-eared bats, red-legged frogs and California condors, as well as 400 species of bees—the greatest diversity of bees found anywhere on Earth.
4. Michigan: Isle Royale National Park
Bobbing in Lake Superior, the world's largest freshwater lake, are one large island and more than 450 smaller islands known as Isle Royale. The national park was created in 1940 and was designated an International Biosphere Reserve in 1980. The park is only accessible by boat and seaplane, and just 18,500 intrepid trekkers visited in 2015. Adventure-seekers can Scuba dive into Lake Superior to see the largest collection of intact shipwrecks in the national park system.
The scientific study of wolves and moose living on Isle Royal is the longest running predator-prey study in the world, begun in 1958. In recent years, moose populations have skyrocketed while wolf numbers have fallen due to inbreeding; just two wolves remained in 2015. Sadly, despite pressure from Earthjustice and our partners, the National Park service is still debating whether to introduce new wolves to the park or let the pack die out.
5. Oregon and Washington: Columbia River Gorge National Scenic Area
Though not technically a national park—the site is administered by the U.S. Forest Service and local agencies—the Columbia River Gorge National Scenic Area protects a magnificent 85-mile-long, 4,000-foot-deep canyon that is the only sea level route through the Cascade Mountains. President Ronald Reagan signed an act creating the 292,500-acre scenic area in 1986.
The western part of the gorge is a place of rainforests and waterfalls, while the eastern part features rolling hills and rich farmland. The gorge is known for its unspoiled scenery and a 10,000-year history of human habitation. Earthjustice is fighting to keep the Columbia River Gorge from becoming the site of the largest crude oil terminal on the West Coast. The terminal would handle 360,000 barrels of oil a day, brought through the gorge by train, exposing the scenic area to the risk of catastrophic oil spills.
6. American Samoa: National Park of American Samoa
Twenty-six hundred miles southwest of Hawai'i lies America's most remote national park and the first in the Southern Hemisphere. The National Park of American Samoa includes parts of the rain forested, volcanic islands of Tutuila, Ta'ū and Ofu, as well as about 4,000 acres of undersea land. The area was leased by the National Park Service in 1993 from Samoan chiefs and is still jointly administered by the Samoan people, some of whom practice subsistence farming in the park.
The park is home to many rare and threatened animals, including giant flying foxes—fruit bats with a three-foot wingspan. The majestic coral reefs that ring the islands are teeming with sea turtles, humpback whales, 250 species of coral and 950 species of fish.
Additional reporting by Diana Tarrazo
As the National Park Service turns 100 this summer, the 100 Years Wild series celebrates the value of public lands as refuges to wildlife and people, while also shining a light on the threats to these irreplaceable landscapes in a changing and warming world.
Seis Parques y Monumentos Nacionales que Desconoces
Mientras celebramos el centenario del establecimiento del Servicio de Parques Nacionales y su misión para "conservar el paisaje…intacto para el gozo de generaciones futuras," es importante recordar que vale la pena defender a todos los parques y monumentos nacionales—grandes y pequeños, urbanos y silvestres, accesibles y remotos.
Earthjustice trabaja para conservar la belleza natural y el significado cultural de los parques de América. Luchamos por obtener regulación gubernamental más estricta y poder disminuir la contaminación atmosférica derivada de las centrales eléctricas, mayores protecciones legales para las especies amenazadas y una disminución en los gases peligrosos de efecto invernadero que provocan el cambio climático. Y sabemos que igualmente vale la pena proteger nuestra historia compartida para el disfrute de todos, en todas partes.
A continuación, seis de los tesoros ocultos de nuestra nación:
1. Maryland: Fort Washington
Poco después de la Guerra Revolucionaria, el Congreso elaboró un sistema de fuertes para proteger los puertos importantes de América y el General George Washington sugirió ubicar uno en la ribera este del Río Potomac. Durante la Guerra de 1812, bajo la amenaza de los ingleses, Fort Warburton— cuyo nombre luego cambió a Fort Washington—fue destruido por las tropas de EEUU El fuerte fue reconstruido para 1824 y se mantuvo como la única defensa de la capital de la nación, Washington, D.C., hasta la Guerra Civil.
Fort Washington se convirtió en un parque nacional en 1946. Hoy en día, los visitantes del parque pueden observar aves, pescar en el Río Potomac y ver demonstraciones de artillería de la Guerra Civil por docentes disfrazados a la usanza de la época. El público también puede visitar el Faro Fort Washington, un faro construido en el área en 1857 y atendido a mano hasta 1954.
2. Arizona: Monumento Nacional Montezuma Castle
Montezuma Castle fue uno de los primeros lugares de EEUU en ser declarado monumento nacional. El Presidente Teddy Roosevelt dedicó esta área a lo largo del arrollo Beaver Creek en 1906. A pesar de su nombre, Montezuma Castle ni es un castillo, ni fue construido por el gobernante Azteca, Montezuma, quien nació décadas después que el área fuera abandonada. El "castillo" en realidad es una serie de viviendas esculpidas en las colinas de calcáreas ocupadas por el grupo Nativo Americano Sinagua, de 1200 a 1450 AD.
Hasta 1951, se les permitía a los visitantes del parque subir por escaleras a las antiguas casas en las colinas, de una forma muy parecida a los Sinagua. Pero al igual que alimentar a los osos pardos de Yellowstone, esta tradición del parque desapareció poco a poco por razones de conservación y seguridad personal. Aun así, más de 350,000 visitantes vienen a ver las ruinas prehistóricas cada año y aprenden sobre la historia de la colonización de los Indígenas Americanos en el Suroeste.
3. California: Parque Nacional Pinnacles
El Monumento Nacional Pinnacles fue establecido por Teddy Roosevelt en 1908; en 2013 el Presidente Obama declaró el área uno de los parques nacionales más nuevos de nuestro país. Las cuevas y los peñascos del parque se formaron por la lava proveniente de las erupciones volcánicas que ocurrieron hace 23 millones de años. Este "campo de fuego" fue dividido a la mitad por la Falla de San Andrés. La agitación geológica resulta en torres de rocas que son el deleite de los escaladores y cuevas de astrágalo, formadas cuando las grietas en la roca se llenaron con las partículas de las enormes rocas que cayeron desde arriba. 
Alrededor de 250,000 personas visitan Pinnacles cada año para apreciar los impresionantes paisajes del parque y la riqueza de biodiversidad, que incluye raros murciélagos orejudos Townsend, ranas con patas rojas y cóndores Californianos, además de 400 especies de abejas–la mayor diversidad de abejas de cualquier lugar en el mundo.  
4. Michigan: Parque Nacional Isle Royale
Flotando en Lake Superior, el cuerpo de agua dulce más grande del mundo, se encuentra un sistema formado por una gran isla y más de 450 islas menores conocidas como Isle Royale. El parque nacional se creó en 1940 y fue designado una Reserva Nacional de la Biósfera en 1980. El parque solo es accesible por bote y por hidroplano, y solo 18,500 intrépidos excursionistas lo visitaron en 2015. Los aventureros pueden bucear en Lake Superior para ver la colección más grande de naufragios intactos en todo el sistema de parques nacionales.
El estudio científico de los lobos y los alces conviviendo en Isle Royal es uno de los estudios depredador-presa más largos en el mundo, iniciado en 1958. En años recientes, las poblaciones de alce se han disparado mientras el número de lobos ha disminuido debido a la endogamia; solamente dos lobos permanecen en 2015. Tristemente, a pesar de la presión de Earthjustice y nuestros socios, el Servicio de Parques Nacionales aun está debatiendo si debe introducir nuevos lobos al parque o dejar que muera la manada.
5. Oregón y Washington: Área Escénica Nacional de la Falla del Río Columbia
Aunque técnicamente no es un parque nacional–el área la administra el U.S. Forest Service y agencias locales—el Área Escénica Nacional de la Falla del Río Columbia protege a un cañón de 85 millas de largo y 4,000 pies de profundidad que constituye la única ruta a nivel del mar a través de las Montañas Cascade. El Presidente Ronald Reagan firmó un acta para crear el área panorámica de 292,500 acres en 1986.
La parte oeste de la falla consiste en selvas tropicales y cascadas, mientras que la parte este se caracteriza por colinas ondulantes y ricas tierras agrícolas. La falla se conoce por sus paisajes vírgenes y una historia de 10,000 años de presencia humana. Earthjustice está luchando para mantener la Falla Columbia River Gorge de convertirse en una de las mayores terminales de petróleo crudo en la Costa Oeste. La terminal manejaría 360,000 barriles de petróleo al día, transportados por tren hasta la falla, exponiendo el área escénica al riesgo de derrames de petróleo.
6. American Samoa: Parque Nacional de American Samoa
Dos mil seiscientas millas al suroeste de Hawái yace el parque nacional más remoto de América y el primero en el Hemisferio Sur. El Parque Nacional de American Samoa incluye parte de las islas volcánicas y llenas de selvas tropicales Tutuila, Ta'ū y Ofu, al igual que alrededor de 4,000 acres de tierra bajo el mar. El área fue rentada por el Servicio de Parques Nacionales en 1993 de los jefes Samoanos y aun es conjuntamente administrada por la población samoana, de los que algunos practican la subsistencia al cultivar dentro del parque.
El parque sirve de hogar a una gran variedad de animales, incluyendo zorros voladores gigantes–murciélagos frugívoros con alas de más de 3 pies de ancho. Los majestuosos arrecifes de coral que rodean las islas están repletos de tortugas, ballenas jorobadas, 250 especies de coral y 950 especies de peces.
Reportaje adicional por Diana Tarrazo
A journalist and graduate of the University of California, Berkeley, Heather was the associate editor from 2015–2017.