A Disgusting Day to Breathe in L.A.
The Los Angeles region is currently experiencing dirty, filthy and downright disgusting air. It's time for stronger air regulations.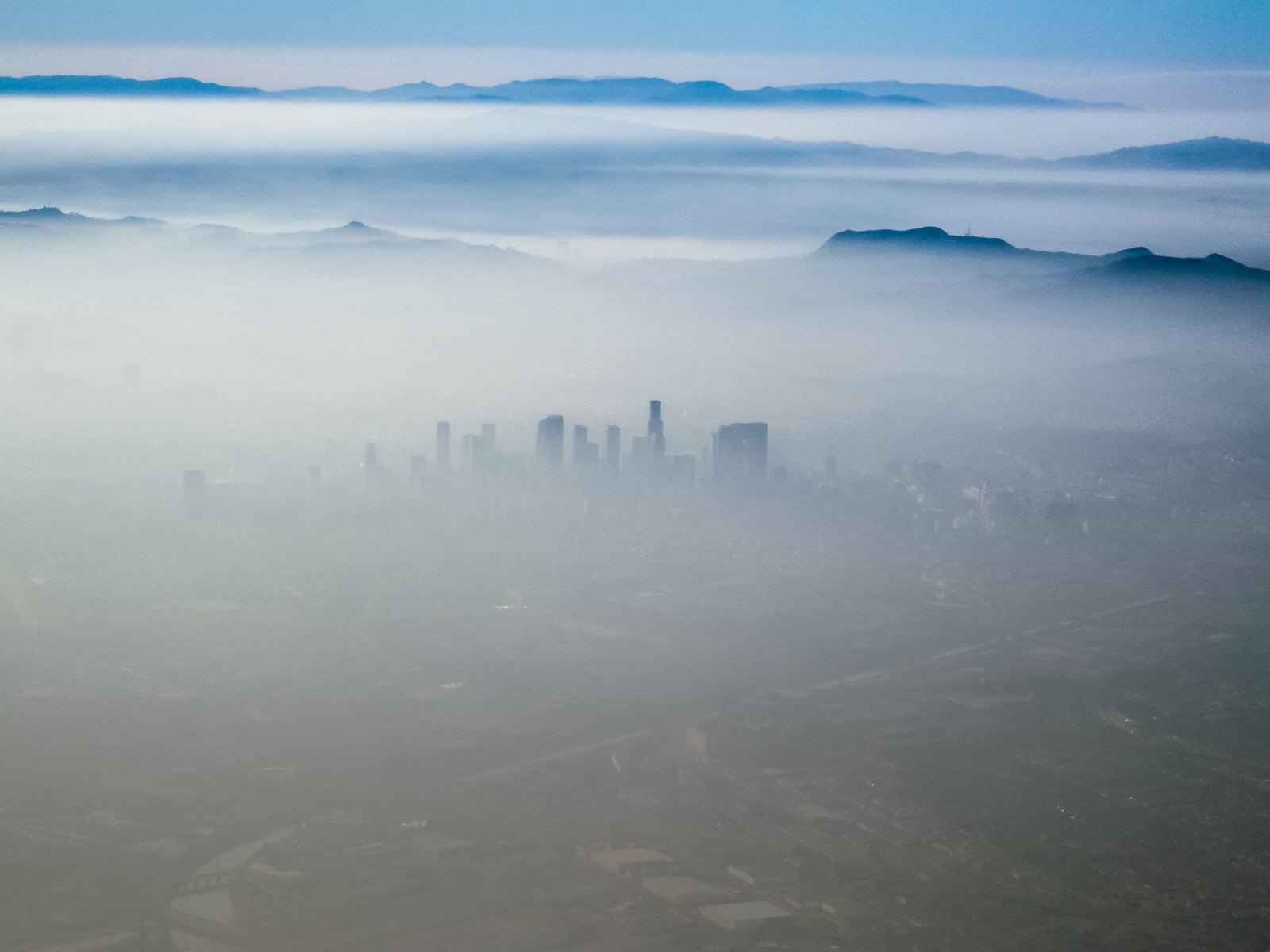 [Update 2/6/2015:  The governing board of the South Coast Air Quality Management District (SCAQMD) voted 10 -1, with two members absent, to approve the district's air plan. The vote came despite extensive testimony from community members who shared their personal stories of health woes due to particle pollution. The district's plan will now go to the state for approval and finally, EPA.
"The air district gave a little nod to us, but at the end of the day it was a weak plan and we'll need to hold their feet to the fire to fight for cleaner air," – Earthjustice attorney Adrian Martinez.]
The Los Angeles region is currently experiencing really dirty, filthy and downright disgusting air. 
Large swaths of the San Fernando Valley, central Los Angeles and areas all the way down into communities in southeast Los Angeles County are breathing high levels of particulate pollution in what is classified by the South Coast Air Quality Management District (SCAQMD) as an "unhealthy" air day, meaning everybody should be careful when breathing outside. 
Be careful breathing. That's a sad reality and many other parts of the region have air that has been marked "unhealthy for sensitive groups to breathe", too. 
The South Coast Air Basin is currently home to some of the most dangerous levels of this fine particle pollution in the nation. Exposure to it has been toughest on our most vulnerable populations of elderly and children, especially those with lung or heart diseases. As an organization, we have been fighting for cleaner air and tougher enforcement of air plans. According to EPA, exposure to this fine particle matter in the air has been linked to premature death, heart attacks, irregular heartbeat, aggravated asthma, decreased lung function and increased respiratory symptoms. 
Today we're on the eve of a vote. The South Coast Air Quality Management District's Governing Board is considering a plan to address fine particulate pollution tomorrow that proposes no new measures to clean up harmful particulate pollution. Our current filthy air day is a sobering reminder that we need to double down on our efforts to control pollution that can harm our health and that of our neighbors. This agency is charged, along with the California Air Resources Board, to clean up the air in the Los Angeles region. A plan with no vision or methods to achieve success for our population isn't a plan at all.
The agency's vote tomorrow will be a litmus test for how strong its governing board will be on cleaning up the pollution which limits our ability to breathe well. Spread the word that these plans are vital and serve as the template for how to make certain we breathe air that meets federal standards. Without a real plan, everyone who breathes this air will continue to suffer.
"We have summer smog in the winter," Angela Johnson Meszaros at Physicians for Social Responsibility-Los Angeles said to me in passing yesterday. A summer smog day in the winter season means our region has no reprieve from the air pollution. This is more proof that tougher standards are needed. 
Our air regulators use a scale called the Air Quality Index, which generates a number to assess how healthy or unhealthy the air is, to convey information about pollution.  The higher the number, the dirtier the air is to breathe. The AQI today hit as high as 160 on a scale of 500 for the unhealthy designation in downtown Los Angeles where I work. This dirty air shows that despite progress to clean the air from its pollution in the 60s, 70s and 80s, Los Angeles has a long way to go. People's lives and quality of living is on the line.
Yet again, be careful breathing.
Based in Los Angeles, Adrian works on clean air, clean energy, and healthy communities issues as a deputy managing attorney for Earthjustice's Right to Zero campaign. Follow him on Twitter @LASmogGuy.
The California Regional Office fights for the rights of all to a healthy environment regardless of where in the state they live; we fight to protect the magnificent natural spaces and wildlife found in California; and we fight to transition California to a zero-emissions future where cars, trucks, buildings, and power plants run on clean energy, not fossil fuels.