A Victory for Utah's Red Rock Country
Signaling the end of an era in which off-road vehicles like ATVs and jeeps were allowed to run roughshod over public lands, a federal judge in Utah has struck down a Bureau of Land Management ORV plan for 2.1-million acres of central Utah. Earthjustice attorneys and a coalition of conservation groups spent five years challenging…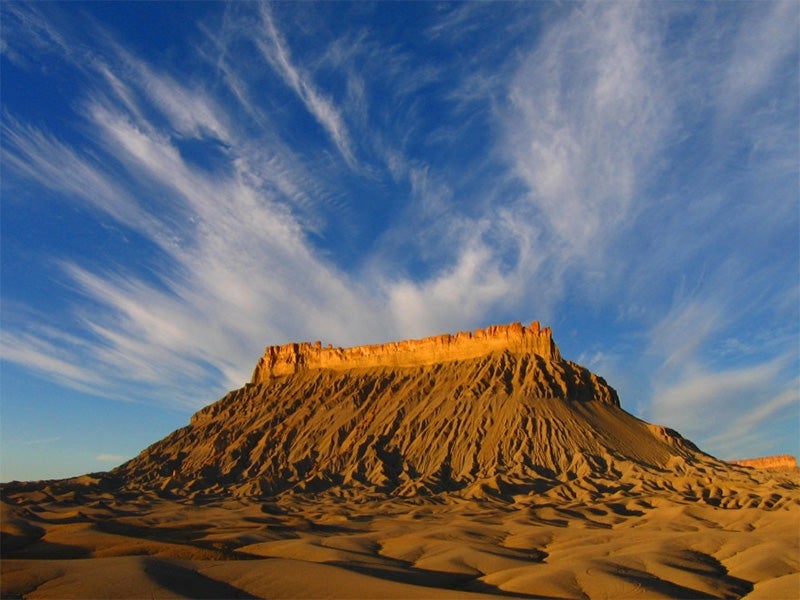 Signaling the end of an era in which off-road vehicles like ATVs and jeeps were allowed to run roughshod over public lands, a federal judge in Utah has struck down a Bureau of Land Management ORV plan for 2.1-million acres of central Utah.
Earthjustice attorneys and a coalition of conservation groups spent five years challenging the plan and were rewarded with a decision that unequivocally rejected BLM's failure to protect wildlife habitat, streams and archaeological sites from ORV damage.
Sandwiched between Capitol Reef and Canyonlands National Parks, BLM's Richfield Field Office is home to some of the most remote and rugged parts of Utah's Red Rock country, including the Dirty Devil Canyon complex (including Butch Cassidy's infamous hideout, Robber's Roost), the Henry Mountains (the last mountain range to be mapped in the lower 48 states) and iconic Factory Butte.
Dirty Devil proposed wilderness.
(Photo © Ray Bloxham / SUWA)
Thanks to this court victory, these uniquely scenic landscapes, with their towering mesas and remote canyons, will have another shot at the protection they deserve. The court ordered the BLM to revisit the thousands of miles of ORV trails it designated; and ensure that motorized use was only allowed where harm to the environment can be minimized. The agency must also look for and protect archaeological and cultural sites on routes open to ORVs.
The BLM sacrificed these special places in a 2008 management plan that designated more than 4,200 miles of dirt roads and trails—enough miles to drive from Atlanta to Anchorage—for ORV use, despite evidence that motorized recreation was harming the fragile ecology of the high desert and ruining the experience of visitors seeking solitude.
The court also criticized the BLM for acquiescing to local county politicians who opposed the designation of an Area of Critical Environmental Concern that would have provided special protections for the isolated Henry Mountains. This was a strong signal to the BLM that it must follow the law—and not bow to political pressure—when it manages the public's land. Finally, the court found fault with the BLM's refusal to consider protection for several unique desert streams as "wild and scenic" rivers.
This important ruling marks a new day for Utah's Red Rock country and lays the ground work for a better future for all of the nearly 400,000 square miles that BLM nationwide manages. BLM cannot simply treat ORV use as the dominant use of our public lands and ignore the damage that results from unfettered motorized recreation.
This decision also raises serious questions about the legality of five other BLM management plans in Utah that suffer from similar legal flaws. The Richfield Resource Management Plan is just one of six land use plans—covering more than 11 million acres of eastern and southern Utah—that the Interior Department finalized in October 2008, as the Bush administration attempted to leave its stamp on public land management. These plans govern the iconic public lands surrounding Arches and Canyonlands National Parks, Glen Canyon National Recreation Area and Dinosaur National Monument. Earthjustice and its conservation partners have challenged all six plans in court. The Richfield plan is the first of the six to be litigated.
With this ruling coming less than a month after our significant victory that put an end to proposed oil and gas development adjacent to Arches and Canyonlands National Parks, we are guardedly optimistic about the future of the Utah's Red Rock country. Although many threats persist, recognition of the importance of and need to protect these special lands seems to be on the rise. Thank you for your support of this important work!
The conservation groups challenging the BLM's 2008 land use plans in Utah include the Southern Utah Wilderness Alliance, Sierra Club, Grand Canyon Trust, National Parks Conservation Association, The Wilderness Society, Natural Resources Defense Council, Utah Rivers Council, Great Old Broads for Wilderness, National Trust for Historic Preservation and Rocky Mountain Wild.
The groups were represented by attorneys Heidi McIntosh, Robin Cooley and Alison Flint of Earthjustice, Steve Bloch and David Garbett of SUWA and by Robert Wiygul of Waltzer and Wiygul.
Mt. Ellen proposed wilderness in the Henry Mountains. (Photo © Ray Bloxham / SUWA)
Robin works in the Rocky Mountain regional office in Denver, CO. Her work focuses on protecting the wild places and species of the Rocky Mountain region from the harmful impacts of energy development and off-road vehicle use, and promoting a clean energy future.
Earthjustice's Rocky Mountain office protects the region's iconic public lands, wildlife species, and precious water resources; defends Tribes and disparately impacted communities fighting to live in a healthy environment; and works to accelerate the region's transition to 100% clean energy.