Company Rushes to Build Pipeline Through Bayou Despite Invalid Permit
The company behind the Dakota Access Pipeline is digging on a new project in Louisiana, even after a court deemed its permit invalid.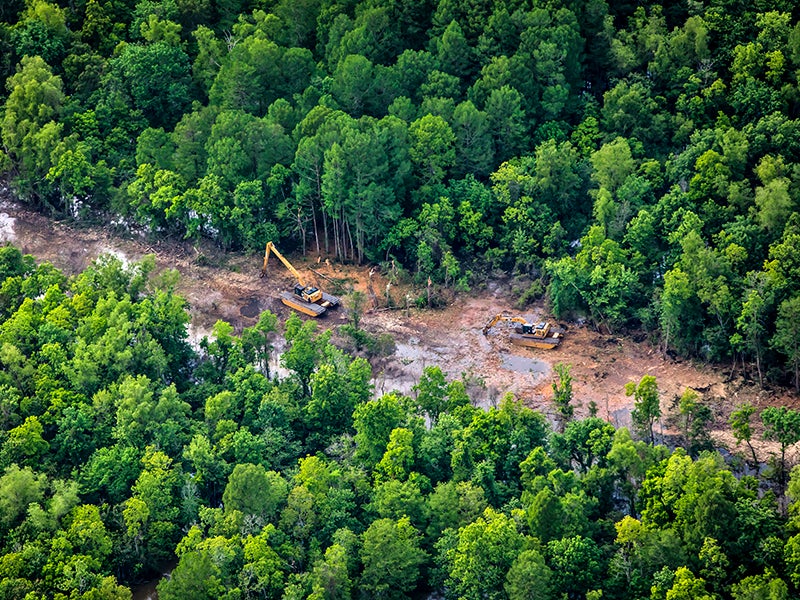 A permit issued for Louisiana's Bayou Bridge pipeline failed to consider how the project would impact a historic and predominantly black community, a state judge found on April 30, 2018. But Energy Transfer Partners (ETP), the company behind the controversial 162-mile pipeline, is pushing ahead with construction.
Forming the southern end of the Dakota Access pipeline, the Bayou Bridge pipeline would enable the transport of volatile and explosive Bakken crude oil from North Dakota to refineries in St. James Parish, Louisiana, as well as export terminals along the Gulf of Mexico. Construction of the pipeline would cause ongoing irreparable harm to Louisiana's Atchafalaya Basin, one of our nation's ecological treasures.
There is also credible evidence that this pipeline could be used to transport tar sands crude from Canada, a dangerous and toxic product that had originally been slated for the controversial and yet-to-be-built Keystone XL pipeline.
Construction began on the Bayou Bridge pipeline earlier this year. Already, local groups such as Atchafalaya Basinkeeper have observed several permit violations in Louisiana.
In fact, a state judge recently ruled that a coastal use permit issued by the Louisiana Department of Natural Resources (LDNR) failed to consider impacts the Bayou Bridge pipeline would have on St. James, located in the heart of Cancer Alley, an 85-mile expanse from Baton Rouge to New Orleans that hosts more than 150 industrial plants and refineries.
"Here in St. James, we are in desperate need for an evacuation plan that will allow us to get out fast when something spills or explodes," Genevieve Butler, a St. James resident told the New Orleans Times-Picayune. "More facilities keep coming, and each one puts us at more risk, but none of them want to do anything about our situation. Well, now Bayou Bridge has to step up. I hope all the others see this ruling as a sign that they have to give our community the protection we deserve."
ETP ignored the judge's ruling and kept right on digging. And the state? They've ignored it too, claiming that they don't agree with the judge's interpretation of the law so they don't have to abide by it.
Unfortunately, this is business as usual for ETP. News broke last week that the company has been fined by West Virginia regulators for violating construction permits.
In fact, ETP has racked up so many violations on the Rover pipeline — causing 2.2 million gallons in spills of drilling fluids, industrial waste and/or sediment throughout West Virginia, Pennsylvania and Ohio — that it has received more negative inspection reports than any other interstate natural gas pipeline built in the last two years, according to Bloomberg.
So far in Louisiana, ETP has cleared acres of ancient cypress and tupelo trees that provide critical habitat for hundreds of species of birds and other wildlife – in all, they plan to permanently alter 142 acres of wetlands, while temporarily altering another 455 acres, according to ETP's own estimates.
They've also started to dig trenches to bury the actual pipeline, which has created numerous big piles of dirt known as spoil banks deposited along the right-of-way, blocking water flow and navigation. The Basin is already saturated with miles of spoil banks, left over from the construction of other pipelines, that impedes water flow, creating pools of stagnant, hypoxic water and impairing habitat for crawfish and other living organisms. These spoil banks have significantly altered the water quality and topography of the 1.4 million-acre Basin.
By creating spoil banks that fill the Basin with sediment, pipeline construction decreases flood protection that the Basin naturally provides for millions of people in coastal Louisiana and the Mississippi River valley. In the past, companies have typically installed pipelines during the low water season. Not ETP. Pipeline construction began this January, despite the fact that high water season begins in February. Currently, areas surrounding the pipeline trench are filling in with sediment at a rapid rate.
While there are regulations on the books aimed to prevent the mass degradation caused by pipeline construction and force oil and gas companies to clean up the mess they leave behind, there is no one to enforce them. Literally. No one. The U.S. Army Corps of Engineers (Corps) once had four people on staff in Louisiana to review pipeline permits for compliance — and one boat to use to enforce those permits. Now there are none — no people and no boat.
For the crawfishermen that have pulled their livelihood out of the Atchafalaya Basin for generations, this construction process is a major threat to their way of life.
Representing the crawfishermen and other local groups, Earthjustice has gone to court to ask the Corps to keep ETP's proposed pipeline from further degrading forested swamps in the Atchafalaya Basin, and destroying wild crawfish habitat. And while a federal judge did issue an injunction in February that temporarily halted the construction process, the Fifth Circuit Court of Appeals overturned that injunction and allowed construction to resume.
As ETP continues to push forward with construction on the Bayou Bridge pipeline, many local advocates are watching closely. Atchafalaya Basinkeeper has delivered two letters to the Corps detailing a multitude of potential permit violations, and while the Corps told local press that they would investigate, they have yet to share any findings.
As for ETP, they continue to say "trust us."
To quote ETP spokesperson Alexis Daniel: "In any pipeline project, our first priority is safety; the safety of the environment, the safety of the communities through which we pass, and the safety of our employees. To achieve this, we consistently go above and beyond the safety regulations where possible, which we have done for the Bayou Bridge pipeline."
In Louisiana and across the country, their actions speak louder than their words.
Emilie has spent the past two decades as a journalist, speechwriter and communications strategist in Washington, D.C. At Earthjustice, she shares the stories of the people and issues at the heart of our clean energy litigation and policy work.
Earthjustice's Fossil Fuels Program is taking on the fossil fuel industry's efforts to pursue new paths to profit that not only accelerate the climate crisis, but also continue to cause harm to marginalized communities.
Established in 1987, Earthjustice's Northwest Regional Office has been at the forefront of many of the most significant legal decisions safeguarding the Pacific Northwest's imperiled species, ancient forests, and waterways.