We're Suing to Prevent the Next BP Deepwater Horizon Oil Spill Disaster
Waivers and rollback of Well Control Rule put lives at risk.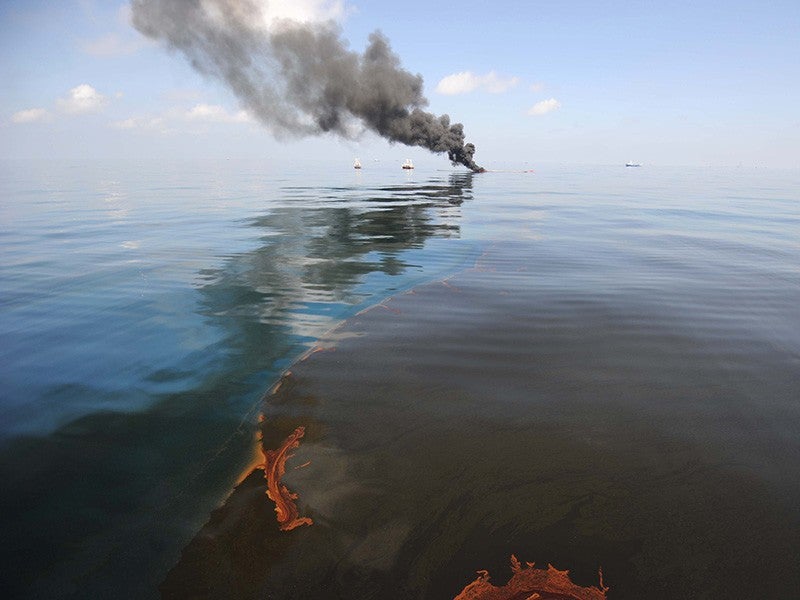 President Donald Trump and members of his administration who hold deep ties to the fossil fuel industry have set forth to plunder America's offshore and onshore public lands and waters, even at the cost of endangering human lives.
As Politico reporting has revealed, the Trump administration's Bureau of Safety and Environmental Enforcement (BSEE) has issued 1,700 waivers that exempt offshore oil and gas companies from the Well Control and Blowout Preventer Rule. The Bureau adopted the rule in 2016 to implement offshore safety measures that would prevent another BP Deepwater Horizon disaster — a disaster that killed 11 men and devastated the environment of the northern Gulf of Mexico. But then the Trump administration came in and decided not to require many of the safety upgrades. And, in May of this year, the administration weakened the rule altogether. Recently, Earthjustice, along with 9 other environmental groups, filed a legal challenge against the administration for rolling back the rule.
Fixing the Problems That Caused the BP Oil Spill
In the years immediately following the Deepwater Horizon disaster, several panels of experts on offshore drilling, engineering, and oversight examined what caused the rig explosion and oil spill. They found there wasn't just one trigger to the event, but a series of flawed drilling practices and equipment designs that resulted in oil and gas erupting from the well onto the rig and exploding. These flaws existed, the panels found, because of industry's desire to cut costs and the government's lax regulation of offshore drilling.
The Obama administration took a significant step to address the identified failures when it issued the Blowout Preventer Systems and Well Control Rule. The rule requires some common-sense upgrades to drilling technology and practices, such as adding back-up safety mechanisms. It also requires operators to regularly test safety equipment to make sure it will actually function in an emergency — unlike the Deepwater Horizon's equipment, which failed and allowed the blowout.
The rule also requires inspectors to be completely independent from the oil and gas industry. Prior to the BP disaster, oil and gas companies were left to self-report on the safety of their equipment. This led to a culture of cutting corners and blowing off obligations to ensure safety for the rig workers. It even led to examples of so-called inspectors falsifying safety tests of their equipment. Under the Well Control Rule, the inspectors are required to be free from conflicts of interest, and are therefore more likely to accurately report equipment problems and other violations.
These upgraded standards don't eliminate the risks from offshore drilling, but they significantly reduce the risks of worker deaths and catastrophic oil spills. Even better for the oil and gas industry, BSEE calculated that the rule actually saves industry millions of dollars in long-term maintenance and operating costs.
Industry Fights Back
But apparently the industry thought upgrading its equipment and drilling practices in the short-term was a waste of money, so it lobbied to have the new requirements repealed. Former Interior Secretary Ryan Zinke, himself rife with conflicts of interest, appointed an oil industry insider, Scott Angelle, to oversee BSEE. Angelle "led Louisiana's push to lift the federal moratorium on Gulf Coast drilling" after the Deepwater Horizon spill and earned $1.5 million as a board member for an oil pipeline company. After he was appointed to direct BSEE, he gave industry executives his personal cell phone number to contact as a "business opportunity," advising them to call rather than text because texts are subject to public records laws. (Note: John Oliver clip in link has some racy language.)
So it came as no surprise last April when Angelle announced a plan to repeal the most important safety provisions of the Well Control Rule. BSEE claims getting rid of the safety requirements will have no effect on risks, and also has made head-scratching claims that eliminating these environmental protection regulations will miraculously benefit the environment. The agency is undertaking all this with a "trust us" approach, but hasn't actually conducted a legally sufficient analysis (e.g., a risk assessment) of what the rollback will mean.
With its 1,700 waivers of the Well Control Rule, BSEE is effectively telling industry, "if you don't like the rule, you don't have to comply." Perhaps even more ridiculous is that BSEE is citing the waivers as evidence that the Well Control Rule is "unnecessary." And the agency is stonewalling attempts to get more info on its secretive decisions to issue the waivers.
It's clear that drilling practices, equipment design, and regulatory oversight were all seriously lacking when the Deepwater Horizon disaster occurred — that it was imperative to address those problems. It is equally clear that the Well Control Rule made significant safety improvements and reduced the risk of another Deepwater Horizon occurring. The oil industry's desire to make an extra buck doesn't somehow put it above the law or justify slashing safety requirements and putting people's lives at risk. Scott Angelle's efforts to gut the Well Control Rule and send us back to the pre-Deepwater Horizon days of offshore safety are setting us up for another preventable disaster that could result in oil washing up on your local beach.
What We're Doing About Offshore Drilling
In addition to the well control lawsuit, Earthjustice has five other cases challenging the Trump administration's current offshore drilling operations and the unlawful expansion of offshore oil and gas leasing and exploration, including:
(This piece was originally published in March 2019 and updated to reflect the recent lawsuit.)
As a senior attorney with the Oceans Program, Chris's work focuses on fighting offshore oil and gas development and protecting marine ecosystems and wildlife.
Earthjustice's Oceans Program uses the power of the law to safeguard imperiled marine life, reform fisheries management, stop the expansion of offshore oil and gas drilling, and increase the resiliency of ocean ecosystems to climate change.