California Air District Blames Overseas Pollution for Local Air Quality Challenges
The local air district in California's San Joaquin Valley blames ozone pollution from overseas, rather than lax regulation at home, for the valley's notoriously poor air quality.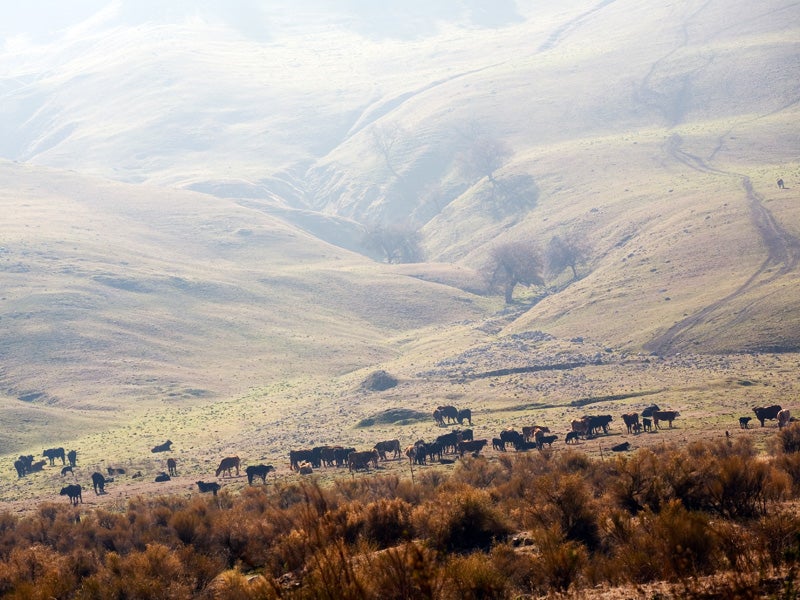 "Think globally, act locally." It's an old environmental slogan that many of us have probably heard before. Not all of us, though. It seems that California's San Joaquin Valley air district favors an edited version: "Think globally so that you don't have to act locally."
This week, the air district hosted a conference on how transboundary ozone pollution affects the San Joaquin Valley, showcasing a transboundary ozone study by UC Davis researchers that the air district funded. The research is not yet complete: Preliminary results suggest that up to 10% of ozone pollution comes from outside the San Joaquin Valley, which means that at least 90% of the San Joaquin Valley's ozone pollution is generated locally. Yet the air district is using these preliminary findings to shore up its argument that ozone pollution wafting in from Asia is the reason that the San Joaquin Valley struggles to meet national air quality standards.
The San Joaquin Valley air district's press release about the conference highlighted its motives for hosting the conference, noting that "the conference is timely as the U.S. Environmental Protection Agency is planning to reduce the ozone health standard from 75 parts per billion to between 65 and 70 ppb later this year, which will pose a difficult challenge to the Valley." The air district also noted that "the [San Joaquin] Valley should not be penalized for pollution over which it has no control."
The air district's concerns, however, ignore the larger penalty that San Joaquin Valley residents already face. The San Joaquin Valley's asthma rate is twice the asthma rate of the rest of California. Health problems caused or exacerbated by air pollution cost the San Joaquin Valley billions of dollars in medical bills and days of work and school missed. Breathing filthy air is a pretty extreme penalty.
Also, the air district has the ability to control this pollution, and not doing so further penalizes San Joaquin Valley residents. While it is true that some pollution in the San Joaquin Valley comes from other regions, the federal EPA has stated that most of the ozone pollution in the San Joaquin Valley comes from local sources.
But you do not have to look all the way to Washington, D.C., to find experts who disagree with the air district's argument. The head of another air district in California, the Sacramento Metropolitan Air Quality Management District, says, "The UC Davis study is an interesting area of research, but this does not mean we can point our finger at someone else …. We need to keep working on ourselves here in California."
As the Sacramento air district keeps its focus on regulating air pollution to protect public health, the San Joaquin Valley air district continues to express its discomfort with setting a health-protective standard for ozone. The San Joaquin Valley air district stated that a health-protective ozone standard will be "a difficult challenge" and presented transboundary ozone pollution as an excuse to give up. However, the proposed ozone standard will provide substantial health benefits to people both in the San Joaquin Valley and across the country. The air district has a responsibility to do everything it can to reduce air pollution in the region, not to come up with inventive ways to avoid regulating homegrown sources of pollution.
In response to the San Joaquin Valley air district's transboundary ozone conference, Dolores Weller, the head of the Central Valley Air Quality Coalition said, "It would be great to see an agriculture, farming operations and air pollution conference based here in the Valley as opposed to a trans-boundary ozone conference." Maybe in the spirit of thinking globally and acting locally, the San Joaquin Valley air district should heed Dolores Weller's advice.
Adenike was the Sr. Research & Policy Analyst / Advocacy Representative for the California regional office in San Francisco, CA, from 2012–2018. She analyzed technical data and policy to support litigation and administrative advocacy focused on air quality, clean energy, and environmental health.
The California Regional Office fights for the rights of all to a healthy environment regardless of where in the state they live; we fight to protect the magnificent natural spaces and wildlife found in California; and we fight to transition California to a zero-emissions future where cars, trucks, buildings, and power plants run on clean energy, not fossil fuels.