Central Valley Board Continues to Mix Oil and Water
The Central Valley Regional Water Quality Control Board opted not to stop a corporation from tainting groundwater with fracking waste until 2018.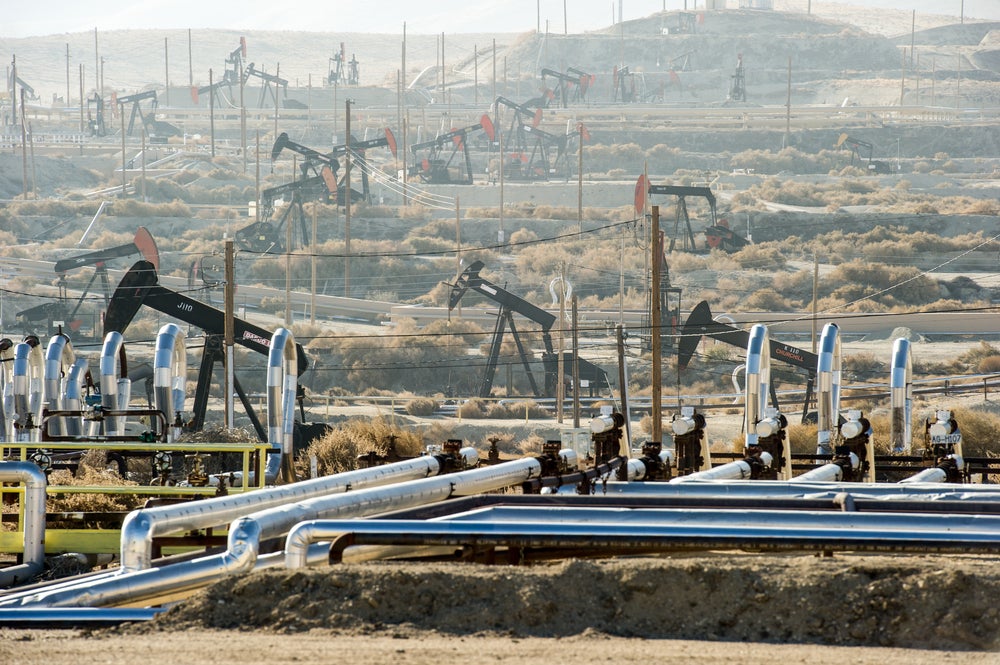 "We don't drink the water here. Here's some bottled water." That's what I learned after asking for a glass of water while visiting California's Central Valley for the first time. Over the years, I have come to understand valley residents' deep distrust of government agencies that continually fail to protect water quality in their area.
On July 30, the Central Valley Regional Water Quality Control Board once again failed the public and further eroded its credibility. Instead of requiring the Valley Water Management Company to stop spraying oil drilling wastewater by August 2015 and to clean up its unlawful wastewater pits by December 2016, the board decided to allow Valley Water to continue its harmful practices until 2018.
The board made this decision despite its own staff's determination that Valley Water's discharges of polluted wastewater at its Fee 34 and Race Track Hill facilities in Kern County, California are violating the law and degrading ground and surface water.
Wastewater is pumped into Valley Water's Fee 34 and Race Track Hill facilities for disposal into unlined pits where the wastewater is left to evaporate and seep into the ground or to be sprayed onto land around the Race Track Hill facility. More than 500 gallons of wastewater per day seep out of the Fee 34 site alone.
Wastewater pits viewed from Google Maps in California's Central Valley.
Imagery ©2015 Google, Map data ©2015 Google
The wastewater at these facilities contains both known and potential carcinogens, including benzene, ethylbenzene, toluene and naphthalene. California continues to allow the use of these pits despite the California Council on Science and Technology's recommendation that agencies consider stopping the practice of discharging wastewater into percolation pits if the harmful concentrations of chemicals in the water cannot be eliminated. Several states have already banned the use of wastewater pits because of groundwater contamination, including Kentucky, Texas and Ohio.
On August 28, Earthjustice filed a petition with the California State Water Board challenging the Central Valley water board's decision. The state water board has agreed to consider the petition. The state water board, whose mission is to "preserve, enhance and restore the quality of California's water sources and drinking water for the protection of the environment, public health and all beneficial uses," has an opportunity to protect the health of communities in Kern County and to ensure they have access to quality drinking water.
During a time of record drought, the state water board has a legal and moral obligation now more than ever to protect all available sources of water, particularly in Kern County, which is one of California's most environmentally overburdened areas and has declared a state of emergency because of the drought.

Learn more about the California drought in this photo essay.
Justin Sullivan/Getty Images
The recent November 25 California Drought Update detailed that nearly 60 percent of food distributions by the Department of Social Services Drought Food Assistance Program to communities suffering high levels of unemployment due to the drought went to Kern County, in addition to Fresno, Kings and Tulare counties in the Central Valley. The report also showed that about 2,455 water wells statewide are in a "critical or dry condition," impacting approximately 12,275 residents. Of these 2,455 wells, 2,308 are in the Central Valley. During the current drought, nearly 60 percent of California's water supply comes from groundwater, and this number is even higher in Kern County. Groundwater is the source of as much as 75 percent of the public water supply and 43 percent of the agricultural water supply in Kern County, where the gross value of agricultural commodities grown in 2014 was $7.5 billion.
The regional water board staff identified 19 groundwater wells within one mile of the Fee 34 facility and six groundwater wells near the Race Track Hill site, which are used for domestic agricultural supply. Without the state water board's intervention, Valley Water's practices will continue to threaten the area's shrinking well supply.
Despite the growing dependence on shrinking groundwater supplies, the regional board elected to ignore its own staff's findings and allow Valley Water to continue threatening the health of families in the Central Valley for an additional two years. The state water board must act to protect the public, the environment and our economy, not the financial interests of one business.
Based in our Los Angeles office, Oscar works in the Community Partnerships Program. His entry into healthy communities and environmental justice work stems from his personal experience growing up in Long Beach and Wilmington, California, where he continues to witness first-hand the serious health impacts on his family and peers.
The California Regional Office fights for the rights of all to a healthy environment regardless of where in the state they live; we fight to protect the magnificent natural spaces and wildlife found in California; and we fight to transition California to a zero-emissions future where cars, trucks, buildings, and power plants run on clean energy, not fossil fuels.