Clean Air Ambassador Records Fight for Justice, Clean Air
Taking his work to the next level, Clean Air Ambassador Hilton Kelley has completed a book, A Lethal Dose of Smoke And Mirrors: Going home for better or worse, that chronicles his decision to leave Hollywood and take on powerful industrial polluters in his hometown, Port Arthur, Texas. Hilton—the first African-American man to win the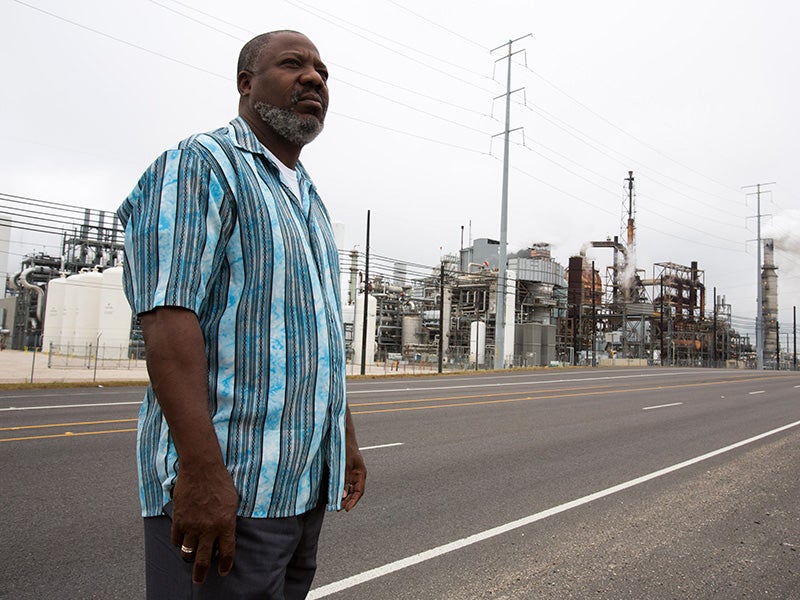 Taking his work to the next level, Clean Air Ambassador Hilton Kelley has completed a book, A Lethal Dose of Smoke And Mirrors: Going home for better or worse, that chronicles his decision to leave Hollywood and take on powerful industrial polluters in his hometown, Port Arthur, Texas. Hilton—the first African-American man to win the prestigious Goldman Environmental Prize—tells how he single-handedly made great strides to improve the health and environment in Port Arthur.
A city of some 50,000 residents, Port Arthur is situated on Texas' Gulf Coast and was once home to the largest network of oil refineries in the world. Residents are surrounded by oil refineries, chemical plants and a hazardous waste incinerator, and they suffer ill health effects from living with disproportionately high levels of toxic air, including cancer-causing chemical compounds.
In his book, Hilton discusses how he successfully achieved more protective emissions standards from Motiva Enterprises, which operates an oil refinery in Port Arthur, and won millions in community partnership money to improve the health and well-being of the city's residents.
But his fight is far from won. Hilton is currently working with Earthjustice and Environmental Integrity Project to strengthen air pollution standards for all U.S. oil refineries. A our recent victory forced the EPA to review and update the standards. Now, Earthjustice will be working with Hilton and other community leaders to urge EPA to finally give communities across the U.S. the strong protection from refineries' toxic air pollution that they need.
Hilton provides some advice in his own words for folks fighting big polluters in their communities:
Visit Hilton's Clean Air Ambassador's page and check out his book, A Lethal Dose of Smoke And Mirrors: Going home for better or worse.
Jessica worked at Earthjustice from 2012–2018. She was based in the Washington, D.C., office, and worked with Earthjustice clients, partners and communities affected by dirty air to increase support for stronger national air standards.
Earthjustice's Washington, D.C., office works at the federal level to prevent air and water pollution, combat climate change, and protect natural areas. We also work with communities in the Mid-Atlantic region and elsewhere to address severe local environmental health problems, including exposures to dangerous air contaminants in toxic hot spots, sewage backups and overflows, chemical disasters, and contamination of drinking water. The D.C. office has been in operation since 1978.