Climate Change Is Altering Our Most Treasured Parks
We're already seeing the impacts climate change will have on national parks over the next century.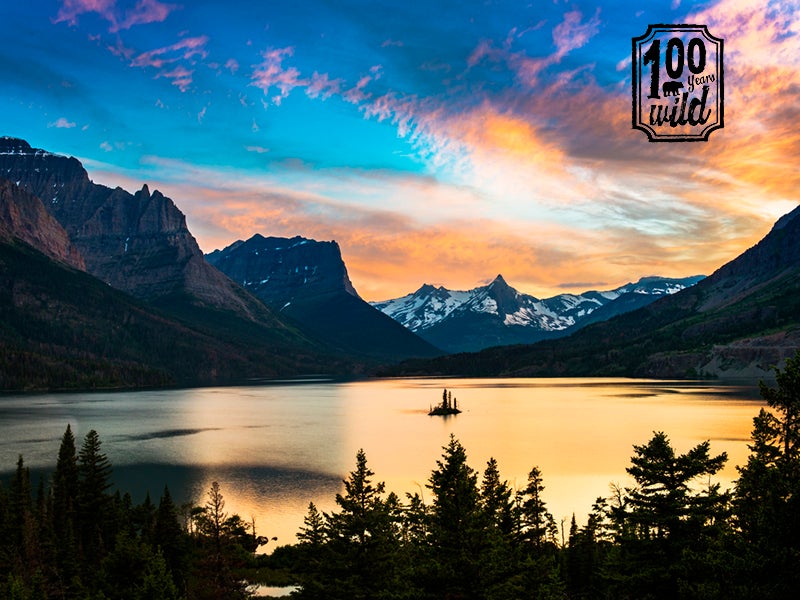 The iconic National Park Service logo features a vibrant sequoia tree, a colossal snow-peaked mountain and a grazing bison. But there's a problem.
The National Park Service (@NatlParkService) logo may be due for an update thanks to #climate change pic.twitter.com/nj3atgAdGt

— Climate Nexus (@ClimateNexus) May 10, 2016
Due to the impacts of climate change, it may no longer be an accurate representation of our nation's most treasured wild places. Extreme heat and drought are melting snowpack on the frosted mountaintops that are emblematic of many Western parks, while bison are getting smaller as they take in fewer nutrients from dry grasses. And those old-growth pine, redwood and sequoia trees that have captivated millions of park visitors? Many are withering away or have already perished.
Over the next century, climate change will create a host of new challenges for national parks, many of which are already being felt.
Receding Glaciers and Melting Snow
Since the Industrial Revolution in 1880, global average surface temperatures have risen by roughly 1.5 degrees Fahrenheit. Warmer winters and longer, more intense melt seasons have led to glacial retreat in Alaska's Glacier Bay and Kenai Fjords National Parks.
And these icy retreats aren't just confined to Alaska; scientists with the U.S. Geological Survey estimate that by 2030, many of the glaciers in Montana's Glacier National Park will have completely melted. Since early last century, the number of days the park has experienced temperatures above 90 degrees Fahrenheit has tripled. And winter snowpack throughout the Western U.S. now melts up to one month earlier than in previous decades, according to stream flow data gathered by the Union of Concerned Scientists.
Melting glaciers do more than confuse tourists who come to Glacier expecting to see the park's shimmering namesakes—they also have vast ecological consequences. Smaller glaciers and reduced snowpack can lead to dry streams, diminished cold-water fish and insect populations and fewer avalanches that open up clearings for wildlife. This trend also threatens species that rely on snow for survival, such as wolverines.
More Frequent Wildfires
In addition to melting glaciers, warmer temperatures have increased the accumulation of dry vegetation, which can fuel larger wildfires. Once a spark ignites, dry vegetation can burn easily and quickly, putting millions of acres of land at risk. 
Fires play a critical role in natural ecosystems, nourishing soil, creating openings for sunlight and paving the way for new growth by spreading seeds. However, climate change is linked to the severity and duration of these fires. A decade ago, the U.S. Forest Service devoted 16 percent of its budget to fighting fires. Today, spending on wildfires consumes more than half of the service's budget—and that number is projected to rise.
Since the 1970s, wildfires covering more than 1,000 acres have become twice as common in Oregon, Washington and Montana. Fire season is now two and a half months longer in the West. Results of a federal study show that every Western state has experienced a rise in the number of large wildfires over the past decade, compared to the annual average between 1980 and 2000. And in 2015, according to data from the National Interagency Fire Center, wildfires burned more than 10 million acres of land—an area larger than the state of Maryland.
The Beetle that Killed the Pines
Drought and higher temperatures can also harm vegetation in national park ecosystems, making it more susceptible to insects and disease. In the same way that standing out in a cold rain hurts your body's immune system, making you more susceptible to illness, trees subjected to heat and drought end up with weakened natural defenses. One creature is capitalizing on that, wreaking havoc on forests across the country.
Though only the size of a grain of rice, the mountain pine beetle is flourishing as a result of climate change and at the expense of pine trees across the country. Native to Western pine forests, this tiny insect has caused an epidemic that is plaguing national parks. Yellowstone has been particularly hard-hit by the beetles; since 2009, more than 95 percent of the park's iconic large trees have succumbed to the pests. And without the whitebark pines, scientists worry grizzly bears that depend on the whitebark's seeds for nourishment could go hungry.
How Earthjustice Is Fighting Climate Change
Earthjustice is deeply engaged in the fight against climate change, securing court victories to build ecological resilience, slash global warming pollution, hold powerful fossil fuel interests accountable and help accelerate the transition to 100 percent clean energy by removing obstacles to renewables.
We're gaining traction. But if we're going to succeed in turning the tide on climate change, it's going to take all of us—Earthjustice attorneys in the courtroom and you in the voting booth, in the street or wherever your elected officials will take notice. If you've ever enjoyed, or wanted to enjoy, the breathtaking views of snow-capped peaks and majestic, towering trees in our nation's parks, let your leaders know that now is the time for climate action.  
As the National Park Service turns 100 this summer, the 100 Years Wild series celebrates the value of public lands as refuges to wildlife and people, while also shining a light on the threats to these irreplaceable landscapes in a changing and warming world.
Diana was an undergraduate at Duke University, majoring in environmental science, with minors in English and economics, and was an intern with Earthjustice's editorial team in San Francisco.