Climate Change Isn't Child's Play
At a Washington, D.C., event, parents and advocates from around the country played with their children for a good cause. (Spanish language version available.)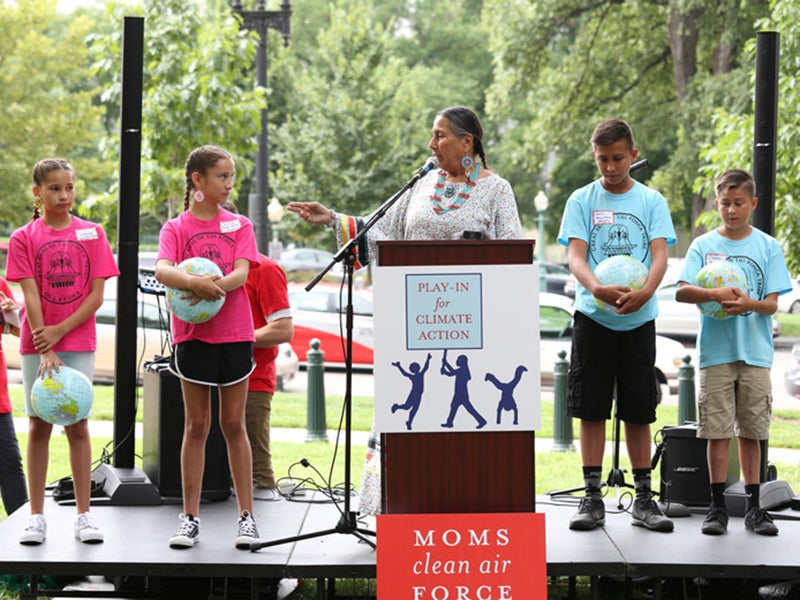 Este blog está disponible en español aquí.
It was a play date like you've never seen before. Moms Clean Air Force estimates 700 moms and kids gathered last month at Senate Park near Capitol Hill in Washington, D.C., at a "play-in" for climate change solutions.
The D.C. Play-in for Climate Action was a peaceful way for parents from across the U.S. to gather in protest and to hear from leaders fighting against air pollution so that our children and future generations can breathe fresh, clean air.
This was my first Moms Clean Air Force experience. As parents of a 19-month-old boy, my husband and I knew this was a must-attend event. We anticipated the feeling of solidarity and wanted to see plenty of children with parents just as passionate about sparking change as we are. What we found was all that and more.
Sure, there were the hula-hoops and blow up globes, which our little guy thought were the greatest toys ever—for the day, at least. But there was also live music with dancing and hopeful messages, adults networking for cleanup days in their neighborhoods and dads planning play dates locally and to catch up at next year's D.C. play-in. There were folks from big cities, small towns and sacred places in need of protection.
My toddler Liam was attracted like a magnet to native rights activist Casey Camp-Horinek and her grandchildren. Camp-Horinek is a member of the Ponco nation, an actor and a member of the Indigenous Environmental Network. When she spoke, Liam clapped his hands, and when her grandchildren stepped off stage, he wanted them to share his pinwheel, which spun in the hot sun.
As he played with Camp-Horinek's granddaughters and us adults talked about the curiosity and wonder of childhood, I paused to replay in my mind the words she had shared with the crowd.
"We can preserve, protect and fulfill our sacred duties to live with respect in this wonderful creation. We have the power and responsibility for change," Camp-Horinek said.
"We can preserve, protect and fulfill our sacred duties to live with respect in this wonderful creation. We have the power and responsibility for change," Camp-Horinek said.
It's a responsibility that connects us as parents.
"Our air, our food—it all has to do with our kids," said Kalishia Mitchell, founder of A Brighter Side to ASD, a Virginia-based support group for parents and families of children with autism. "We need to start from the core and work on solutions."
Mitchell and I spoke briefly, after adding our signatures to calls to our legislators to act on climate change. She regularly works to organize clean-up days and recruit local youth and neighbors to pick up trash around their homes. She attended the play-in with her two daughters, a niece, her friend's children and her son Jequan Morgan, 21, who has autism spectrum disorder (ASD).
"I'm a mom of four children," Mitchell said. "I have been an advocate when it comes to their education, their health, and I love them. I need to fight for my kids and all kids. We're moms; we're supposed to be doing for all kids so they have possibilities."
Regardless of the place we work or the community we live in, the thread that ties us together is our children and our crucial work to safeguard their health and environment.
Take Action! We all have a right to breathe!
El Cambio Climático No es Juego de Niños
Fue una cita para jugar como no se había visto nunca antes. Moms Clean Air Force calcula que un grupo de 700 mamás con sus hijos se juntaron el mes pasado en el parque Senate Park cerca de Capitol Hill en Washington, D.C., en un evento de juegos para encontrar soluciones al cambio climático.
El evento llamado D.C. Play-in for Climate Action fue una manera pacífica para que los padres de todos los rincones de Estados Unidos se unieran en señal de protesta y escuchar las palabras de los líderes luchando contra la contaminación del aire para que nuestros hijos y generaciones futuras puedan respirar aire limpio y puro.
Fue también mi primera experiencia con el grupo Moms Clean Air Force. Ser padres de un niño de 19 meses, nos hizo pensar a mi esposo y a mi que era un evento que no nos podíamos perder. Sabíamos que habría mucha solidaridad con otras familias y queríamos ver muchos niños con padres igualmente entusiasmados como nosotros en lograr un cambio. Lo que encontramos fue eso y mucho más.
Claro, hubo aros de hula y globos, que nuestro chiquito disfrutó como ningún otro juguete—de día, por lo menos. Pero había también música viva y baile y mensajes llenos de esperanza, adultos organizando días de limpieza de sus respectivos vecindarios y papás haciendo planes para juntar a sus hijos para jugar localmente y para ponerse de acuerdo para el próximo evento D.C. play-in en un año. Había gente de ciudades grandes, pueblos pequeños y lugares sagrados que necesitan protección.
Mi hijito Liam se sintió atraído como imán a la activista de derechos de los nativos Casey Camp-Horinek y sus nietos. Camp-Horinek es miembro de la nación Ponco, es actriz y miembro del grupo Indigenous Environmental Network. Cuando hablaba, Liam aplaudía y cuando sus nietos se bajaron del escenario, quiso compartirles su rehilete, que giraba en el sol.
Mientras mi hijo jugaba con las nietas de Camp-Horinek, nosotros los adultos hablábamos de la curiosidad de la niñez, y me detuve a repasar las palabras que ella había compartido con la audiencia.
"Podemos preservar, proteger y cumplir con nuestras obligaciones de vivir con respeto dentro de esta maravillosa creación. Tenemos el poder y la responsibilidad de hacer un cambio," dijo Camp-Horinek.
Es una responsibilidad que nos conecta como padres.
"Nuestro aire, nuestra comida—todo tiene que ver con nuestros hijos," dijo Kalishia Mitchell, fundadora del grupo A Brighter Side to ASD, una asociación de apoyo con sede en el estado de Virginia para padres y familias de niños con autismo. "Necesitamos empezar desde el centro y trabajar en las soluciones."
Mitchell y yo hablamos brevemente, después de haber agregado nuestras firmas a los llamados a nuestros legisladores para que actúen sobre el cambio climático. Ella organiza muy a menudo días de limpieza y recluta a jóvenes locales y vecinos para recoger basura alrededor de sus hogares. Asitió al evento play-in con sus dos hijas, una sobrina, los hijos de una amiga y su hijo Jequan Morgan, de 21 años, que padece de un desorden del espectro del autism (ASD, por sus siglas en inglés).
"Soy mamá de cuatro hijos," dijo Mitchell. "He sido defensora de su educación, de su salud y los amo. Necesito luchar por mis hijos y por todos los niños. Somos madres; se supone que debemos hacerlo por todos los niños para que tengan posibilidades."
No importa el lugar donde trabajemos o la comunidad en que vivimos, el hilo que nos une son nuestros hijos y nuestro trabajo es crucial para salvaguardar su salud y el medio ambiente.
From 2014–2016, Betsy was a bilingual press secretary on the Advocacy Communications team.