Feds Seek Informants on Duke's Spreading Coal Ash Threats
Duke Energy, responsible for a massive coal ash spill in North Carolina last year, is finally opening up about pollution and structural problems at its other ash ponds nationwide, but the truth may need some more coaxing.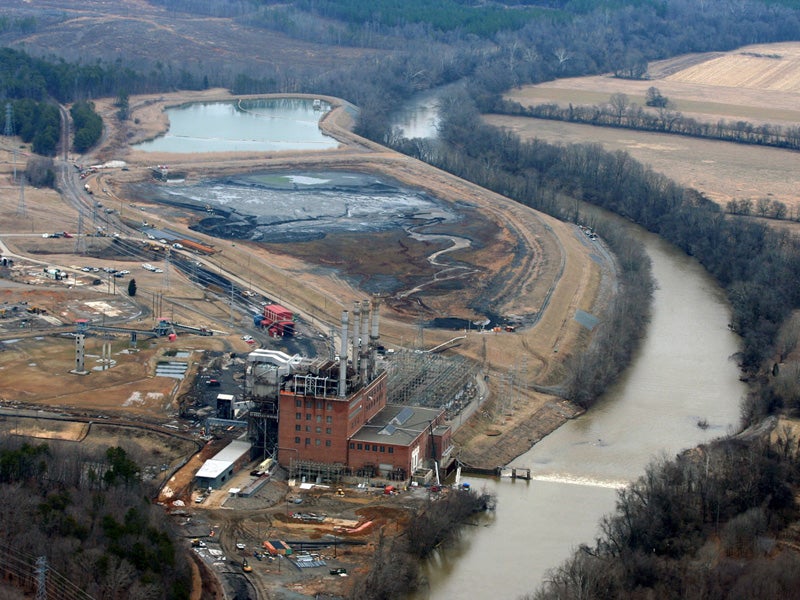 It's no surprise that Duke Energy's legendary coal ash problems don't stop at the North Carolina border. As you may remember, Duke pleaded guilty to nine criminal violations of the federal Clean Water Act as a result of a massive coal ash spill in 2014 and mismanagement of dozens of ash ponds in North Carolina.
Duke's crimes landed the company a $102 million fine and five years of probation. During the probation, Duke must complete environmental audits of all its coal plants—including those in Indiana, Ohio, Kentucky, South Carolina and Florida—and take cleanup action when problems are found.
Duke Energy is the nation's largest electric utility, but until the plea deal it had been mum about water contamination at its other plants. This changed during a recent meeting with Indiana state regulators. In a power point presentation, Duke Energy catalogued a long list of coal ash problems at five Indiana coal plants.
Duke gave regulators the run-down of problems at the Gibson, Cayuga and Wabash River power stations, which included dangerously contaminated water in residential wells near both the Gibson and Cayuga plants and a 7-foot diameter corrugated metal pipe in need of repair running under the Wabash River ash pond—much like the one that burst at Duke's Dan River Plant. Duke also identified four historic coal ash dumps that require cleanup at retired or converted coal plants.
In the coming months, much more is likely to be revealed about coal ash contamination at Duke's plants. According to the plea deal, Duke must post detailed environmental audits of all of its coal plants on its publicly accessible website. 
Despite these transparency requirements, Duke is not off to a very good start. Shortly after meeting with Indiana regulators, Duke distributed a similar power point presentation to public interest groups, but it pointedly did not contain Duke's admissions regarding the contaminated residential wells.
Coal ash contamination is silent and potentially deadly. Communities must not rely solely on Duke's admissions when delay may harm their health. According to the terms of probation, the U.S. Department of Justice is requiring Duke to maintain a toll-free number to receive information on potential environmental violations. Residents near Duke plants nationwide should not hesitate to assist the Department by airing their concerns about ash dumps, drinking water contamination and air quality. The plea agreement requires Duke to log and investigate the concerns, so sharing information may prompt timely action to address coal ash threats such as contaminated air and water.
Citizens with information about potential environmental violations at a Duke Energy plant can call the hotline at 855.355.7042 (toll free) or report concerns online at duke-energy-env.alertline.com. 
Specializing in hazardous waste law, Lisa is an expert on coal ash, a toxic byproduct of burning coal that burdens communities around the nation.
Earthjustice's Clean Energy Program uses the power of the law and the strength of partnership to accelerate the transition to 100% clean energy.