Embracing a Zero-Emissions Future for the Port of Oakland
New technologies can help create a thriving Port alongside a healthy and vibrant West Oakland.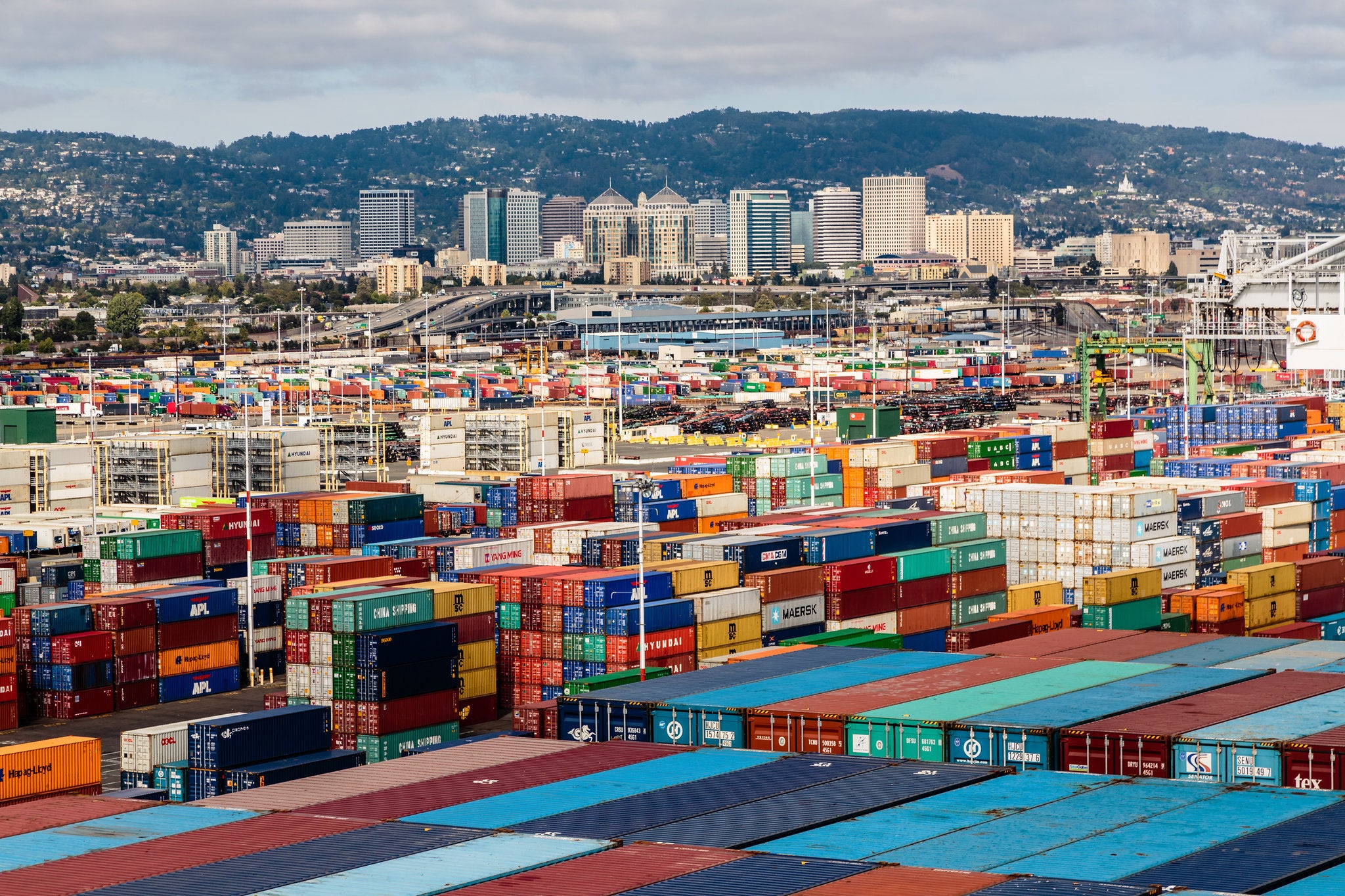 West Oakland is a 6.5-square-mile neighborhood that noses into the San Francisco Bay. Once the home of the Black Panther Party and the author Jack London, its historically vibrant and diverse community continues to center around neighborhood organizations, churches, and schools. But of the various touchpoints that have shaped this community, transportation projects have had outsized influence.
West Oakland originally grew up around the western terminus of the first transcontinental railroad, built primarily by Chinese immigrants. In World War II, droves of Black people migrated from the South to the West to work at the Port of Oakland and the Oakland Army Base (OAB), which churned out ships for the war. Since many Blacks were excluded from living in other parts of the city, West Oakland became majority Black. By the 1950's, 80% of the City of Oakland's Black population lived in West Oakland. Later that decade, the community was dissected by new interstate freeways connecting to the new Bay Bridge. In the 1960's, the Port of Oakland became the first major West Coast port to build terminals to handle new containerized freight technology. In the 1970s, the community was disrupted again by the decision to build aboveground rails for the new Bay Area Rapid Transit (BART) system, which is otherwise below ground immediately before and after crossing West Oakland.
Most recently, in the early 2000s, the federal government gave back the OAB land to the City of Oakland. With myriad possible uses for this prime bay-front property, the City decided yet again that the community should bear more freight and logistics operations. The result is that West Oakland is now surrounded by freeways and sprawling freight complexes that spill into the community from the Port, railyard, and OAB.
Today, traffic from trucks, trains, and ships continuously bombards West Oakland from all sides. Unsurprisingly, residents suffer some of the highest elevated cancer risks in California and have higher rates of asthma attacks and respiratory and cardiovascular illness than the rest of Oakland and the Bay Area. At West Oakland Middle School, nearly a quarter of students have asthma or breathing problems.
Residents have average life expectancies up to 24 years shorter than their neighbors in the Oakland Hills. These injustices are compounded by the fact that 64 percent of children do not have a regular place to go for medical care. The West Oakland community was created by transportation projects—and now is being killed by them.
Community members and organizations including the West Oakland Environmental Indicators Project (WOEIP) have been fighting against pollution from these transportation projects for over 30 years. As far back as 2000, efforts like the Port's "Vision 2000" program claimed to be a vision for the future that included the community's voice, but instead  focused on expanding freight activity at the Port at the expense of truly protecting and lifting up the surrounding community. In 2017, WOEIP said "enough" and, with Earthjustice, filed a Title VI civil rights complaint with the U.S. Department of Transportation (DOT) and the U.S. Environmental Protection Agency (EPA) arguing that the City and Port of Oakland have consistently used federal funding to bury the mostly Black community in more and more pollution from transportation projects – projects that would never be considered in more affluent areas of the City. The federal agencies agreed to initiate an investigation, effectively agreeing, along with virtually every state and regional public health agency, that something has to change, and that the City and Port cannot continue to ignore the impacts their decisions are having on this community.
To be clear, this is not a situation where the community wants to kick out the Port or end freight operations entirely. The community envisions a thriving Port that provides valuable job and training opportunities, while not polluting the air. The next step is for the City and Port to reciprocate by ending the historical practice of using the community as a dumping ground, and instead envisioning a future that creates a thriving Port alongside a healthy and vibrant West Oakland.
The key to that future is embracing a zero-emissions Port. The Board of Port Commissioners is now close to approving an air quality improvement plan, or Seaport Air Quality 2020 and Beyond Plan. Although this plan is a step in the right direction, it still delays the transition to a zero-emissions Port for another 30 years. The time for delay is over. Because technologies are emerging that will not only clean up the air, but also reduce total operating costs and position the City and Port for success, the good news is that there is a clear picture of what a zero-emissions future looks like:
All Port equipment and trucks must be electrified: Operations at a port involve various cranes, lifts, and trucks to move around cargo. Because most of this equipment does not move very far, it is ripe for electrification.
The California Air Resources Board (CARB) is already advancing zero-emissions mandates for cargo handling equipment, drayage trucks, forklifts, and transportation refrigeration units. And companies such as OrangeEV and BYD are already manufacturing equipment like electric yard tractors and drayage trucks (which transport goods over short distances). Rapid adoption of zero-emissions technology is thus not just feasible, but desirable. And as battery prices continue to decline, even the initial purchase prices will become comparable.
To avoid falling behind where the industry and public agencies are clearly heading, the Port should follow the lead of the Ports of Los Angeles and Long Beach and commit to replace all cargo handling equipment (e.g., yard tractors, forklifts, gantry cranes) with zero-emissions equipment by 2030, and allow only zero-emissions drayage trucks to service the Port by 2035. A stronger commitment is necessary to take advantage of current incentives, and to ensure that the infrastructure, training, and other foundations are in place for the inevitable transition to zero-emissions operations. Failure here will continue to injure the surrounding community and undermine the Port's long-term competitiveness.
All ships visiting the Port must slow down to reduce emissions as they enter the Bay, and use technologies to eliminate emissions while at berth: Ships are a major source of air pollution at ports, both during transit to and from their berths, and while at the berth as cargo is loaded and unloaded. Shore power eliminates at-berth emissions by providing shoreside electrical power, allowing ships to plug into the grid and shut down their engines. CARB's current regulations will require shore power for 80% of ship visits by 2020, and CARB is considering amendments to increase that target to 100% by 2021.
Logistics and supporting operations must move out of the community and onto Port and City properties: Much of the Port's impact on West Oakland comes not just from the operations at the Port and surrounding railyards, but from the spillover of supporting operations into the community. For example, trucks frequently park along neighborhood streets and idle at warehouses and other truck service facilities. The City should use its zoning authority and control over parking and street access to move freight operations out of the surrounding community altogether. The Port should in turn set aside land for green infrastructure and charging stations within its property to address concerns about labor rules and space constraints.
Locomotives that stay within Port facilities must be zero-emissions: Train operations present a serious and increasing public health threat to surrounding communities. As a facility with several railyards both on- and off-site, the Port of Oakland must proactively accelerate turnover to cleaner locomotive technologies available now. For locomotives and railcar movers that do not leave Port property, the Port has the authority and influence to require replacement with zero-emissions alternatives. And for locomotives that do leave Port facilities, the Port should create incentives that encourage turnover of all older locomotives to state-of-the-art technologies.
Decisions must be made using a multi-stakeholder, solutions-oriented public engagement process: To date, the Port and City have demonstrated an overall lack of a problem-solving mentality. Meaningful processes for collaborative decision-making should include a community-led Sustainable Freight Advisory Committee, created by the Mayor, to provide input and oversight on Port and City planning efforts. This Committee should include designated seats for community members, and be tasked not just with passing along information to the community, but also with engaging in an in-depth, multi-stakeholder, solutions-oriented process.
Each piece of this vision is not only feasible, it is coming. The City and Port have the power to implement this vision to achieve a forward-looking, zero-emissions port that protects and enhances the surrounding community. The transition to a zero-emissions freight sector is not an overly ambitious, unproven idea – it is a fast-approaching reality consistent with directives and plans adopted at the regional, State, and even global level. It is in the interest of City officials and the Board of Port Commissioners to plan for this reality, working alongside local residents.
For years, community members have worked to make West Oakland a better place to live, and all that is possible in this vision is the result of their persistence and advocacy. They will continue to engage and help identify solutions. They will continue to watch the development of the Beyond 2020 air quality improvement plan and hope that the City, the Port staff, and the Port Commissioners serve as effective partners and allies in this work. In the words of Brian Beveridge, co-director of WOEIP, "We have fought for 20 years to get reductions in deadly diesel emissions in West Oakland. Now we know that nothing short of zero-emissions transportation will really make our air safe to breathe." The question now is, will the City and Port finally commit to being good neighbors too?
Michelle Ghafar is a senior attorney with Earthjustice's California regional office in San Francisco.
The California Regional Office fights for the rights of all to a healthy environment regardless of where in the state they live; we fight to protect the magnificent natural spaces and wildlife found in California; and we fight to transition California to a zero-emissions future where cars, trucks, buildings, and power plants run on clean energy, not fossil fuels.