End of the Line for Oakland Coal Scheme
West Oakland organizers recently led their community to victory against a multi-million dollar dirty energy proposal.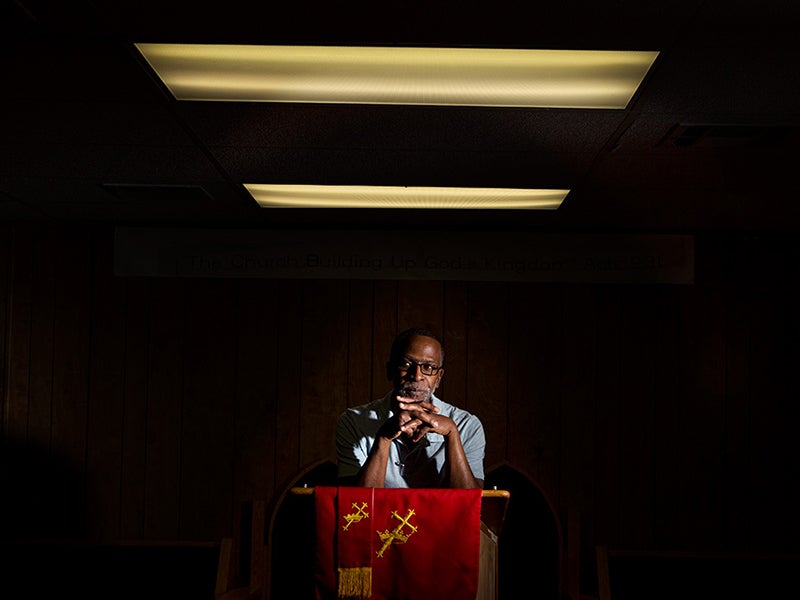 On July 19, the people of Oakland, California, halted a multi-million dollar dirty energy project in its tracks. The Oakland City Council, bolstered by the support of thousands of residents, voted to ban shipments of coal from the city in response to a proposal from powerful local developer Phil Tagami. Tagami's plan was to use more than $50 million in taxpayer money to bring 10 million tons of coal a year from Utah to the West Oakland waterfront by train. These open-top train cars would have allowed hundreds of tons of coal dust laced with heavy metals to blow onto nearby houses and yards. West Oakland, the neighborhood at the center of the coal dust storm, hosts the city's shipping industry and is carved up by freeways and rail lines. The area's low-income residents already suffer disproportionately from asthma and heart disease.  
A coalition led by Oakland community groups, churches and unions campaigned for more than a year to stop the coal scheme. Oakland Mayor Libby Schaaf, Senator Loni Hancock (D-Berkeley) and green groups like Earthjustice and the Sierra Club lent expertise. When a new scientific study confirmed the health risks of coal dust, the Oakland City Council told Tagami it was the end of the line. Tagami has threatened to sue, but Earthjustice will keep an eye on his legal wrangling and encourage him to ship other, less toxic commodities.
We sat down with Reverend Ken Chambers of Oakland's West Side Missionary Baptist Church, one of the most outspoken opponents of the coal plan, to celebrate the community's achievement.   
Heather Ross: How do you feel now that the Oakland City Council has banned coal?
Ken Chambers: I feel great! I think it's awesome that the city council took leadership and voted to ban coal. The mayor played a pivotal role throughout the process, stating her position all along. We ended up with a unanimous vote, so I'm very excited.
HR: Why do you think the community movement to block coal shipping was so successful?
KC: The evidence pointed toward environmental contamination over the years. You have the sewer plant in West Oakland, you have the truck traffic exhaust, you have the ship exhaust and…three different freeways that intersect with each other, so it just didn't make sense to put coal in that community that already had so many environmental issues in the past.
HR: What does this victory say about the power of West Oakland citizens?
KC: It proves that working together works. No matter your race, religious denomination or sexual preference, we all want fresh air to breathe, good jobs to provide for our families, houses to live in. People work toward their self-interest, and it was in everyone's self-interest in West Oakland [to keep coal out]. I've had people on the other side tell me, 'Thank you Reverend, thank you.'
And I applaud Earthjustice; folks like you are helping shine a light on these injustices.
HR: Is the fight to keep coal out of Oakland now over?
KC: No. For one, Phil Tagami says he's gonna sue. I feel that he doesn't have a leg to stand on. If he sues, the community would do our best to support the city and win that lawsuit.
We feel the study that the city had done gives credence to their decision to ban coal from West Oakland. I think they've pretty much covered themselves because of such right-in-your-face data that proves [shipping coal] would have been a health issue. So it was a good vote—a good call on the city's part. I just hope that we direct Phil Tagami's attention to other bulk commodities that are healthy that he can ship out and create jobs through that process.
HR: Do you have any advice for other communities fighting similar dirty energy proposals?
KC: All environmental injustices happening across the nation are in low-income communities of color. So guess what? If trains are coming with coal…anywhere in the United States, they're going through that low-income, devastated community.
Organizers who work with faith-based organizations all realize that the challenges we have can go away if folks work together, demand more and government partners with communities to plan ways around these environmental injustices. There are coal trains in Richmond, and that's right in our backyard. That's possibly something that we will be urging folks to start organizing around.
HR: What's next for you, your church and the other members of the coalition?
KC: Clergy from all different religious denominations will be continuing to develop the Alameda County Interfaith Council. This is to have in place a group of diverse clergy working together to be prepared for the next fight that may come. A lot of interfaith people came together around the [fight to ban] coal, so I'm utilizing that energy. Where there's tension there's growth. And so out of the tension that we had [there's been] a lot of growth in the understanding and thinking of organizers who organized so well to help defeat it.
Secondly, Interfaith Power and Light—a state-wide organization that worked with us to ban coal—we're working with them to have a green jobs summit on October 5th. This is to look at all types of green jobs that can come to this Oakland community and make sure that local residents get those job opportunities. 
A journalist and graduate of the University of California, Berkeley, Heather was the associate editor from 2015–2017.