Environmentalism Starts With Love
In recognition of Black History Month, Clean Energy Attorney Chinyere Osuala shares her story about how she became a black-female-vegan-environmentalist.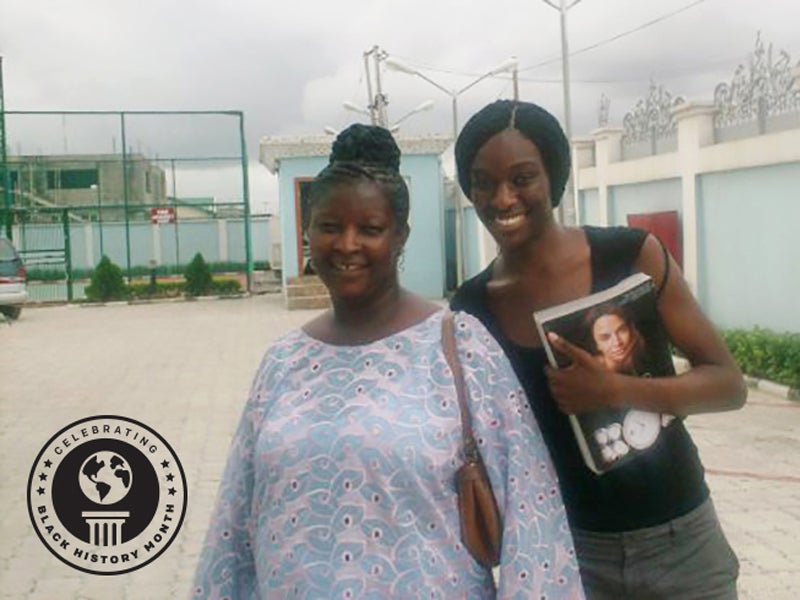 Earthjustice—in recognition of Black History Month—is sharing articles and videos each Friday of February about African Americans who have made contributions to the environmental movement. In addition to recognizing the courageous work of others, Earthjustice's own African-American staff also share personal stories about how they became involved in environmental issues.
While sitting in the famous Busboys & Poets café in Washington, D.C. the other day, my thoughts drifted to just a few nights earlier when I was eating dinner at another Busboys location with four of my friends. That night, after I ordered the penne pasta and vegan meatballs, my friend, Megan, asked me why I became a vegan. I had a hard time answering that question because I've traveled a very long and winding road to become who I am now: a black-female-vegan-environmentalist.
For me, it was very important to point out the fact that I am a black female who is dedicated to climate issues. My four friends, who are also from urban areas of New York City, reacted to my explanation with complete silence. They didn't seem to get it. They struggled to understand my feeling that I could no longer support a system that treats animals and people inhumanely and destroys the climate, even though we all came from the same food-deserted, garbage-riddled, asthma-suffering communities.
I have always been interested and passionate about human rights issues, especially in terms of quality of life. Today, I am a clean energy attorney at Earthjustice in Washington, D.C. I've been practicing environmental law for a little over a year, and I currently focus on clean, renewable energy and energy efficiency issues. But growing up, I had no concept of environmental law. It was only after I began working at the Clean Air Council in Philadelphia as a legal fellow that I understood how important the fight to protect our earth has become.
Practicing environmental law has changed me. I am completely aware of everything I do, from what I eat to what I wear to even how I dispose of garbage. More importantly, I am aware of how other communities live, and I am in solidarity with American and international communities that struggle to breathe clean air, eat uncontaminated foods and drink clean water.
In the Bronx, where I grew up, I lived in a mainly low-income Latino and immigrant neighborhood. Because of my faith, I understood very early that people should treat each other with dignity and respect. And, since many people in my neighborhood carried their problems on their sleeves, I was constantly and acutely aware of how others were suffering.
Back in the 1990s and early 2000s, the South Bronx had the highest rates of asthma in the country, including excessively high rates of pediatric asthma. So many kids in my elementary school had asthma that I remember wishing I had asthma so that I could carry a pump around, too. Thirteen waste transfer stations are located in the South Bronx and proper animal waste disposal is not a priority for most residents. I hated walking through the streets, block-by-block stepping over discarded garbage and dog poop. On top of everything else, many people lived in crowded spaces. Most of the people I went to school with lived in either the projects or roach-infested apartment buildings. With crime being a major concern for many, environmental issues sat on the back burner.
My parents are well-to-do immigrants from Nigeria, which is the eighth largest exporter of petroleum in the world. While petroleum has been great for the economy, it has not been great for Nigeria's environment. Residents of the Nigerian Delta region faced some 6,817 oil spills between 1976 and 2001. The cities have very poor air quality, and Lagos, the nation's largest city, has serious waste management problems. When visiting family there in 2008, we took a six-hour bus ride from Lagos to Imo State. Throughout the ride, I mostly kept my head out the window and when we arrived at our hotel in Owerri I took a shower and black soot washed off my face. The soot was from car engine exhaust.
From the Bronx, N.Y., all the way to Lagos, Nigeria, everyone has the right to breathe clean air and drink clean water. Communities do not deserve to be under constant threat of sickness and disease from energy companies or failed environmental protections. This is why I do what I do and why I have embarked on this journey to become an environmentalist. Environmentalism starts with love. When we begin to love ourselves and love each other, our earth will reap the benefits of that love, leading to a healthier, more sustainable quality of life.
Based in New York. Chinyere works on clean energy issues.
Earthjustice's Clean Energy Program uses the power of the law and the strength of partnership to accelerate the transition to 100% clean energy.