Farmworker Advocates Seek Stronger Pesticides Safeguard
When Mario Vargas showed up at the Washington, D.C., offices of representatives from his home state of Ohio in July of 2013, he shared stories from farmworkers who are getting sick from pesticides. Joined by his family and other farmworkers, he spoke about how it feels to inhale pesticides while pregnant, how farmworkers don't know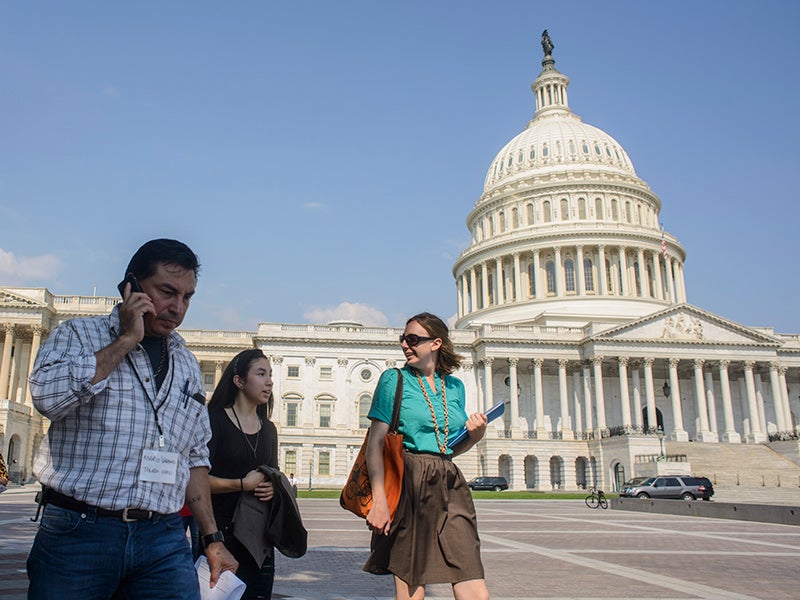 When Mario Vargas showed up at the Washington, D.C., offices of representatives from his home state of Ohio in July, he shared stories from farmworkers who are getting sick from pesticides. Joined by his daughter and girlfriend, they made the rounds talking about how it feels to inhale pesticides while pregnant, how farmworkers don't know what their basic rights are, and how many workers are afraid to tell the truth about what is really going on in the fields.
Today Vargas, 44, and other farmworker advocates cheered the news that the weak and outdated Worker Protection Standard, which sets agricultural worker safety standards for pesticide use, will finally be updated. The Environmental Protection Agency announced that the new proposal will enter the Federal Register in early March, which is when public comment officially begins.
Vargas, who began working in the fields at 11, said:
As a former farmworker who worked up the ladder to become a supervisor, I've seen all sides of the issue. If farmworkers must work with pesticides, then protections must be strengthened so farmworkers know their rights, take necessary precautions and are treated with dignity and respect.
Vargas was not the only farmworker advocate who cheered the news.
Among those who came to Capitol Hill to lobby for protections was Selena Zelaya, 18, a freshman at Seminal State College in Florida. She took time off from her busy schedule to visit the Hill twice, where she spoke to Florida congressional officers with her father Miguel about the harm her parents face from working as farmworkers.
Zelaya said the announcement was "great news" but cautioned that "any revisions or updates must be strong enough to protect farm workers." She continued:
It is important because many farm workers are being exposed to things they don't even know about and in some cases they don't see the importance of protections because they are not being trained every year. It means so much to my parents being farm workers for many years and having pesticides affect our family directly.
Why does this issue matter? Because an estimated 1.1 billion pounds of pesticides are applied to crops annually in the United States. Our nation's estimated 2.4 million farmworkers form the backbone of the U.S. agricultural economy and face the greatest threat from the health impacts of these chemicals.
The federal government estimates that there are 10,000–20,000 acute pesticide poisonings among workers in the agricultural industry annually, a figure that likely understates the actual number of acute poisonings since many affected farmworkers may not seek care from a physician. Short-term effects of pesticide exposures can include skin and eye injuries, nausea, headaches, respiratory problems and even death. Long-term exposure on the job can increase the risk of serious chronic health problems such as cancer, birth defects, neurological impairments and Parkinson's disease for farmworkers, their families, and their children.
The WPS was designed with adult workers in mind, but agriculture is different from most other industries in that it allows children to join labor crews at 12-years-old—even at 10 in some crops—and these children are exposed to pesticides on the job.
Yesenia and Neftali Cuello were just 14 and 12 when they began working on tobacco and sweet potato farms in North Carolina. They visited Capitol Hill to tell their story and are elated the WPS is going to be updated.
"We never heard the word 'pesticide' or had a safety training until 4 years later," says Yesenia, now 20 and no longer working in the fields. "I assumed it was some kind of fertilizer."
Vargas, who worked in Florida, Georgia, South Carolina, North Carolina, Ohio, Indiana and Michigan as a farmworker, would do the job again but feels better protections are needed.
"I think farmworkers are the hardest workers in the country," Vargas said. "They need to know what their rights are and they need to be educated."
Raviya was a press secretary at Earthjustice in the Washington, D.C. office from 2008 to 2014, working on issues including federal rulemakings, energy efficiency laws and coal ash pollution.
Earthjustice's Washington, D.C., office works at the federal level to prevent air and water pollution, combat climate change, and protect natural areas. We also work with communities in the Mid-Atlantic region and elsewhere to address severe local environmental health problems, including exposures to dangerous air contaminants in toxic hot spots, sewage backups and overflows, chemical disasters, and contamination of drinking water. The D.C. office has been in operation since 1978.