How a Bay Area Community is Fighting Port Pollution
The Port of Oakland wants to widen its basins, bringing more megaships — and more pollution — to an already overburdened community.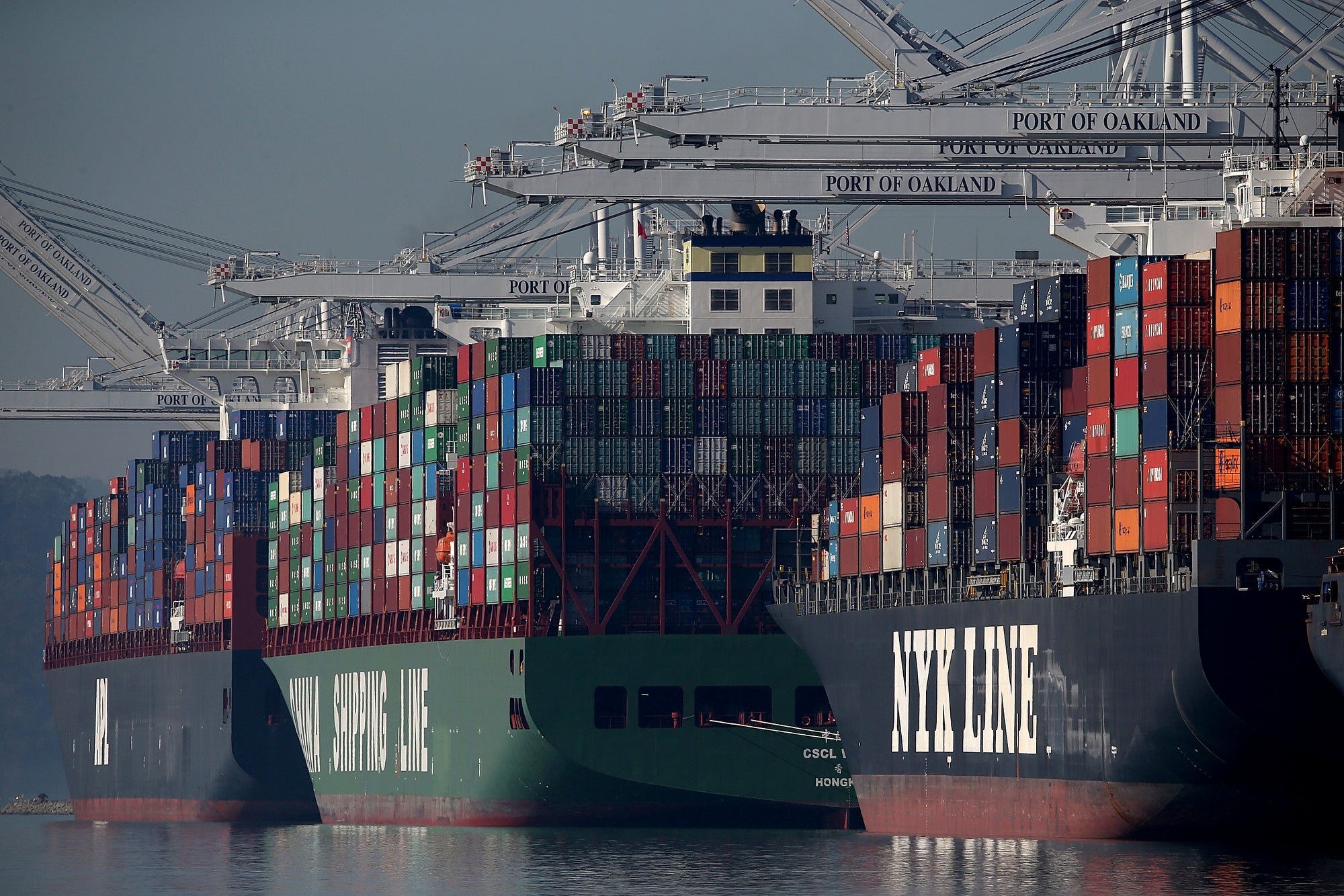 Earlier this year, West Oakland got a big win in fighting port pollution. One of the transportation industry's dirtiest secrets, ports pollute the air of the millions of people in the U.S. who live near them. They're also a major contributor to climate change — which affects us all.
After years of advocacy by the West Oakland Environmental Indicators Project (WOEIP) and Earthjustice, the Port of Oakland recently committed to cleaning up some of its most polluting equipment, a victory for clean air. But now the port wants to widen areas of the San Francisco Bay to enable cargo-carrying megaships to dock there more easily. The expansion project could bring even more pollution to the community via megaships and the additional land traffic needed to move the added cargo.
WOEIP is fighting back with the help of Earthjustice, and it has the momentum of statewide electrification efforts on its side. This work is part of a broader effort to transition our economy to 100% clean energy, which includes our transportation system, the largest source of greenhouse gas emissions in the country.
West Oakland is only a mile from the San Francisco Bay. But the shoreline is almost entirely controlled by the Port of Oakland, says Brian Beveridge, co-director of WOEIP.
"There are kids in this neighborhood who have never really seen it," he says.
For nearly a decade, WOEIP has partnered with Earthjustice to fight the pollution stemming from the sprawling freight and logistics operations at the port. Many of our consumer and agricultural products  pass through port harbors, which contain ships and cargo handling equipment that burn some of the dirtiest fuel on the planet.
At the ports of Los Angeles and Long Beach, for example, pollution from harbor vessels reaches levels 90 times what the U.S. EPA considers safe. Diesel pollution from ports has even been shown to register at dangerous levels as far as 30 miles away.
Much of this pollution comes from the diesel-powered vehicles that keep port operations humming. This includes the many barges, tugboats, and ferries that bring cargo to shore, the cranes and forklifts that haul it across the port yard, and finally the trucks, semis, and trains that deliver it to warehouses across the country.
Despite their huge environmental impact, ports lag other industries in the transportation sector in cutting emissions. In the past, regulators have been slow to hold them accountable, and the freight industry itself does everything it can to pass accountability off to others along the operations chain.
"Without strong air quality standards, these entities have historically avoided efforts to innovate and electrify their operations," says Earthjustice attorney Marie Logan. "As a result, they have a free pass to continue polluting."
The Port of Oakland may finally be cleaning up its act, though, thanks in part to strategic Earthjustice litigation and advocacy efforts in partnership with WOEIP. In 2019, it approved an air quality plan designed to drastically cut diesel and greenhouse gas emissions from its operations.
Earlier this year, it adopted an environmental ordinance that will commit its tenants (who operate large marine shipping companies) to transition their operations to cleaner equipment — the first meaningful attempt to make port tenants and operators take responsibility for their pollution, too.
But the port's proposed widening project — in coordination with the U.S. Army Corps of Engineers — now threatens to undercut these efforts.
In its proposal, the Army Corps claims it wants to widen the Oakland Harbor in the San Francisco Bay as a mere construction improvement. What the Corps doesn't admit is that this widening could mean an increase in cargo that flows to and through West Oakland — which could lead to more trucks, traffic, and pollution in a part of the state that can least afford it.
These megaships are almost four times the length of a football field. And each one can carry more than 19,000 containers that need to be unloaded by polluting cargo handling equipment and then transported by truck or rail, further exacerbating the terrible truck traffic and corresponding pollution throughout West Oakland.
Asthma hospitalizations for West Oakland residents are already 88% higher than the national average. More emissions billowing from the trucks, trains, and ships at the port will only worsen the ongoing public health crisis. Yet neither the port nor the Army Corps have made meaningful efforts to seek the community's input on the proposed expansion project.
Earthjustice, together with WOEIP, argues that the Army Corps' actions run afoul of the National Environmental Policy Act, a law that communities use to protect themselves from poorly planned federal projects.
"A public agency can't propose big projects that affect the whole region simply because it wants to," says Beveridge of WOEIP. "This expansion would make it easier for megaships to come here and yet the port has not calculated its impact on their neighbors."
Earthjustice's Logan says that the port should instead focus its efforts on completing its transition to zero-emissions equipment, which includes committing to a firm target date for the conversion of all operating equipment and trucks to zero-emissions technology. There are massive amounts of state and federal funds available now, including in the Inflation Reduction Act (IRA), to help with this effort.
"Doubling down on port expansion makes little sense and threatens to set the port back on its path to zero-emissions," says Logan. "The port is dumping tons of time and resources into this proposal, without considering the impact on neighboring communities."
Tell the Army Corps to fully study the proposal's impact on local communities.
Jessica is a former award-winning journalist. She enjoys wild places and dispensing justice, so she considers her job here to be a pretty amazing fit.