How We Can Preserve Breathable Air in a World on Fire
Increasing wildfires fueled by climate change unleash a toxic cocktail. Here's how we can lessen their health impacts by strengthening clean air protections year-round and nationwide.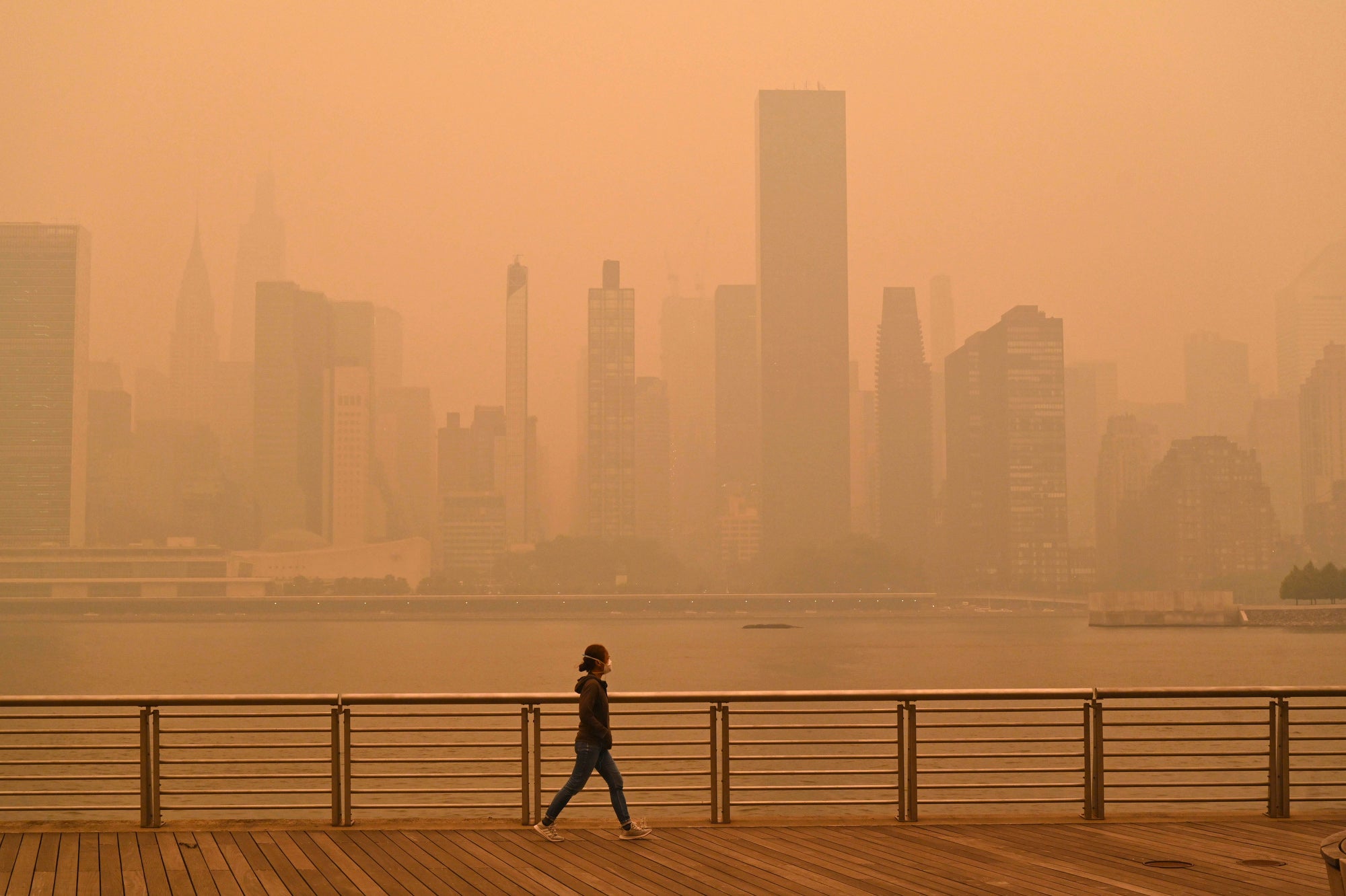 Red-rouged sunrises. Thick blankets of smoke. Panicked evacuations by air, land, and sea. This summer, millions of people watched from afar or experienced firsthand deadly wildfires fueled by an increasingly hotter and drier planet. As extreme temperatures break records and wreak havoc in places like Maui, Canada, and Greece, scientists warn we're entering "uncharted territory."
Yet fossil fuel companies continue burning more oil, gas, and coal. This both accelerates climate impacts that supercharge wildfires and adds fossil fuel pollution that compounds the health risks of wildfire smoke. Meanwhile, the Biden administration needs to do more to live up to its promises on cutting climate and air pollution.
But there are concrete steps we can push states and the federal government to take to protect us from the worst climate impacts and begin to clean our air from a wide array of pollution. Here's what to know about wildfire pollution and how we can improve air quality year-round while also reducing climate pollution.
What are the health hazards of wildfire smoke?
Bad air quality is already the world's leading environmental killer, and smoke from wildfires makes polluted air worse. Wildfires create smoke plumes that are 10 times more toxic than air pollution created from burning fossil fuels. That's in part because of a sooty substance in wildfire smoke known as particulate matter or "PM2.5", which are the particles that darken the sky during a fire. Wildfires currently account for 40% of the U.S.'s particulate pollution, which can penetrate deep into our lungs and is linked to increases in heart attacks, strokes, lung cancer, and Alzheimer's disease.
Wildfire smoke is especially dangerous to kids due to their smaller airways, ability to take in more air than adults, and developing lungs. Vulnerable populations like the elderly, immune-compromised, and low-income communities are also at increased risk.
But when it comes to air pollution, everyone stands to lose as our air becomes dirtier. That's why we're working to improve air quality year-round while also reducing the carbon pollution that's fueling wildfires in several key ways, including:
1. Raising clean air standards nationwide
Clean air is not only a basic human right; it's key to living a healthier life. Environmental laws like the Clean Air Act help raise standards and ensure that everyone has clean air — while also saving trillions of dollars in health costs. That said, increased wildfire smoke threatens to derail that progress, which is why Earthjustice is working to raise clean air standards nationwide.
In 2023, Earthjustice successfully pushed the Environmental Protection Agency (EPA) to propose stronger protections for ground level ozone, also known as "smog." Breathing in smog increases the risk of lung and heart disease, as well as reduces overall visibility. Finalizing these protections now helps the 127 million people who live in parts of the country that currently suffer from harmful ozone levels.
Earthjustice litigation also pushed the EPA to propose strengthening protections against the nation's dirtiest power plants in 2023, which emit dangerous toxins like mercury, arsenic, and lead. Current power plant rules save up to 11,000 lives each year by cutting these emissions. The agency's latest proposal builds on that success by requiring the dirtiest plants to slash their emissions even further.
2. Cleaning up dirty air hotspots
Our nation's bedrock environmental laws have worked wonders in cutting overall pollution, cleaning up our air, and improving public health. But there remain some mega polluters that have an outsized impact on our air — and often on the most vulnerable among us. That's why Earthjustice attorneys target dirty air hotspots around the country to get them in line with current regulations.
In Southern California, Earthjustice is working with environmental justice groups on a multi-pronged legal strategy to clean up one of the most polluted areas of the country.
In Colorado, Earthjustice is taking to task a serial polluter in north Denver — once called "the nation's most polluted zip code." Recently, the EPA pressured the state to crack down on Suncor, a 98,000-barrel-per-day refinery that produces gasoline and diesel fuel.
On the East Coast, Earthjustice and our allies blocked a proposal to repower New York's old "peaker plants," which run on highly polluting and carbon-heavy fuels like kerosene or oil. As a result, the plant's owner sold the land under its facility to an offshore wind developer.
3. Pushing for cleaner energy
Fossil fueled appliances and vehicles create a lot of air pollution. Methane gas appliances like gas stoves and furnaces, for example, account for one-tenth of climate pollution in the United States.
Earthjustice is electrifying our homes and businesses through the Right to Zero program, which started in California and has since grown to D.C., Maryland, and New York. And in California alone, we've racked up a transformative number of wins over the past year.
In 2023, Earthjustice pushed California's regulators to pass a rule that will dramatically cut emissions from large diesel trucks, the worst polluters on the road. We also pushed the state's ports to invest in replacing dirty diesel locomotives and other polluting equipment with zero-emissions equipment.
In Southern California, we lobbied air regulators to a first-of-its-kind rule to electrify the food and beverage industry — the state's second largest gas user. These wins in the world's fifth-largest economy will hopefully "spark" legislators in other states to pass stronger air pollution protections.
It's Now or Never
With the impacts of the climate crisis all around us, we need bold action now to lessen the chances of more frequent and intense wildfires in the future, and to clean up deadly air pollution. Fortunately, we already have the solutions we need to break free from fossil fuels and cut climate emissions. Our elected officials and policymakers are just lacking the political will. That's why we're supporting efforts like suing Hawai'i regulators on behalf of youth advocates to force the state to enact bold climate action and defend their constitutional right to a clean and healthful environment.
At Earthjustice, we and our partners are using the power of the law to speed up the transition off planet-heating fuels, protect public health, and preserve a healthy and just planet for future generations.
Jessica is a former award-winning journalist. She enjoys wild places and dispensing justice, so she considers her job here to be a pretty amazing fit.