If the Oil Industry Gets Its Wish, the Ohio River Valley Could See More Toxic Trains
A plan to build more petrochemical plants has already begun, but locals are fighting back.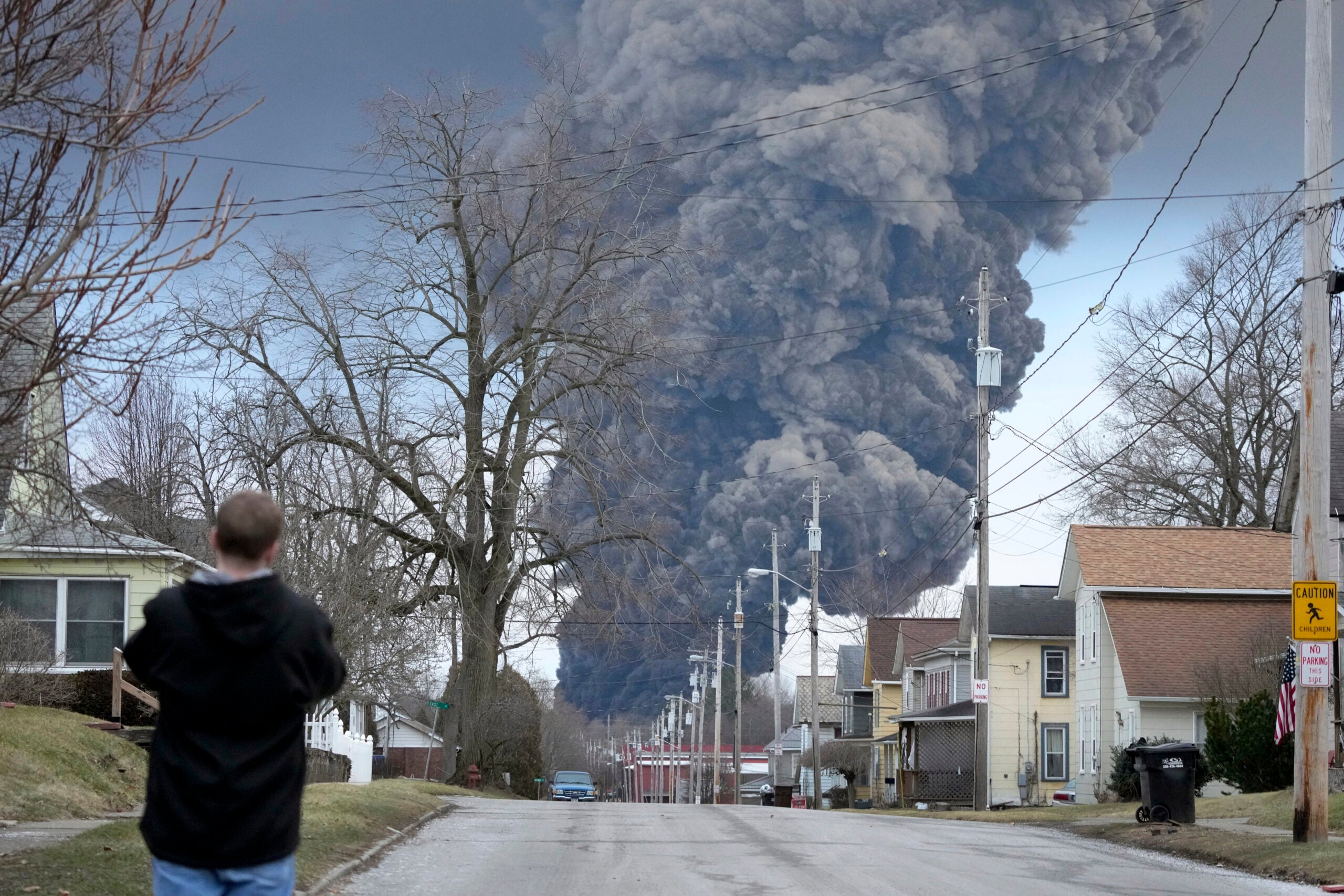 Last month, a train carrying toxic chemicals derailed and caught fire in the middle of an Ohio town. If the fossil fuel industry gets its way, many more trains will pass through the region soon, adding to a slew of environmental threats posed by the industry's plans for the Ohio River Valley.
The train that derailed in East Palestine, Ohio, was carrying vinyl chloride, a carcinogenic chemical used to create PVC pipes. Vinyl chloride is just one of a class of toxic substances called petrochemicals, which are refined from fossil fuels for use in plastics, pesticides, and other items.
As fossil fuels face growing economic competition from renewables, the oil and gas industry is investing in a buildout of petrochemical plants — many of them in communities already overburdened by pollution. Fossil fuel extraction companies hope to lock in demand for their dirty products and protect their profits even as awareness grows that we urgently need to move towards a clean energy future.
This buildout has already begun along the Ohio River, bringing toxic emissions and polluted water to the people who live there. Locals are challenging industry's push into the Ohio River Valley — and Earthjustice is committed to helping them.
A promise undelivered
One reason the Ohio River Valley is in the crosshairs of a petrochemical buildout is geology. Fossil fuel companies place petrochemical plants as close as possible to their source underground. And from eastern Kentucky to New York, communities are sitting on top of a million-year-old oil and gas deposit known as the Marcellus Shale.
With the development of hydraulic fracking technology in the early 2000s, oil companies swarmed over the newly accessible Marcellus Shale in the Ohio River Valley. At the time, state leaders and oil company executives, spurred by government incentives, touted the onset of a new era for the economically depressed region, which had previously been exploited and abandoned by the coal, glass, and steel industries.
Those rosy promises never materialized. A glut of domestic gas coupled with declining demand meant that fracked gas failed to sustain profits. Oil and gas companies drilled thousands of wells from Pennsylvania to Kentucky, only to abandon many of them. Today, nearly half of the operating wells in the Ohio River Valley are "stripper wells": largely unproductive wells that remain unplugged, emitting methane and abandoned by companies that can't or won't cover the cleanup cost.
The problem with plastics
Now, the industry is betting on petrochemicals to salvage its investment in gas. Most of that bet is unfolding in the Gulf, where communities in Louisiana, Texas, and Mississippi are fighting a whack-a-mole battle against petrochemical complexes popping up in rural, mostly Black neighborhoods. But the Ohio River Valley, particularly the region's low-income communities, is also a target.
After an earlier attempt to push through a massive petrochemical expansion in the mid-2010s, industry's efforts have temporarily stalled. Of the initial proposed buildout, only a Shell ethane cracker plant has been built — and communities are working to ensure that the industry's petrochemical dream never becomes a reality.
Locals are fighting back
Alex Cole's family has lived and farmed in the Ohio River Valley for multiple generations. Even with the rise and fall of various industries, he says, there remains an untamed beauty to the woods, flatlands, and rivers. "It's a merge of topographies," Cole reflects. "There are a lot of wild spaces here. It amazes people how big the rivers are."
On the heels of Shell's cracker plant came another proposal: the Mountaineer storage facility, which would store fracked gas in massive underground caverns until it could be transferred to facilities like the cracker plant. Cole joined a group of locals who began knocking on doors to spread the word about the dangers of storing an explosive, toxic gas underground. People were disgusted to learn about it, but not surprised.
"People here understand how the industry works, because we all built it," explains Cole. "We've worked for these corporations and seen how they defer the true costs of industry onto the people. It's not hard to go from resignation to anger."
Residents' concerns were well-founded. Plants emit highly toxic chemicals, such as benzene, vinyl chloride, and trichloroethylene. Studies have linked communities who live near petrochemical facilities to symptoms ranging from headaches and fatigue to birth defects, developmental disorders, and increased rates of cancer. These chemicals can also leach into groundwater, polluting nearby aquifers that supply drinking water to surrounding communities.
Despite local opposition, the state of Ohio approved the project's permits — so the community took the state to court. On behalf of local advocates, Earthjustice sued the Ohio Natural Resources Department for hastily allowing the project to go forward without fully evaluating its dangers to people and the environment.
As the case wound its way through court, the company's mining permits lapsed, and major financial backers began to back out. The project is now indefinitely on hold, and if the company tries to revive its bid for permits again, Earthjustice will meet them in court.
Alison Cagle is a writer at Earthjustice. She is based in San Francisco. Alison tells the stories of the earth: the systems that govern it, the ripple effects of those systems, and the people who are fighting to change them — to protect our planet and all its inhabitants.
Earthjustice's Fossil Fuels Program is taking on the fossil fuel industry's efforts to pursue new paths to profit that not only accelerate the climate crisis, but also continue to cause harm to marginalized communities.