Putting a Lid on Plastics Production in the Ohio River Valley
Residents are challenging industry's petrochemicals push into the region, and Earthjustice's legal strategy has helped them notch an early win.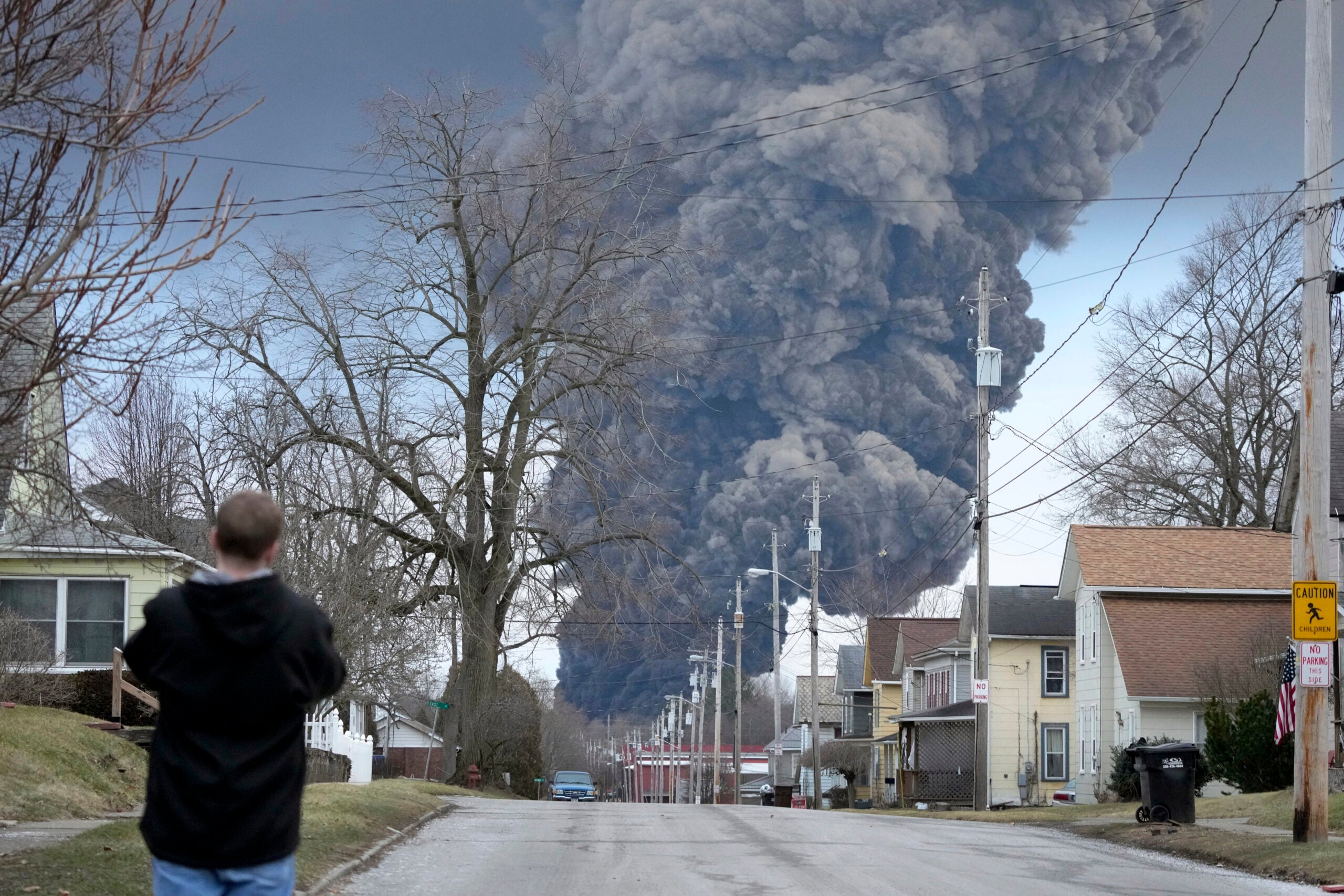 It was in college when Alex Cole discovered that the emergency drills he had to do in grade school were not a common childhood experience.
"We'd do shelter-in-place drills due to the risk of a chemical plant leaking," Cole recalls of growing up along the Ohio River in rural West Virginia. "We had to pretend the air was poison and tape the doors and windows shut." The drills were actually put to use once, when a chemical truck hit the bridge in front of Cole's school.
"College was a radicalization for me when I realized not everyone had to do that as a kid," Cole says.
Holding the paradox of a childhood spent on a woodland farm with the casual risk of a chemical disaster is not uncommon along the Ohio River. The region has risen and fallen with the fortunes of various polluting industries like steel, glass, and coal – all of which have left imprints on the region's environment, economics, and culture.
In February, the public saw the legacy of those industries when a train carrying toxic chemicals derailed in East Palestine, Ohio. The company that owned the train, Norfolk Southern, initiated a "controlled release" of the poisonous cargo, which the company said avoided an explosion. Within days, locals began posting videos online of dead wildlife floating in rainbow-coated ponds and reported experiencing health symptoms including rashes, eye irritation, and nausea. This raised a concerning question: What chemicals were so deadly that the company's safest option was to release them into the air and water – and what were those chemicals doing in the Ohio River Valley?
Fracking's dirty legacy
The derailed train was carrying vinyl chloride, a carcinogenic chemical used to create PVC pipes. Vinyl chloride is just one of a class of toxic substances called petrochemicals, which manufacturers refine from oil and gas for use in plastics, pesticides, and other items.
As fossil fuels face growing economic competition from renewable energy sources, the oil and gas industry is investing in plastics production as a life raft for surviving the eventual transition to clean energy. This petrochemicals buildout has already begun along the Ohio River, bringing toxic emissions and polluted water to the people who live there. Locals are challenging industry's push into the Ohio River Valley – and Earthjustice's legal strategy has helped them notch an early win.
A promise undelivered
One reason the Ohio River Valley is in the crosshairs of a petrochemical buildout is geology. Fossil fuel companies place petrochemical plants as close as possible to their source underground — in this case, natural gas deposits trapped in shale rock formations. And the people living in the Ohio River Valley are sitting on the largest gas deposit in the United States: The Marcellus Shale.
With the development of hydraulic fracking technology in the early 2000s, oil companies swarmed over the newly accessible Marcellus Shale. The government added fuel to their gas fire with enormous tax incentives, using over $6 billion of taxpayer money to cover the cost of refining the technology. State leaders and oil executives touted the onset of a new era for the economically depressed Ohio River Valley, which the coal, glass, and steel industries had previously exploited and abandoned.
Those rosy promises never materialized. As one gas company leader, Steve Schlotterbeck, said at a shareholder meeting, the shale gas revolution was "a disaster for investors." A glut of domestic gas coupled with declining demand meant that fracking in the early 2000s failed to sustain profits. Oil and gas companies drilled thousands of wells from Pennsylvania to Kentucky, only to abandon many of them.
Today, nearly half of the operating wells in the Ohio River Valley are "stripper wells": Largely unproductive wells that remain unplugged, emitting methane and abandoned by companies that can't or won't cover the cleanup cost.
The problem with plastics
Now, the industry is betting on petrochemicals to salvage its investment in gas.
In the mid-2010s, fossil fuel companies again foretold of a new industrial era in the Ohio River Valley. So far, only a Shell ethane cracker plant has been completed in Pennsylvania (cracker plants break gas molecules down into ethylene, the raw material used for plastics). Even before the plant opened, residents complained of a weird, syrupy odor coming from the site. Those concerns, it turned out, were well founded.
"The Shell plant has been in constant violation of state air quality standards," says Megan Hunter, an attorney at Earthjustice who represents locals in the Ohio River Valley fighting the oil and gas industry. "It flares frequently, emitting a high level of harmful air pollutants."
Many petrochemical plants emit highly toxic chemicals, such as benzene, vinyl chloride, and trichloroethylene. Studies have linked exposure to these chemicals with symptoms including headaches, fatigue, birth defects, developmental disorders, and increased rates of cancer. When toxic waste from these plants leaches into groundwater, it can pollute nearby aquifers that supply drinking water to surrounding communities.
The oil industry's push for more petrochemical infrastructure along the Ohio River spurred another alarming proposal: the Mountaineer Storage Hub, which would store explosive, fracked gas in underground caverns before being transferred to facilities like the cracker plant. What could go wrong?
The community takes on industry
Alex Cole comes from six generations of West Virginians. Though some of his family members worked in the region's shifting manufacturing industries, like glass and chemical plants, Cole's family are predominantly farmers. His mother, an artist, taught him to remain vigilant against bullying industries that treated people and their environment as obstacles in the way of profit. 
After hearing about Mountaineer Storage Hub's proposal, Cole joined a group of locals who began knocking on doors to spread the word about the dangers of storing explosive gas underground.
"People here understand how the industry works, because we all built it," explains Cole. "We've worked for these corporations and seen how they defer the true costs of industry onto the people. It's not hard to go from resignation to anger."
Instead of heeding the people, the state of Ohio approved the plan's permits – so the community took the state to court. On behalf of local advocates, Earthjustice sued the Ohio Department of Natural Resources in 2021 for hastily allowing the project to go forward without fully evaluating its dangers to humans and the environment.
Challenging a key component  of a major buildout – like the storage for oil or gas – has been key to Earthjustice's successes against new petrochemical projects in this region and in the Gulf Coast. Without those early permits, similar projects can be delayed or stopped in other places.
Stopping those permits also strikes at the industry's wallet, which led to the Mountaineer facility's demise. "A project without permits is bad for investors," says Adrienne Bloch, the managing attorney of Earthjustice's fossil fuels program. As the Mountaineer case made its way through court, the company's mining permits lapsed, scaring off investors and putting the project indefinitely on hold.
If the company tries to revive its bid for permits again, Earthjustice will meet them in court.  "From the pipelines to the storage wells and the petrochemical complexes downstream, this project was bad," says Hunter. "We will be here alongside communities to make sure it never happens."
Putting the brakes on toxic trains
But Mountaineer is only one battle in the larger fight to stop the fossil fuel industry's plastic buildout.
First spurred by explosive train accidents involving crude oil tank cars, Earthjustice is pushing for national standards to ensure such disasters stop happening, and to keep communities informed about what material trains are carrying through their backyards. In 2018, the Trump administration removed safety rules that required modern braking systems on trains carrying hazardous cargo. Earthjustice appealed on behalf of conservation groups, but the government failed to respond – silently siding with companies like Norfolk Southern, the operator of the train that derailed in East Palestine, which lobbied against stringent safety requirements. Since the Ohio disaster, we've renewed our call to reinstate and even increase those requirements.
We're also making sure the government uses its power to protect people from cracker plants and other high-polluting petrochemical facilities. The Clean Air Act already requires the government to regulate facilities in the Synthetic Organic Chemical Manufacturing Industry, or SOCMI, every eight years. Yet multiple administrations have failed to update those regulations, to the benefit of industry lobbyists and the detriment of anyone living near a chemical plant. We sued the government in 2020 for failing its obligation under the Clean Air Act. In response to our lawsuit, the government finally proposed updated standards this spring that would strengthen limits on some of the most harmful air pollutants emitted by chemical manufacturing plants, like chloroprene and ethylene oxide.
No community should be the chemical dumping ground for a dying fossil fuel industry trying to hang on by a thread. We'll hold the government accountable for protecting people's health and environment from disastrous, polluting infrastructure, and we'll keep supporting our partners on the ground who are fighting for a healthier future.
"Taking action helps channel people's anger," says Cole. "This is going to be a big example that, even though we're taking on a system built on greed, it's not all hopeless."
Alison Cagle is a writer at Earthjustice. She is based in San Francisco. Alison tells the stories of the earth: the systems that govern it, the ripple effects of those systems, and the people who are fighting to change them — to protect our planet and all its inhabitants.
Earthjustice's Fossil Fuels Program is taking on the fossil fuel industry's efforts to pursue new paths to profit that not only accelerate the climate crisis, but also continue to cause harm to marginalized communities.