Landmark Clean Energy Bill Headed for Round Two
California is gearing up once again to get the state to a 100 percent clean energy grid.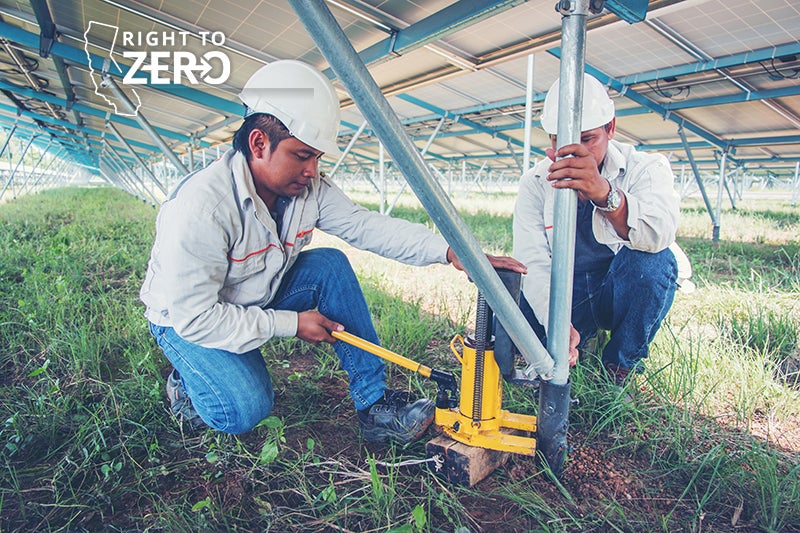 This year, California legislators considered a bill that will wean the state's grid entirely off its fossil fuel addiction, getting us to 100 percent clean electricity by 2045. Now delayed, SB100 must wait until 2018 to get a vote in the California Assembly and make it to the Governor's desk – but the fight to pass this bill so far shows it can cross the finish line.
I want to thank each and every Californian who called, texted, and emailed their state legislator about this important bill. Passing a true clean air, clean energy bill takes a lot of muscle and a lot of noise, even in California.  And I feel confident that your voices mean we have new champions for the bill in 2018. SB100 was held up in the Assembly Committee on Utilities and Energy this year, but the chair of that committee, Assemblymember Chris Holden, has now committed to moving this legislation forward in 2018.
California may be a clean energy leader, but our climate and the health of our communities are far from safe. Renewable energy makes up about 28 percent of California's energy grid, but the Golden State is still the second largest CO2 emitter in the U.S. Our communities pay the price for that fossil fuel pollution, as 9 out of 10 Californians still live in areas afflicted by unhealthy air.
The only way to fix California's climate and air quality problems is to start planning for a healthier energy future, and SB100 is key to that future.
The business of clean energy and clean air must, and can, also be the business of a bustling economy and middle class job opportunities. California is growing a renewable energy juggernaut, with over 519,000 workers and counting in clean energy fields. Wind and solar jobs outnumber fossil fuel jobs 8.5 to 1 in this state. In fact, California has more jobs in clean energy than all the coal jobs in the entire United States.
Our transition from dirty diesel and polluting natural gas to clean energy must also be a just transition that protects local communities and economies. New research from UC Berkeley's Labor Center shows that many of these clean energy jobs are a boon for workers from underrepresented communities and their families. Our renewable energy industries are more diverse than other workforces in California, employing more people of color, veterans looking for new career paths and workers from low-income communities. These kinds of results require forward-thinking ideas like building apprenticeship programs to offer a ladder into the industry, and bringing environmental relief first to our communities that have historically suffered most from pollution.
In the meantime, we've got other work to do to clean up California's energy grid before the SB100 fight picks up in January. We're fighting two proposed natural gas power plants in Southern California, Puente in Oxnard and Mission Rock near Santa Paula. (Investing in natural gas power plants is not only unnecessary, but hazardous to public health, to say nothing of the climate and clean air implications). This fall, we're also fighting to protect a plan from California's largest utilities to invest millions of dollars into electrifying just about everything that moves in the Golden State, from the trucks that carry the things you buy, to port equipment operating in Long Beach and Oakland, to charging sites for electric cars throughout your city.
The road to a healthy California is one driven by electric vehicles powered by a clean energy grid. Come January, join us again in fighting for SB100 and a better grid in the Golden State. It's time to make some noise for the clean energy future we want.
ABOUT THIS SERIES
We don't have to imagine a zero-emissions future. We can live it. Our new Right to Zero blog series will track the Right to Zero campaign to transform our energy grid and transportation for a zero-emissions California. While the Trump administration fails to lead on climate and health issues in Washington, D.C., Californians are pushing for a zero-emissions state now. Follow Right to Zero to see how Earthjustice is fighting for zero-emissions technologies at our ports, power plants, freeways and bus routes.
Based in Sacramento, Erica is a policy advocate with Earthjustice's Community Partnerships Program. She works on a broad array of environmental issues, including water, toxics, wildlife protection and food safety.
The California Regional Office fights for the rights of all to a healthy environment regardless of where in the state they live; we fight to protect the magnificent natural spaces and wildlife found in California; and we fight to transition California to a zero-emissions future where cars, trucks, buildings, and power plants run on clean energy, not fossil fuels.