New York's New Guidance Lets Us Know What's in Our Toilet Bowl Cleaner
A victory for consumers comes after years of perseverance in pushing household cleaning product manufacturers to disclose their ingredients.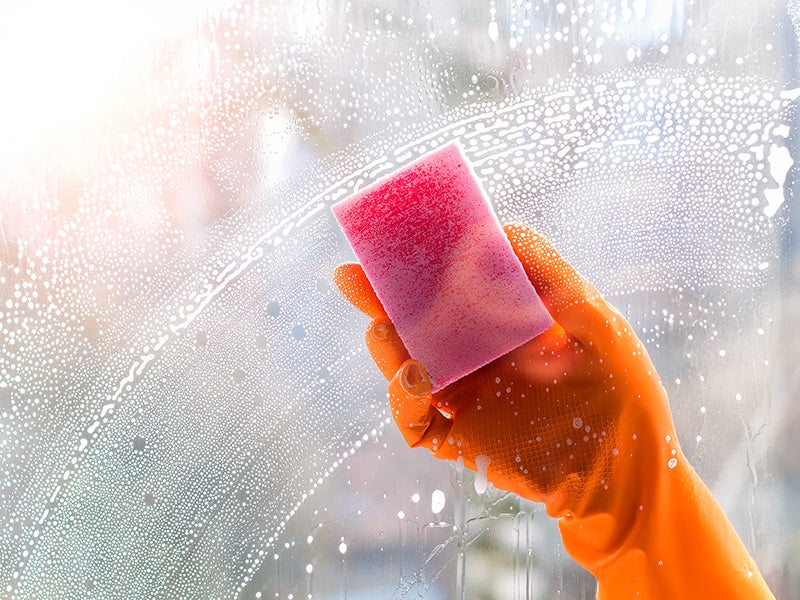 Former Earthjustice attorney Keri Powell remembers the first time she realized chemical companies could be forced to make household cleaning products safer.
It was back in 2008, while she was sitting in her home office in Cold Spring, New York. There was a lull in her day, so she decided to take up the advice of a mentor who had encouraged her to — from time to time — actually pick up the law and read it.
As she flipped through a black, three-ring-binder of New York conservation laws, she came to a chapter listed as "household cleansing products." It contained a law, passed in 1976, granting regulators broad authority to require household cleaner manufacturers to disclose their ingredients to the public.
Powell was active in the environmental health sphere — yet she'd never heard of this rule or seen it implemented.
She knew immediately she had discovered something remarkable.
"I thought, 'This is really powerful,'" recalls Powell.
Ten years later, thanks to a concerted effort by Earthjustice and its partners, the underlying spirit of that law — that the public has a right to know what's in our household cleaning products — is finally being implemented in New York.
Dangerous Cleaning Products
After Powell made her discovery in 2008, she immediately began asking around to see if others had heard of the law. They hadn't. She also spoke to the Department of Environmental Conservation (DEC) staff to see if it had received any chemical reports from manufacturers. Nope, they replied.
Clearly, the DEC wasn't enforcing the law. So Earthjustice decided to step in.
For years, weak chemical regulations have allowed companies like Procter & Gamble and Colgate-Palmolive to use questionable ingredients in their toilet bowl cleaners and window sprays that are linked to health issues like infertility, birth defects, increased risk of breast cancer and asthma. Worse, companies don't have to disclose these ingredients, leaving consumers largely in the dark.
In 2009, Earthjustice began sending letters to more than a dozen companies asking them to comply with the law. Several, including the California-based Sunshine Makers, Inc., filed chemical reports with the state for the first time ever. Household product giant SC Johnson also announced it would begin disclosing its products' chemical ingredients.
In contrast, Procter & Gamble, Colgate-Palmolive, Church and Dwight and Reckitt-Benckiser ignored the letters or refused to submit reports. In response, Earthjustice sued on behalf of a diverse set of clients concerned about a wide array of adverse impacts that cleaning product chemicals can have on health and the environment, including the American Lung Association, Riverkeeper and Environmental Advocates of New York. They argued that an existing New York law authorizing citizen suits against the government also enables citizens to sue private entities.
It was a novel legal interpretation, and we knew it was a long shot. But Earthjustice figured that a huge part of the reason for bringing the case would be to publicize the need for better disclosure of toxic chemicals in consumer products, says Powell. "So we were willing to take the risk."
Path to Victory
Ultimately, Earthjustice lost the case. But the battle wasn't over. Just as Powell predicted, the lawsuit shined a light on the long-forgotten law, as well as the DEC's failure to enforce it. Also during the court case, the companies said that they would file disclosure reports if asked to do so by the state.
That's all the motivation the coalition group needed. It began pressuring the state to enforce its own regulations and to compel companies to disclose these ingredients.
"Our clients just got in there and kept working it," says Powell.
The state agreed to enforce, so when the court ruled that New York law did not authorize the groups to enforce the law directly against cleaning product manufacturers, it no longer mattered. People were finally going to get the information they needed and deserved.
Soon after the court's decision, the DEC issued a draft proposal for comment. The agency then spent years exploring how best to secure ingredient disclosure on the Web, issued draft guidance, and, on June 6, published the final version.
Website for the Public
Once implemented, the new guidance will force companies to post their products' chemical ingredients on their websites and tell the public if any of the ingredients have been linked to health issues or to environmental harm. This disclosure paves the way for the creation of a clearinghouse website where consumers can review and compare the ingredients of all products in one place. (The first disclosures are not required until July 2019, so consumers should check out a Women's Voices for the Earth report to learn more about household cleaner ingredients now.)
"This is not just about protecting consumers from unhealthy cleaning products," says Powell, who left the organization in 2010 to work at the EPA and now has her own practice. "These chemicals eventually make their way into our air and water, and they can affect our wildlife."
Ten years after that first discovery, Powell says she's thrilled that this case has continued on long after she left the organization.
"It shows that Earthjustice and our clients are here for the long haul," she says.
Last September, California also made headway on chemical disclosure by passing the Cleaning Product Right to Know Act. Cleaning products sold in California must now list ingredients on product labels and provide additional ingredient information on product websites. New York's program requires disclosure of more ingredients and more health hazards.
Both states require manufacturers to post information online, which means that everyone benefits. That's no small victory given that the Trump administration is bent on gutting recently updated federal chemical safety rules meant to protect families and workers across the country from chemical risks.
"In these anti-regulatory times, it's encouraging to see that states can move forward and get chemical disclosure on their own," says Earthjustice managing attorney Deborah Goldberg, who's been leading the NY healthy cleaners case since Powell's departure.
Adds Goldberg, "Cleaning products should be clean, and these laws are a big step forward in making sure that these everyday products are safe for our families and our environment."
Jessica is a former award-winning journalist. She enjoys wild places and dispensing justice, so she considers her job here to be a pretty amazing fit.
Established in 2008, Earthjustice's Northeast Office, located in New York City, is at the forefront of issues at the intersection of energy, environmental health, and social justice.