Our Public Forest Lands Are Under Attack
A bill in the House of Representatives may threaten the future of U.S. public forest lands.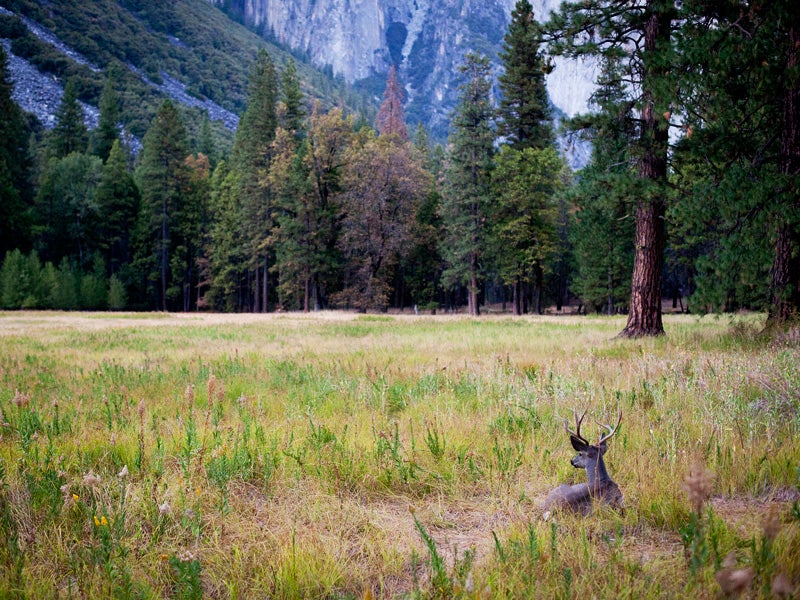 When I was younger, my family would take month-long vacations to the Midwest, up to Washington state and down to Mexico. My parents are salt of the earth types who never went to resorts or beaches to relax. Vacations were more like "strenuous holidays," as John Burroughs would say. One vacation was a road trip from Los Angeles, California to Seattle, Washington with a stop at every major national park along the way.
The trip passed in a haze of McDonalds, Gameboy and car sickness from the winding mountain roads. But I do remember Sequoia National Forest and Yosemite National Forest because of their iconic landscapes. The trees loomed over my diminutive 7-year-old-figure. I remember my Dad urging me to hug a sequoia to affirm its size. I truly appreciated this valuable experience, and I was struck by the landscape's beauty and the pristine quiet rarely found in L.A.
As Under Secretary for Natural Resources and Environment at the U.S. Department of Agriculture Robert Bonnie said, "Forests provide a broad range of values and benefits, including biodiversity, recreation, clean air and water, forest products, erosion control, soil renewal and more." These benefits may be threatened when the House of Representatives votes today on a bill that would dismantle environmental safeguards for our national forest system and Bureau of Land Management forest lands, allowing more logging and other damaging "forest management activities." H.R. 2647, the so called "Resilient Federal Forests Act of 2015," sponsored by Rep. Bruce Westerman (R-AR), would undermine public participation and the National Environmental Policy Act, reduce citizen opportunities for relief in the courts and redirect funding from restoration activities to destructive timber projects.
H.R. 2647 places limits on the National Environmental Policy Act, which is meant to inform a project's environmental impact and alternative courses of action. This bill limits the number of project alternatives and reduces the review timeframe under the act significantly, even for damaging logging projects. The bill also reduces collaboration under the Secure Rural Schools Act, a bipartisan law that delinks logging revenue from funding for counties.
The bill also attempts to bar citizens' access to our courts so that only those who can carry the full cost of the judicial process can fight environmental injustices. H.R. 2647 effectively closes the courthouse door to all but the wealthy and renders federal laws unenforceable, since poorly conceived and damaging projects could proceed without accountability.
National forests are refuges for those escaping the noise and pollution of cities in favor of reconnecting with nature. According to the forest service, visitors support 190,000 jobs and $13 billion in economic output through the national forest system. One day, I hope my children will have the opportunity to share in our natural heritage and wrap their arms around the sequoias as I did. H.R. 2647 could cause irreversible environmental damage, and that's not worth marginal increases in timber production. By continuing to degrade our natural heritage, we are stealing from future generations and risk losing rich memories of the national forests that so many share. 
Elaine Lac, a student at Bucknell University, interned with the Policy & Legislation team in Washington, D.C. during the summer of 2015.
Established in 1989, Earthjustice's Policy & Legislation team works with champions in Congress to craft legislation that supports and extends our legal gains.