'Paddling Side by Side,' from Standing Rock to the Lower Snake River
Native American tribes around the country are coming together to assert their treaty rights and protect the environment for future generations.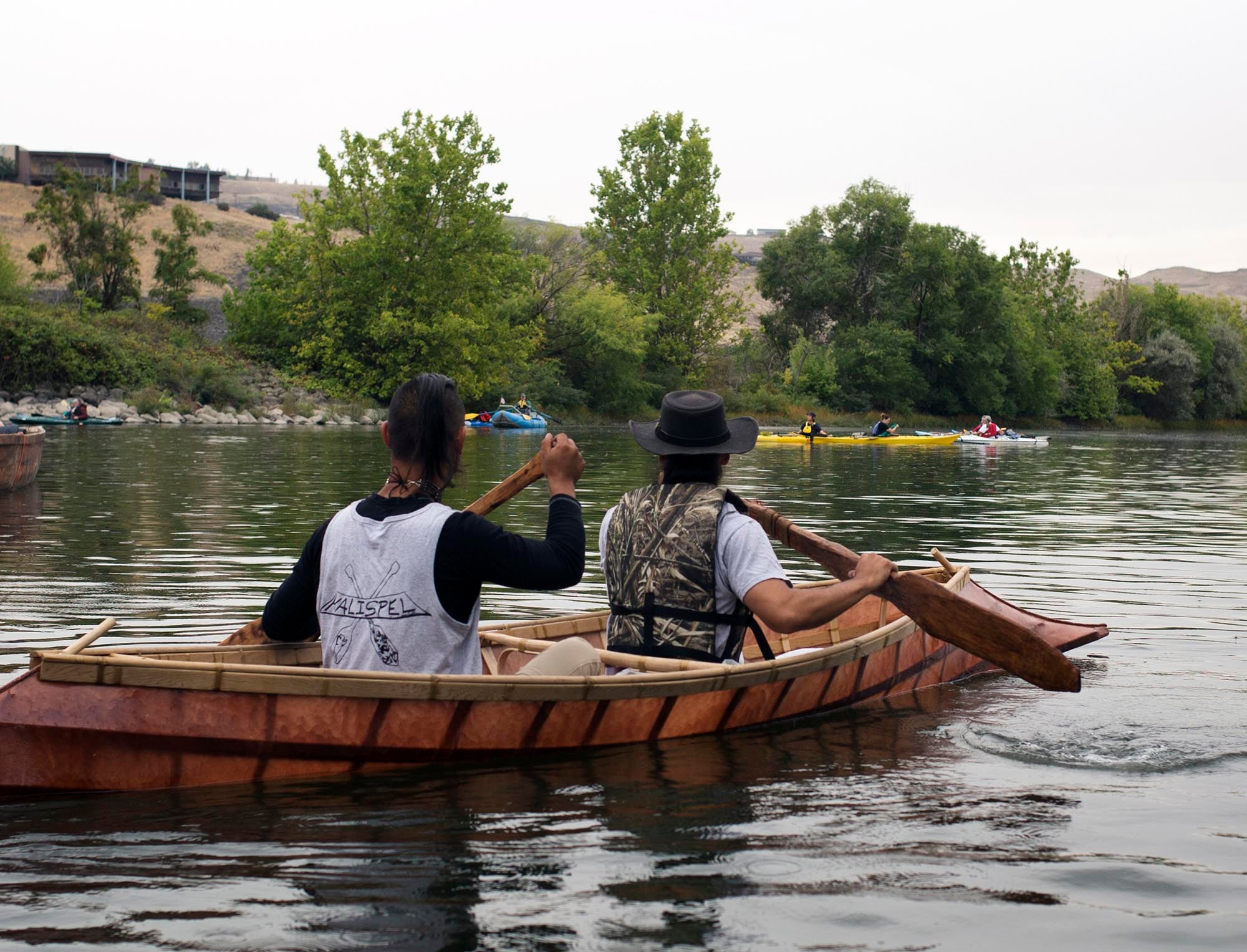 For Nathan Piengkham, a member of the Kalispel Tribe of Indians, the personal journey toward becoming a water protector started with a felled cedar. "We were gifted a giant cedar log from the Quinault area," he explained, referring to a part of coastal Washington that is home to the Quinault Tribal Nation. Once he and other carvers had transformed the log into a traditional dugout canoe, they took it out onto local rivers, marking the first time in about a century that members of the tribes had engaged in this practice.
"Our ancestors used to do this," Piengkham reflected. "When we get together, when we're paddling side by side, helping each other out, it changes the way we look at each other."
"When we're paddling side by side, helping each other out, it changes the way we look at each other."
Paddling the river channels brought new and unexpected influences into Piengkham's life. "The canoes actually got me into a lot of [movements]," he said. The canoe makers were invited to Standing Rock in North Dakota, where the Standing Rock Sioux Tribe was gathered in opposition to the Dakota Access oil pipeline, which could put the tribe's water supply at risk. There, Piengkham and his group paddled the Cannonball River. He also joined a canoe contingent at the Free the Snake flotilla in Washington state, an event co-sponsored by Earthjustice that called for the removal of four salmon-killing dams on the lower Snake River. For more than two decades, Earthjustice has spearheaded a legal battle to remove these dams in order to restore dwindling wild salmon populations, in partnership with the Nez Perce Tribe.
Piengkham shared his story of tribal solidarity last month in Lewiston, Idaho, at an event called "Treaty Rights in a Changing Environment." The event was hosted by Nimiipuu Protecting the Environment, a grassroots organization created to honor and uphold traditional treaty rights in the land of the Nez Perce. The conference brought together tribal members and representatives from environmental organizations, including Earthjustice.
Throughout the two-day event, participants reflected on how treaty rights and traditional cultural practices have strengthened movements to counter environmentally destructive projects. Treaties invoke a dark history of colonization and more than a century of broken promises—but they also recognize tribal sovereignty and are meant to guarantee permanent access to culturally significant sites and traditional hunting and fishing grounds.
Gary Dorr, chairman of the Nez Perce Tribe's general council, noted at the event that treaty rights can and should be leveraged as a tool in battles to preserve the environment—even in the current political climate, which offers little to celebrate for tribal nations and environmental advocates.
"Why is it now more important than ever that we do not lose sight of the contract stipulations made between the United States government and us? Because this administration would seek to put a dirty glass of water into our children's hands and wait for them to drink it," Dorr said. "They would put poison across the lands where our grandmothers gather our traditional foods."
"This administration would seek to put a dirty glass of water into our children's hands and wait for them to drink it."
In the case of the Dakota Access pipeline, as with dams blocking fish passage in the lower Snake River, the rights and interests of tribes were barely acknowledged before the construction of massive, environmentally harmful infrastructure.
Chairman of the Standing Rock Sioux Tribe David Archambault II made this case in a New York Times editorial: "The Sioux peoples signed treaties in 1851 and 1868. The government broke them before the ink was dry. When the Army Corps of Engineers dammed the Missouri River in 1958, it took our riverfront forests, fruit orchards and most fertile farmland … Now the corps is taking our clean water and sacred places by approving this [pipeline route]."
In the Pacific Northwest, meanwhile, wild salmon hold special cultural significance for the Nez Perce Tribe, and rights established in a 162-year old treaty provide the tribe with permanent access to fishing grounds along the Snake River. But dams constructed on the river have left a mighty channel to stagnate and dramatically altered fish habitat in what was historically one of North America's greatest salmon corridors. The dams have driven wild salmon to the brink of extinction, rendering the tribe's guaranteed access to fishing grounds practically meaningless.
In standing up for their rights and traditional practices, the Standing Rock Sioux, the Nez Perce and their allies have sparked a movement for renewed tribal power that has captured international attention.
"The whole world saw Indian country coming together around this issue, when a few brave people stood up and said, 'No, we are not going to take this anymore,'" said Earthjustice attorney Jan Hasselman, who is leading litigation against the Dakota Access pipeline on behalf of the Standing Rock Sioux. "That call resonated, not only in Indian country and in America, but also among indigenous people around the world."
Author and advocate Jacqueline Keeler, a Navajo and Yankton Dakota Sioux tribal member who spoke at the treaty conference, also spent time at Standing Rock and documented the struggle against the pipeline. As violence by the authorities against water protectors at Standing Rock clearly illustrated, she said, taking a stand to assert one's treaty rights can be risky. But those who do are guided by a sense of moral authority to preserve crucial resources like clean drinking water for future generations.
"We've had a new generation stand up."
"When we invoke these rights there's a huge amount of danger involved," Keeler said. "But we've had a new generation stand up and be willing to put their lives on the line. It shows that we are still here. We are still alive. We haven't gone away like they thought we would when they signed those treaties with us."
Based in Portland, OR, Rebecca is Earthjustice's Public Affairs and Communications Officer for lands, wildlife, and oceans.