This Community Fought To Take Their City Back from Big Coal
A people's movement banned coal from a major shipping terminal in Richmond, California, with legal support from Earthjustice.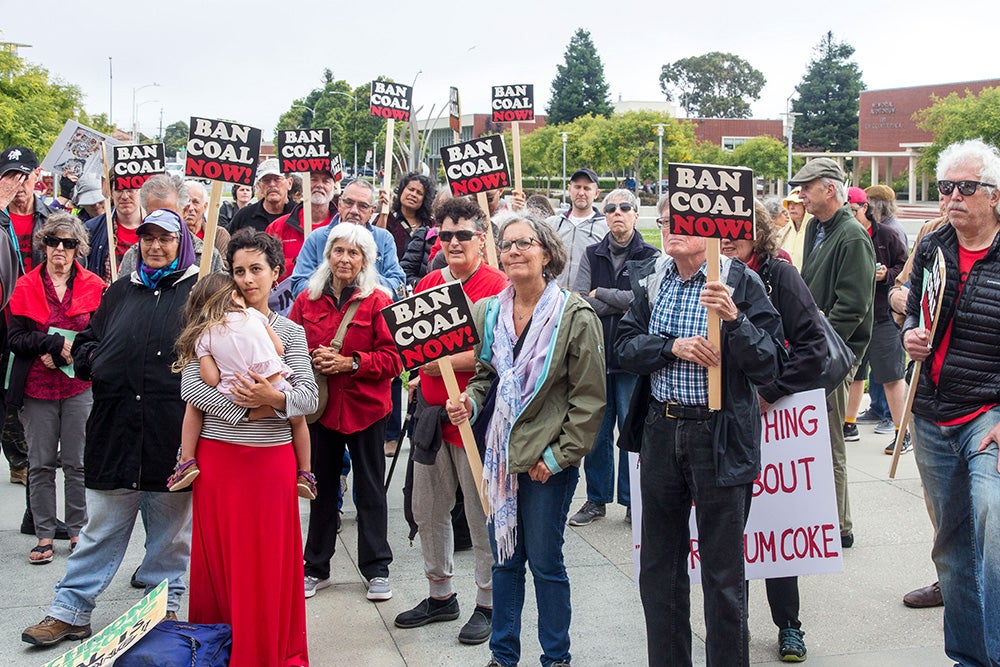 In the city of Richmond, California, coal is facing a reckoning.
Residents who were fed up with polluting companies poisoning their air have won a major victory. After a massive grassroots campaign and legal wrangling, Richmond's city council has secured a deal with the operators of its shipping terminal to stop exporting coal and petcoke.
"Today we can say with certainty that Big Coal's days in Richmond are numbered," says Virginia Reinhart, director of the Sierra Club's San Francisco Bay chapter. Represented by Earthjustice, Sierra Club and other environmental groups intervened in a lawsuit to defend the city's coal export ban. "Richmond has a history of environmental racism, but this victory shows that it's not insurmountable."
The city's successful campaign creates a roadmap for other communities looking to take back their air from polluting industries. Earthjustice is working to secure clean air for all people across the U.S. by providing legal support in such fights.
Richmond, a working-class city 17 miles east of San Francisco, bears an unjust load of environment burdens, including major freeways and Northern California's largest Chevron refinery. The Levin Terminal is a huge source of air pollution, used for exporting coal and petcoke (a byproduct of oil refining) from Utah to Asian markets.
The terminal is less than a mile away from residential neighborhoods and schools. Offshore winds from the San Francisco Bay carry coal dust to the city, filling the air with toxic particulate matter that contains heavy metals. Exposure to these pollutants is linked to higher rates of asthma, pneumonia, emphysema, heart disease, and cancer.
"You have to climb a hill to find it, then you see these massive piles of coal," says Reinhart. "Once you go out there and see them, it's pretty astonishing."
Mobilizing the people to take action
In 2017, the people of Richmond reached a breaking point when the terminal operators increased the amount of  coal handling at the terminal by 300%, causing a surge of toxic coal dust that blanketed the city.
"Coal dust is very greasy; you can't just wash it off," says Janet Johnson, an organizer with Sunflower Alliance who helped lead the No Coal in Richmond campaign.  "People would see coal dust on their homes, porches, covering their yards and cars."
Campaign activists began going door-to-door, alerting people about the polluter in their midst. "Our canvassers showed people maps of the coal rail lines in their backyard and described the health effects of particulate matter in our community: low birth weight, heart disease, asthma. Richmond childhood asthma is off the charts. We'd say, 'These issues are being caused by air pollution from the terminal, and we want the city to bring this to a halt.'
Thousands of residents, including teachers and nurses, wrote complaints to the city. People began taking over city council meetings, volunteering for health surveys, and calling their elected officials.
"We showed up en masse, wearing No Coal in Richmond shirts and holding signs," says Johnson. "We got thousands of signatures on a letter to the council. It was a no-brainer. We made it so that it would've looked bad for city leaders not to support so much public demand."
The Richmond city council listened: In 2020, it banned coal exports from Levin terminal. But the deep-pocketed fossil fuel companies that operated the terminal immediately sued the city.
A legal win for clean air
Represented by Earthjustice lawyers, Sierra Club and San Francisco Baykeeper joined Richmond in its legal defense of the coal ban. The environmental groups argued that the City acted well within its powers in adopting the ordinance to protect the health and safety of its residents.
Anna Stimmel, an Earthjustice attorney representing the environmental groups, explained, "The settlement of these lawsuits ensures that Richmond residents will soon breathe cleaner air. This is an example of a city council listening to the concerns of its constituents and taking action to protect their health and safety."
In May 2022, a court made it official, dismissing the terminal operators' lawsuit. Thanks to the legal victory, the city's ordinance will stay in place, securing Richmond terminal's coal-free future. The operators have until the end of 2026 to phase out coal and look for alternative exports that are safer for workers and Richmond residents.
Included in the settlement are new mitigation measures to contain some of the coal dust at the terminal between now and 2026, including wind fences. These measures will make things better until the facility stops handling coal and petcoke in 2026.
Another benefit of the highly publicized campaign was that it shed light on the lingering presence of fossil fuels in Bay Area communities.
"The power of the fossil fuel industry here is still incredibly strong," says Reinhart. "You saw it in previous elections in Richmond, when Chevron invested millions of dollars to elect pro-refinery candidates. We think of ourselves as clean energy-friendly in the Bay Area, but this demonstrates the hold the fossil fuel industry has on all our lives."
The people of Richmond have proven how local activism, coupled with engaged city leadership, can uproot a legacy of pollution. And this battle is just the beginning.
"When you have a win like this, it's really an injection of hope and energy," says Reinhart. "Seeing this success, you realize what we can make happen and think, What's next? What else can we do, now that we see what's possible?"
Originally published on January 20, 2022.
Alison Cagle is a writer at Earthjustice. She is based in San Francisco. Alison tells the stories of the earth: the systems that govern it, the ripple effects of those systems, and the people who are fighting to change them — to protect our planet and all its inhabitants.
The California Regional Office fights for the rights of all to a healthy environment regardless of where in the state they live; we fight to protect the magnificent natural spaces and wildlife found in California; and we fight to transition California to a zero-emissions future where cars, trucks, buildings, and power plants run on clean energy, not fossil fuels.