Senate Sportsmen's Bill Takes Aim at Wolves
We kept wolves safe from congressional attacks in 2015, but 2016 brings new challenges.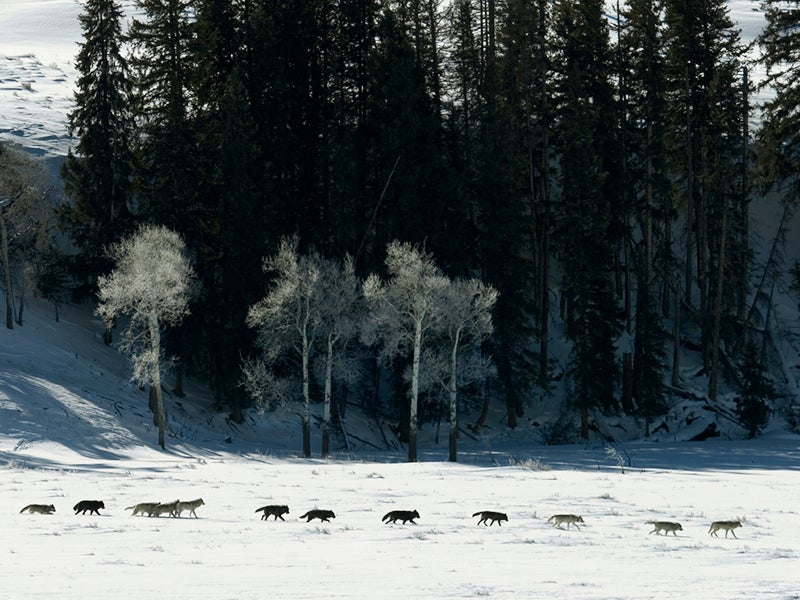 Last month just before packing up for the holiday season, we celebrated a big victory for gray wolves. President Obama signed into law a huge government spending package that did not include a policy "rider" that would have removed wolves in four states from the list of federally endangered species. It may sound a little strange to celebrate the lack of something in a piece of legislation, but it took the help and dedication of thousands of people—from activists to congressional champions—to make sure this rider was not signed into law.
Earlier in 2015, some anti-wildlife members of Congress had slipped that wolf delisting rider into House and Senate versions of government spending bills. Fortunately, as the government spending process moved along last year, thousands of Americans stood up for wolves and wrote their members of Congress, or called the White House, or took to social media to oppose this rider. These activists were joined by 25 senators and 92 members of the House who wrote letters to the president, urging him to reject any policy riders that undermine the Endangered Species Act.
If this effort had failed, wolves in Minnesota, Michigan, Wisconsin and Wyoming would have had their fates handed over to states whose wolf management plans don't adequately protect wolves. In Wyoming, that would have meant allowing the state to resume a hostile management program that allowed for unlimited shoot-on-sight killing of wolves across 85-percent of the state. This rider would have also stripped citizens of the right to challenge these wolf delistings in court.
So we let out a great howl of relief when the rider was not included in the spending package signed into law in December. Yet here we are in early 2016 and anti-wolf members of Congress are again gunning to sidestep the Endangered Species Act and delist wolves through legislative edict.
Last week, Senator John Barasso of Wyoming offered up an amendment to the Senate Sportsmen's Bill (S. 659) that is practically identical to the 2015 wolf rider. Like the rider, Sen. Barrasso's amendment would delist wolves in Wyoming and the Midwest by overriding two federal court decisions (including an Earthjustice victory for wolves in Wyoming) that found those states' management plans do not sufficiently protect wolves, while also barring further judicial review of the court decision overrides.
During the markup of the Sportsmen's bill, Sen. Barrasso indicated that his amendment is just one of a number of legislative efforts he'll continue making until Wyoming gains control over wolf management. Unfortunately Sen. Barrasso's amendment was added to the Sportsmen's bill in committee. And it's quite likely that there will be other such legislative attempts this year.
So the gauntlet has been thrown. We remain steadfast in our commitment to fight for the wolves. We call on President Obama and wildlife champions on the Hill to continue standing strong on behalf of wolves and other imperiled wildlife. And we call on our wolf supporters to raise their voices in this fight by reaching out to their members of Congress and reminding them of their duty to keep our treasured wildlife protected.
Maggie worked at Earthjustice from 2014–2021.
Established in 1989, Earthjustice's Policy & Legislation team works with champions in Congress to craft legislation that supports and extends our legal gains.