In the Heartland, Human Waste Floods Homes
Centreville community members are pushing for solutions to this environmental injustice.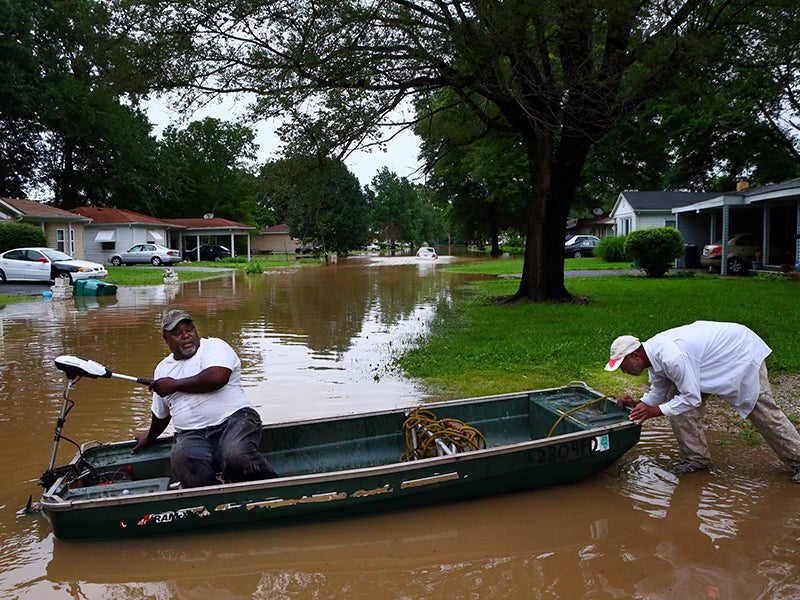 The last time Walter Byrd drank his tap water, he suffered a heart attack.
"At the hospital, my doctor warned me never to drink the water again. I haven't drank it in 10 years," he says.
While the timing of Byrd's heart attack may have been a coincidence, it's easy to see why a health care professional would give him that advice. Centreville, Illinois—Byrd's hometown of 35 years—is constantly flooded with sewage, and residents are rightly concerned about the safety of the drinking water.
A retired sewer inspector, Byrd is no stranger to sanitation mishaps. But the worst sewage situation he's ever encountered is the one in his front yard. For over a decade, he and his family have dealt with the immense flooding, sewage backups, and bacterial contamination that have engulfed the state's poorest city. Centreville's sewage pump stations—a basic piece of sewer infrastructure—are completely worn out.
Almost all of the homes around Byrd's have large ditches dug in order to keep the frequent flooding at bay. In the absence of government action, the makeshift ditches become cesspools of sewage water and human waste whenever it rains. The flooding is so severe that many residents are physically unable to leave their homes, rendering them stranded unless rescued by Red Cross evacuation crews. Even after the waters recede, the waste they leave behind attracts disease-carrying mosquitoes and poses a severe public health hazard.
Centreville's condition is rooted in a lengthy history of environmental injustice, a term used to describe the systemic, disproportionate exposure of environmental hazards to specific populations, primarily communities of color. The town is 95% black and the median household income is only $17,441, staggeringly less than that of the rest of St. Clair County, which is $51,103. While the predominantly white and wealthier surrounding community has working sewer systems, Centreville has been subjected to incredibly unsanitary, disease-ridden conditions because their city government has not allocated funds to repair their sewage system.
Resolute in their efforts to find a solution to this crisis, Centreville residents have been pushing their local officials to take comprehensive action. However, since little has been done at the local level to fix the pump stations and alleviate the flooding, the residents have sought legal help. Nicole D. Nelson, the executive director of Equity Legal Services, and Kalila Jackson, staff attorney at the Metropolitan St. Louis Equal Housing and Opportunity Council, are representing the Centreville residents in their fight to fix the city's pump stations, with Earthjustice and NRDC's support addressing the public health hazards posed by the contaminated sewage that has spread throughout the city.
"I first met Walter Byrd in order to represent him in a case over an alleged debt he owed to a waste treatment facility called American Bottoms," Nelson reflects. "He explained to me that he had actually overpaid the facility, and to make matters worse, they were not treating the water since there was sewage piling up in his front yard."
The pair visited Walter's house and were immediately overcome by the revolting stench of sewage that had piled up on the dead grass that had once been his front lawn. "As soon as I flush my toilet, the waste ends up out here," Byrd remarks. 
Centreville is one of many communities of color that lack access to basic sanitation infrastructure. A report prepared by the Alabama Center for Rural Enterprise and Columbia University noted that throughout the United States many sanitation systems in less densely populated areas are old and failing, and available data indicates that failing systems disproportionately impact communities of color.
"Americans have an expectation that our government will provide basic infrastructure—sewage and flood management," says Debbie Chizewer, managing attorney for Earthjustice's Midwest office. "Yet many Centreville residents have lived with sewage and flooding in their homes and on their lawns for decades. These conditions are simply unjust and unacceptable."
For more than three decades, Centreville residents have reached out to the mayor and the St. Clair County Illinois Public Health Department, and attended city hall meetings to urge Centreville leadership to update the failing sewage system. Despite this public outcry, City officials, including Centreville Mayor Marius Jackson, have refused to act. Mayor Jackson has said there is no money available to update the failing pump stations.
 Nelson and Kalila Jackson then met with numerous Centreville residents and learned the extent to which the floodwaters have decimated their homes, savings, and morale.
"When I first visited with residents and saw the conditions they were living in, I was dumbfounded," says Jackson. "It was unfathomable that this was happening just across the highway from where I live."
After meeting with more residents, Nelson and Jackson arranged a public town hall meeting and walked door to door throughout Centreville encouraging residents to attend. To their surprise, the turnout was overwhelming. The community center meeting room was packed with concerned residents eager to share the public health atrocities that they'd been subjected to for years.
Families reflected on their traumatic experiences of being rescued by the Red Cross multiple times a year due to rising floodwaters after a rainstorm, while many others shared that they had to replace entire internal plumbing systems, hot water tanks, and furnaces after they had been decimated by the continual flooding. With a citywide poverty rate of 48%, most Centreville residents can ill afford the cost of these repairs.
"This meeting was pivotal to our understanding of how widespread this issue is," says Jackson. "At first, we thought the water issues were due to a collapsed pipe isolated in one area of the city, but we then realized that it was a massive, system-wide failure."
Despite the residents' efforts to push their leaders to take action, beyond digging short-term ditches to help catalyze the drainage, the Centreville government has not stepped up to finance the needed repairs. The city flooded again in January, collapsing many residents' newly rebuilt home foundations and leaving others stranded to the point where they had to climb out on their roofs.
In February, Centreville community members sent a formal letter urging city leadership to meet with residents, and to detail its plans and timeline for addressing the failing sewage infrastructure. In July, the residents' community group Citizens for Change worked with the Equal Housing and Opportunity Council, Equity Legal Services, and Earthjustice to submit an informal complaint to the Illinois EPA, outlining that the City of Centreville and the Commonfields of Cahokia Public Water District were violating the Illinois Environmental Protection Act. The Act prohibits discharges of pollution to land or water that could create a water pollution hazard, which is exactly what has been occurring in Centreville for decades.
"I'm tired of this water," says Walter. "I'm just tired."
Though weary, Byrd and his neighbors remain committed to ending this decades-long battle to keep their community afloat, both emotionally and literally.
Environmental and civil rights laws are an essential tool for addressing the numerous factors at play in an injustice of this magnitude. Equity Legal Services, the Metropolitan St. Louis Equal Housing and Opportunity Council, Earthjustice, and NRDC are seeking relief for this tireless community.
Based in Washington, D.C., Bala drives public awareness for Earthjustice's clients and their casework by drafting blogs, op-eds and press releases, while also conducting background research and analysis.
Earthjustice's Midwest office works to partner with and support communities and Tribes fighting for environmental and climate justice. We also aim to protect our region's precious places and wildlife, and build sustainable energy and climate solutions.