Supreme Court Decision Could Help Rectify Environmental Injustices
A Supreme Court decision upholds the right of people to challenge policies or actions that result in a disproportionate effect on the basis of race or national origin.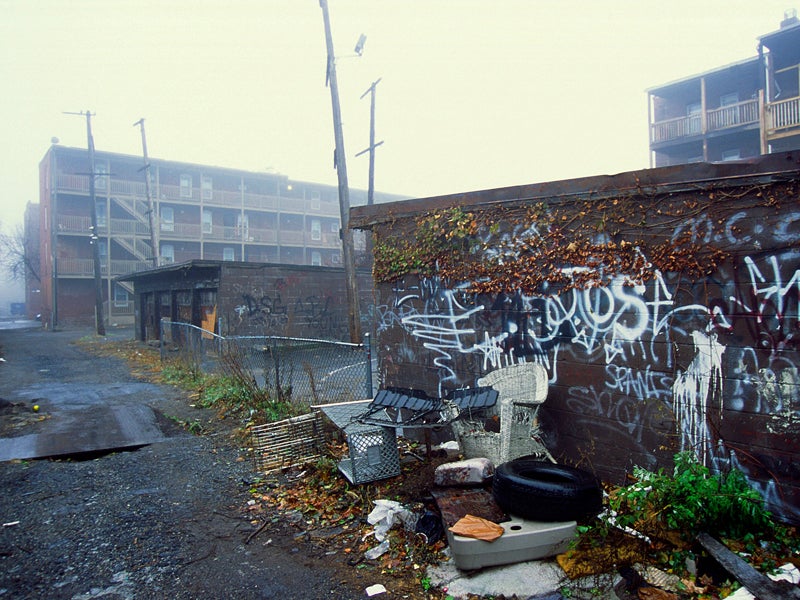 Putrid landfills. Smoke-spewing power plants. Vast, stinking lakes of manure. Radioactive waste dumps. Mountains of coal ash. These are all things no one wants in our backyards. So where do they go?
All too often, they end up in the backyards of the poor and marginalized.
A recent U.S. Supreme Court decision, Texas Department of Community Affairs v. Inclusive Communities Project, could go a long way to address this unjust pattern. The court affirmed that, under fair housing law, people can sue to challenge a policy or action based on disparate impact, not only discriminatory intent.
"Disparate impact" is a legal term which means that a policy or practice may be considered discriminatory "if it has a disproportionate 'adverse impact' against any group based on race, national origin, color, religion, sex, familial status or disability when there is no legitimate, non-discriminatory business need for the policy." This makes sense. In a society that believes in fairness, we don't want children to have a higher likelihood of asthma or other illnesses just because of where they live. It doesn't matter whether a government agency – which, after all, is not a person – has something we recognize as "intent."
Almost 30 years ago, the United Church of Christ Commission for Racial Justice released its Toxic Wastes and Race report, which brought environmental injustices to the nation's attention. Its investigation concluded that race was a leading predictor of the location of hazardous waste sites. Many more studies have confirmed that finding, even after accounting for factors like income and land value. To no one's surprise, hazardous waste sites are rarely built in areas where the residents are predominantly wealthy and white.
Decades later, this race-based pattern is unfortunately still with us. For instance, half a dozen active or proposed petroleum refineries and hazardous waste sites are located in and around Chaves County, New Mexico. The New Mexico Environment Department has disproportionately approved construction of these facilities over and over in low-income Latino communities. Residents of these communities are subject to worse air quality and higher rates of infant mortality, birth defects, and severe respiratory illnesses when compared to other New Mexicans. In a civil rights complaint filed against the New Mexico Environment Department, community members charge that the state's environmental regulators also obstructed community participation in the permitting process by failing to provide information in Spanish and harassing concerned citizens.
While the outcome of the Supreme Court case only directly addresses enforcement of the Fair Housing Act, the court's approval of the disparate impact standard could be critical to the effort to address racial disparities in exposure to toxics. No matter what company executives or government officials were thinking or intending, the bottom line is that children who grow up in the shadow of landfills, power plants and other toxic facilities are more likely to suffer from respiratory illnesses, cancer, birth defects and developmental abnormalities. These health problems stack the deck even more heavily against people who may be dealing with the impacts of not just one but any number of polluting facilities in their neighborhood.
This situation offends our basic sense of fairness. It is also contrary to the law. That's why Earthjustice joined a coalition of civil rights groups in filing an amicus curiae brief in the Inclusive Communities Project case.
Everyone has the right to live, work and play in a healthy and safe environment. Our legal system must protect that right, as Justice Kennedy's opinion made clear, if we as a nation are to pursue our "quest to reduce the salience of race in our social and economic system." In my next blog post, I'll talk more about the legal tools that Earthjustice is using to fight on behalf of Chaves County and other communities like it.
Mariana Lo is a Supervising Litigation Paralegal with the Northeast regional office in New York, NY.
Established in 2008, Earthjustice's Northeast Office, located in New York City, is at the forefront of issues at the intersection of energy, environmental health, and social justice.