Teen Who Grew up Beside a Coal Ash Pile Would Like a Word With the EPA
EPA Administrator Scott Pruitt wants to weaken a rule that protects people like Mabette Colon from toxic coal waste.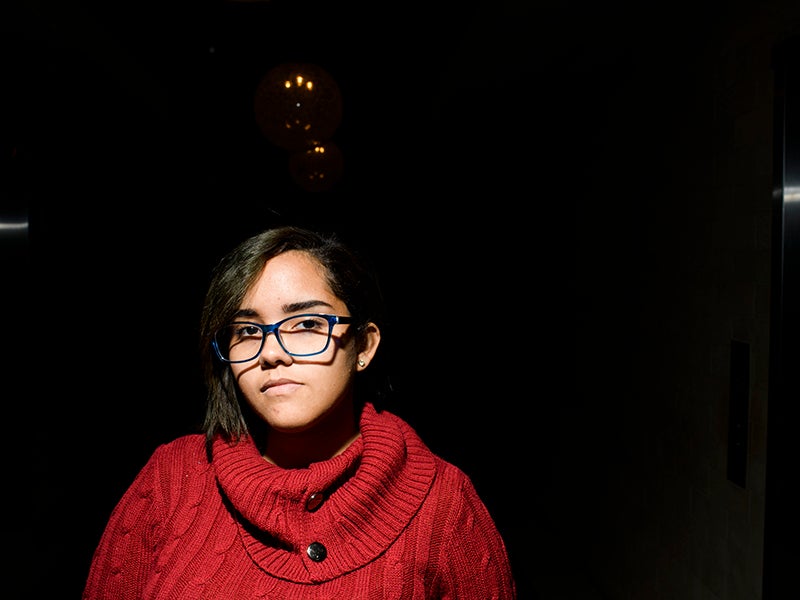 Every morning, 18-year-old Mabette Colon's home in Guayama, Puerto Rico, is soiled with dark grey coal ash created by the local coal plant. The ash is so fine that it passes through the cracks of her windows, covering her family's furniture, clothing and beds.
Although it only takes Mabette an hour to clean the house inside and out, her mother usually handles this daily task while Mabette is at school. It takes her mother three or four hours to clean due to osteoporosis — a bone condition associated with coal ash exposure. Most days the house is covered again by coal ash in the late afternoon.
Coal ash, the toxic remains of coal burning in power plants, is full of chemicals that cause cancer, developmental disorders and reproductive problems. A five-story pile of coal ash lies next to Guayama's plant, open to the elements. The town was already suffering as the exposed waste dissipated into the air, soil and groundwater. But after Hurricane Maria crashed through Puerto Rico in 2017, the shrinking of the pile was obvious for anyone to see in spite of the plant's statements otherwise.
Federal regulations exist to protect communities like Guayama. The Environmental Protection Agency (EPA) finalized a rule in 2015 that calls for power plants to take commonsense precautions when disposing of coal waste. But Trump's EPA Administrator Scott Pruitt — a man whose previous mission was to fight EPA regulations while he was Oklahoma attorney general — vowed to repeal the rule almost immediately after his confirmation. The rule had been challenged by the coal industry, whose agenda is firmly tied with Pruitt's. And after Trump professed his love for "beautiful clean coal" in this year's State of the Union address, there has been no doubt where the administration's allegiances lie.
Last month, the EPA proposed changes to the coal ash rule that would gut its safety requirements. So Mabette, a high school senior, left Puerto Rico for the first time this week to travel to D.C. without her family and testify at an EPA hearing about why the coal ash rule matters. Earthjustice has been using the courts to ensure the government protects families like Mabette's from the dangers of coal ash and invited her to D.C. to voice her community's concerns.
Despite Mabette's age, she has broken multiples limbs over the years due to innocent stumbles. She chalks it up to cadmium from the coal ash in Guayama making her bones brittle.
Mabette worries that coal ash exposure even killed her beloved 2-year-old dachshund, which one day developed painful, strenuous breathing and was found dead an hour later. The family's new dog has lived longer, which Mabette believes is because the dog sleeps inside the house. This thought haunts her.
Guayama residents experience high rates of cancer and other health issues. Mabette's aunt who lives nearby was diagnosed with a form of cancer which the doctors in Puerto Rico are unable to identify. Mabette explains that cancer and respiratory illnesses plague the children attending a school closer to the plant, and a 16-year-old girl Mabette grew up with died of cancer. Too many babies in Guayama have congenital birth defects.
As if Mabette does not have enough to stress about, she says the sound of the coal plant is grating and the coal ash makes her feel sick.
"Sometime it feels like burning in the nostrils. It makes your skin very itchy and turns your eyes red," says Mabette. "It fills you with anxiety, because the noise [from the plant] is loud and constant. There is no sleeping."
She is looking forward to attending college this fall and getting away from the close contact of the coal ash disposal site, but the distance will not make much of a difference. "The ash is spread all over Puerto Rico and after Hurricane Maria, it is even worse," she says.
Kate worked in the Washington, D.C., office from 2017–2018.
Earthjustice's Clean Energy Program uses the power of the law and the strength of partnership to accelerate the transition to 100% clean energy.
Established in 1989, Earthjustice's Policy & Legislation team works with champions in Congress to craft legislation that supports and extends our legal gains.